Beef steak doesn't always need to be enjoyed fresh off the grill. From flank quesadillas to skirt sandwiches, these mouth-watering leftover steak recipes will have you rustling something up in seconds.
Beef steak is the classic cut of red meat. Fresh off the grill, it's best kept simple. Sure, you can dress it up with herbs, such as garlic, thyme, and rosemary. Or you can dry brine and season it with just a little salt and pepper.
But what do you do with leftovers? The good news is that there are an incredible number of ways that it can be enjoyed reheated or reused. From easy noodle bowls to decadent tacos, here are eleven of the best ways to make the most of leftover steak.
Flank Steak Quesadillas with Gorgonzola
These flank steak quesadillas are not your average tortilla. Stuffed with flank steak, gorgonzola, sautéed onions, and jalapeños, they're easy to make and will be gone in seconds.
All you do is sauté your onions and jalapeños until their soft then add some olive oil in a pan and add a tortilla. Add your steak, cheese, onions, jalapeños, and another tortilla then flip. Cook until both sides are golden brown and the cheese is melted and then you're done.
Irish Ale Casserole
Stew is totally a comfort food and great for the winter time. This stew is rich, smoky, and absolutely delicious!
To make this stew you start by frying up some pancetta, onions, garlic, celery, carrots, and swede. Then add flour, Guinness, and your leftover chuck steak, and allow it to cook down for three hours before serving.
Leftover Beef Pizza
Our next recipe is a beef pizza. This is another very customizable recipe. After you add your steak you can add any other toppings you like and that you think would go well with steak.
Firstly you start by either buying store bought pizza dough or making your own pizza dough from scratch and then rolling it out. Next add your tomato sauce, mozzarella, and toppings before baking in the oven. Slice and serve.
Beef and Veggie Noodle Bowls
Making use of all of your leftovers can be challenging. This recipe is the perfect solution because not only can you use your leftover steak but you can also use your leftover veggies you have in the fridge as well!
For this recipe you boil spaghetti then make a sauce using soy sauce, brown sugar, rice wine vinegar, oyster sauce, garlic-chilli sauce, and cornstarch. Then you heat up your steak, cook your vegetables, toss everything in a pan and add your sauce. You have a delicious meal in just thirty minutes!
Sirloin Strips over Rice
This recipe is not only tasty, but it's also low calorie. With only 318 calories per serving, this recipe is great if you're trying to limit your calorie intake while also eating a gold home cooked meal. This also is a great meal prep recipe as you can freeze it and reheat it later.
To make this you heat up your steak then set aside and sauté your onions and garlic. Once soft add tomatoes, broth, wine, bay leaves, thyme, and basil. Let it cook for ten minutes, add your meat, and then cook for an additional two to four more minutes and then you're done. Simply delicious!
Salsa Steak Garlic Toasts
These open-faced sandwiches are pretty much as easy as it gets but they are also so satisfying! This is a great recipe to try if you don't have a lot of cooking experience. It is easy and quick but will impress your friends and family.
All you do is prepare Texas toast as instructed, heat up your steak, and add salsa. Then put your steak on top of your Texas toast and top with sour cream, cilantro, and green onions. And that's it! Can you believe it? It's definitely worth a try.
Pepper Steak Stir Fry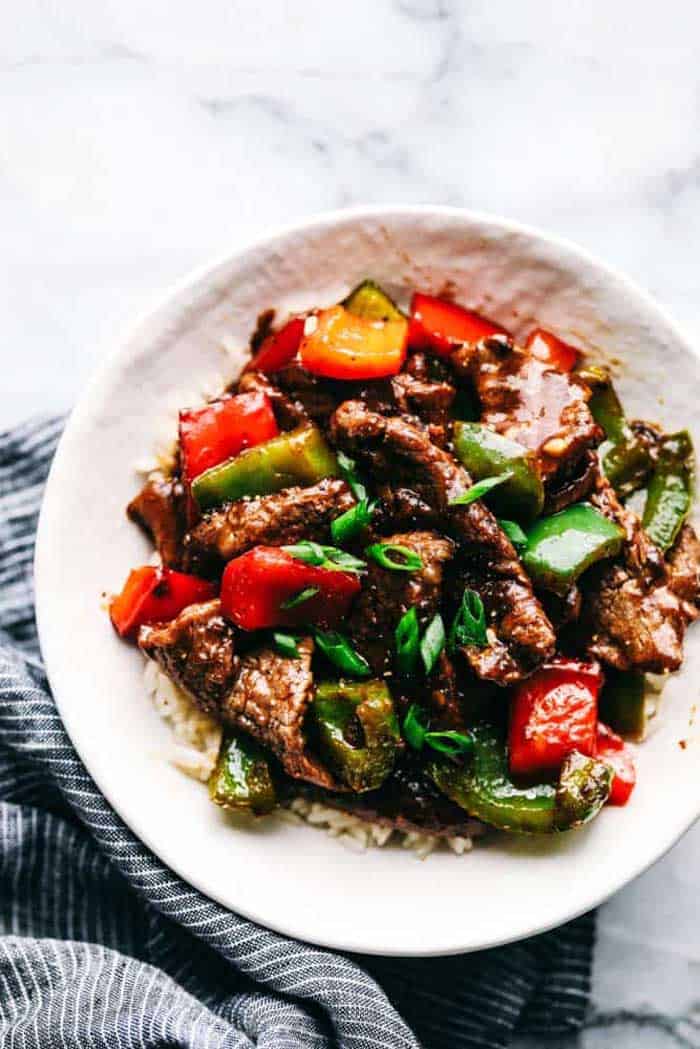 The next recipe is definitely a crowd pleaser! It is sweet and spicy, plus it has fewer than 10 ingredients. It's a budget option while remaining ingredient-rich and fun. It's win-win.
First of all, cook some bell peppers until their soft. Then heat up your steak. Next make a sauce with soy sauce, brown sugar, garlic, ginger, sesame oil, and cornstarch. Mix everything together in the pan and cook until the sauce thickens and then the recipe is complete.
Easy Steak Salad with Lemon Vinaigrette
If you're in the mood for a lighter meal, then this steak salad is the perfect dish for you. It is so simple to make and the home made dressing takes it to the next level!
Start by tossing mixed greens, bell peppers, scallions, and goat cheese. Next add avocado, steak, and pomegranate seeds. Now make your dressing by combining lemon juice, olive oil, dijon mustard, salt, and pepper. Then whenever you're ready to serve dress the salad with your home made dressing, toss, and enjoy.
Beef Stroganoff
Next is a classic beef stroganoff made with steak, mushrooms, and cooked in a creamy garlic sauce. You can serve this dish with egg noodles, rice, or even polenta. This is the perfect weeknight meal because it only takes 30 minutes to make!
Start by heating up your steak. Next sauté your onions, garlic, and mushrooms and then add wine. While that's cooking, whisk together beef stock, Worcestershire sauce, and flour. Add that mixture to your veggies and then simmer. Add your steak and Greek yogurt and then season with salt and pepper. Serve over your choice of noodles, rice, or polenta.
Ciabatta Sandwich & Horseradish
This one is a great recipe for lunch because it's super quick and customizable to your preferences. Once you heat up your steak and make your horseradish sauce you can add anything you would like. You could add lettuce, cheese, or even avocado, the possibilities are endless!
Check out more of our best BBQ sandwiches
For the horseradish sauce you just need to grate some fresh horseradish then add Greek yogurt, dijon mustard, lemon juice, chives, and salt and pepper then you're done. Add your desired amount to your sandwich for a spicy kick.
Beef Pot Pie
Our last recipe on the list is a beef pot pie. Pot pies are another one of those comfort foods that are great for the cold weather. This beef pot pie is slow-cooked for two and a half hours to ensure it has a deep flavor profile with tender meat and flaky crust.
To make this decadent pot pie you start by making your filling with carrots, onions, garlic, mushrooms, peas, tomato sauce, broth, wine, Worcestershire sauce, flour and herbs. Then after it's cooked for a while add it to your pie crust. Next cover with more pie crush, brush with egg wash, cut slits in the top, and bake. After that you're ready to serve!