Brisket doesn't always need to be enjoyed fresh off the smoker. From empanadas to BBQ sandwiches, these mouth-watering leftover brisket recipe ideas will have you rustling something up in double time.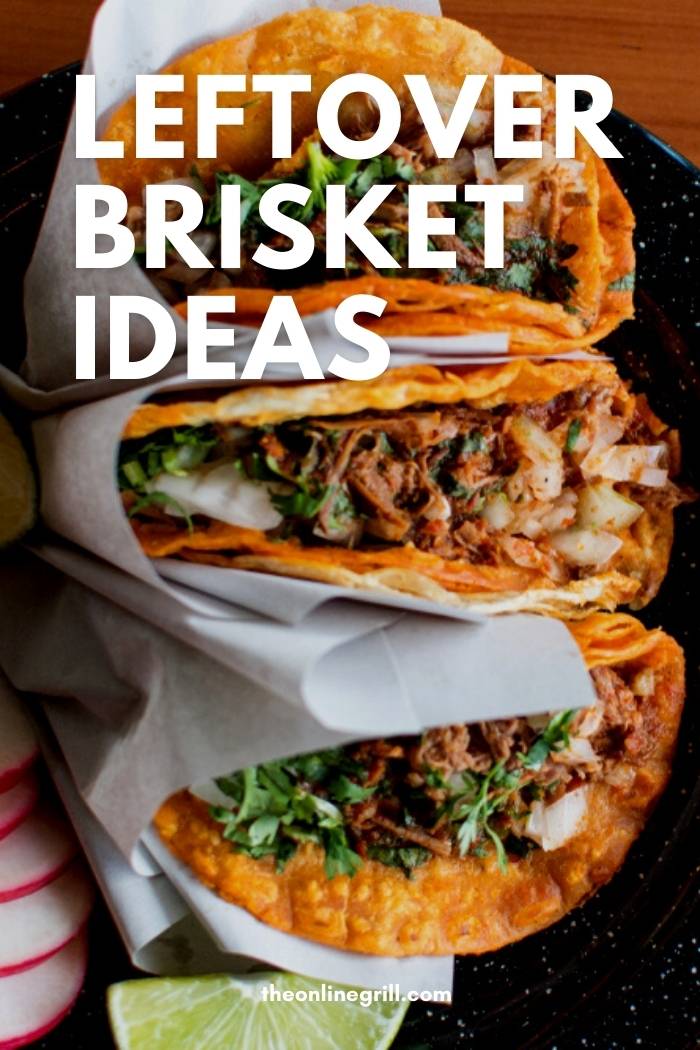 Brisket is a big cut of meat, so it's inevitable that from time to time you'll end up with a mountain of leftover beef to work through.
But instead of scraping away at it with a fork, there are a ton of leftover smoked brisket recipes to help you make use of that remaining meat before it goes to waste.
And I'm not just talking brisket BBQ sandwiches. We have delicious ideas including tacos, soup, and even breakfast hash.
Yep, that's right. Brisket for breakfast.
Let's get into it!
Smoked Burgers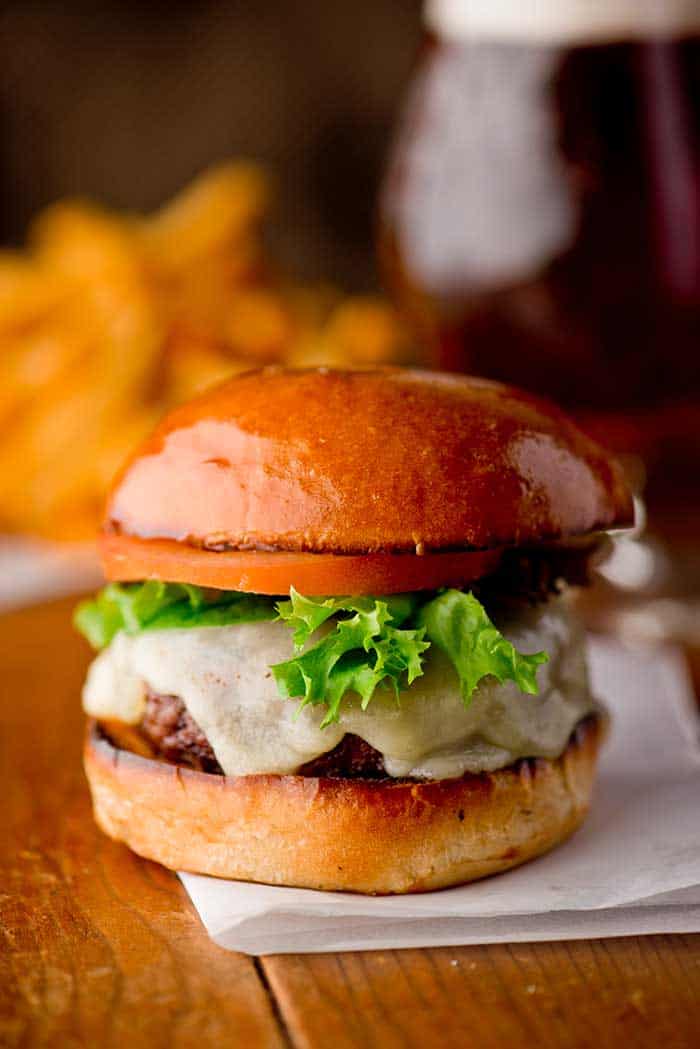 The fat content found in the point portion of beef brisket makes it ideal for grinding, and what better way to use your leftovers than with homemade burger patties? While the point is rich in fat, the flat portion is relatively lean, so we can grind the two together to strike the perfect balance needed for barbecue burgers.
To make this delicious smoked brisket burger, grind your leftover point and flat with salt and crushed garlic. Form your patties and smoke them over oakwood at 225°F (107°C) until each patty's internal temperature is 140°F (60°C). Serve with freshly cooked bacon, sliced tomato, and (of course) cheese and barbecue sauce.
Smoked Brisket Tacos
How can we turn one of the world's best foods into the ultimate barbecue comfort food? By adding brisket of course.
It can be easy to go overboard with the fillings for smoked brisket tacos, but what I love about this recipe is that it's stripped back enough to make the best of the leftover beef. Just some diced onion, tomatoes, and salsa. Simplicity is king.
Loaded Fries
These loaded smoked brisket fries are a quick and easy way to use your leftover shredded beef. Piled over a pile of hot, tender fries covered with melted cheese, smoky bacon, rich garlic mayo, and a fresh bite of pico de gallo. What's not to love?
In just 40 minutes, you can serve a crowd with this easy party appetizer or side dish. The best part is that you can cook all of this on your grill or smoker.
Burnt Ends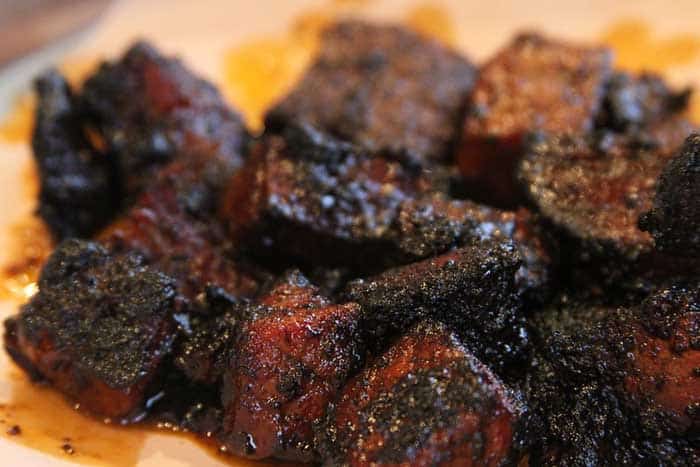 These are the daddy of barbecue sides for smoked brisket. While many people make burnt ends at the same time as they smoke their beef brisket, they're also a great way to use up any leftovers you have lying around.
Rich in marbling, they are juicy and rich in meaty flavor. You'll need the fatty end of the beef cut to make these, but they're well worth the effort.
Arepas
Arepas are criminally underrated, but are the ultimate comfort food.
My personal experience with the South American food has often been with chicken, but swapping in brisket has been a total success for me.
This recipe can be a little daunting because you'll need to make the dough yourself, but it's more straightforward than you might think. Give it a go!
BBQ Nachos
One of the quickest ways to use up your leftover beef is by throwing together these simple brisket nachos. Perfect for party finger food or just a lazy weekend bite, these Texas-style barbecue nachos are layered with queso sauce, jalapeño peppers, and tortilla chips before fired over high heat on the grill. Easy.
Leftover Brisket Hash and Eggs
Where better to start this list than with the best way to start the day? This dish fits in some of what makes a full English breakfast so great, and gives it a twist.
Plus, the best thing about this hash and egg dish is that it's just as good for lunch or dinner.
Served with cooked onions and diced potatoes, it's rich in flavor while still giving center stage to the star of the show: Our beef brisket.
Slow Cooker Chili
No list of leftover beef recipes would be complete without some sort of chili. We've made it with tri-tip before, so it's no surprise to see the same done here.
This slow cooker brisket chili makes great use of large chunks of brisket by slowly reheating them among ingredient favorites like black beans, peppers, and onions.
BBQ Brisket Sandwiches
When all else fails, there's brisket sandwiches. Packed with reheated brisket to form a juicy, melt-in-your-mouth filling, this sandwich gets the best out of our favorite barbecue meat.
The beef sits on toasted buns, and can be drowned in your choice of barbecue sauce, coleslaw, or cheese. Or all three. Trust me, one won't be enough.
Grilled Cheese Sandwich
Another sandwich, but with one big difference: It's all about the cheese. These brisket grilled cheese sandwiches merge juicy beef brisket with smoked cheddar and a delightful brioche bun.
If you don't have a good grilled cheese sandwich in your repertoire (and if not, why not?!) then let this be your first.
BBQ Pizza
The ultimate beef lover's treat. I love making my own pizza at home with our backyard oven, and using a reheated brisket has been a revelation.
Topped with jalapeños, ranch dressing, and cheese, it might just be the last pizza topping recipe you'll ever need.
Spicy Beef Quesadillas
If you're looking for a cheese fix, fusing brisket with the good stuff for quesadillas is a surefire way to make the ultimate party food.
They're meaty, they're juicy, and they're easy. Just like any good leftovers recipe should be.
Brisket Soup
A hearty beef soup is a great option for the cold and dark months, and makes for an easy way to make quick use of any leftover meat you have knocking around.
This brisket soup recipe is served with cheese dumplings and sautéed red onions, and drowned in red wine and beef stock. The perfect winter comfort food.
Slow-Cooked Beef Ragu
This recipe is proof that brisket is far more versatile than a lot of people give it credit for.
The beef is cooked in tomato, onions, and white wine, allowing it to soak up every inch of flavor available. It's a thing of beauty.
The best thing is that, with the brisket cooked and ready to go, you've already done most of the heavy lifting.
A perfect solution for people as lazy as me.
Brisket Enchiladas
Alright, I admit it. I love cheese.
But when it's served over beef brisket and chili sauce to give a Mexican-inspired heap of comfort food, can you blame me?
Shepherd's Pie
For something completely different, try this twist on the English favorite! Often made with ground lamb, this take on the classic works in brisket for something unique that stands up to traditional recipes.
This recipe combines leftover brisket with onions and carrots, and takes things even further by working in a jalapeño cheddar cheese mash for a little touch of heat.
Casserole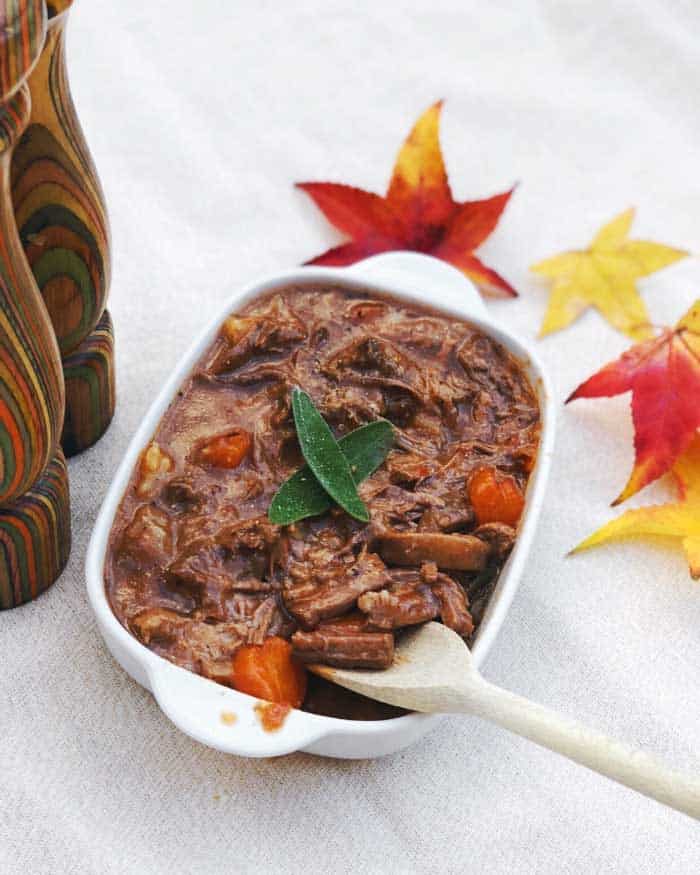 Slow cooking brisket with beef stock, carrots, and onions, this is the perfect meal for the colder months. Simple and cooked low and slow, this is how hearty beef dishes are done best.
Stroganoff
This recipe is proof (if proof need be) that leftover meat can be used in far more interesting ways than throwing it into a sandwich. This beef stroganoff combines oak-smoked brisket with sautéed onions, tomato paste, chianti, and – of course – pasta.
This North American twist on the classic Russian dish is the perfect year-round crowd pleaser.
Cottage Pie
If there's anything that catches my eye, it's a seemingly complicated recipe that can be turned around in 30 minutes or less. Ali's take on cottage pie is just this, while keeping faithful to all the components often found in a traditional English cottage pie.
Spicy Brisket Baked Beans
Baked beans have been a classic barbecue side dish for decades, but his recipe gives them a long overdue upgrade with an infusion of beef brisket.
Rich in a smokey, sweet and meaty flavor, you'll never go back after this. The addition of meat and onions means that this recipe takes a little longer to cook, but it's well worth the wait.
Southwest Stuffed Poblano Peppers
I'm a heat lover, and poblano peppers fit the bill perfectly for stuffed peppers. Not only that, but their mild heat pairs beautifully with the deep and smokey flavors from leftover brisket.
Cooked in just 30 minutes, these stuffed poblano peppers are topped with beef, black beans, rice and your choice of cheese.
This recipe calls for either ground beef or chorizo, but can be made just as easily with leftover brisket.