Beef brisket needs a BBQ rub that will do it justice. These award-winning seasonings are all up to the job. Find your new favorite barbecue dry rub with our guide to the best brisket rubs.
Is there a BBQ meat quite like brisket?

For me it's the iconic smoked barbecue food.

Sure, ribs and Boston butt are amazing, but brisket… Brisket is just the one.

And for this reason, I don't think anyone is allowed to announce themselves as a true pitmaster or barbecue fan until they have nailed a brisket recipe.

At a glance: The brisket rubs we'll be looking at
The key to a good smoked brisket isn't just your choice of meat or wood, but rather your choice of seasoning.

And that's where we come to brisket rubs.

A lot of people have their own go-to homemade brisket rubs, but these can sometimes be time consuming and also easy to mess up.

Too much salt, pepper, spice… we've all been there. No one wants to spend hours smoking the perfect brisket only to have to ruined it by a bad BBQ rub.

So a good store bought brisket rub is a great way to cut through all of that, and get straight to a trusted blend that's easy to use and delicious in equal measure.

It's the best way to ensure beautiful flavors while also saving you a lot of time in the long run.

So here's my pick of the best store bought brisket rubs.

John Henry's Brisket Rub

If the name seems familiar, then you will probably have seen the John Henry brand on any number of good BBQ rubs.

They're synonymous with barbecue, and they offer an incredible amount of rubs for a load of different meats.

John Henry know what they're doing, and nowhere is this best seen than with their Texas Brisket Rub.

The rub features a beautiful pecan taste which can be made the most of if you also pair your brisket with pecan wood chunks when smoking.

What I love about pecan is that even though it's a very unique tasting flavor, almost everyone I know loves it, making it a great crowd pleaser for your brisket rub.

The pecan is combined with paprika to give it a very unique taste. It's a combination that feels like it shouldn't work, but it does. Oh boy does it work.

It all comes together to give the rub a subtle sweet taste with pepper to give it a bit of heat and smokiness.

The claim from John Henry is that this can be used with any cut of beef, but this just works best with brisket. The seasoning helps to lock in the juices, allowing them to work their way through the meat while the cut is cooked low and slow for hours.
Smofried BBQ Brisket Rub

The key to what makes this rub stand out is it cocoa powder. Yep, I said cocoa powder.

The cocoa gives the brisket an added level of intensity that is completely different to anything else on this list.

It might sound like it shouldn't work, but what this does is it works with the enzymes in the meat to create additional layers of caramelization.

Besides this, the rub contains a great mix of salt, black pepper, onion powder, garlic powder and ground celery to provide a fresh, unique brisket powder.
Two Gringo's Chupacabra Brisket Magic

Calling yourself 'brisket magic' is a big claim, so can 2 Gringo's back the bravado up with a killer brisket rub?

The good news is they certain can, and then some.

This rub packs in a lot of ingredients, all to come together to give a rich flavor profile. It has spicy notes to it, and doesn't give you a flavor that is at all too salty (a common failing of bad quality rubs).

It has a beautiful blend of chilli peppers matched with brown sugar for a great sweet taste that rally comes to the fore when cooked low and slow for hours.

What's more is that this can be used with a range of other meats, not just beef, like pork tenderloin.

I'm a brisket fan though and for best results you needn't look any further than applying a thick layer of this to your BBQ brisket.
Kosmos Q Cow Cover BBQ Rub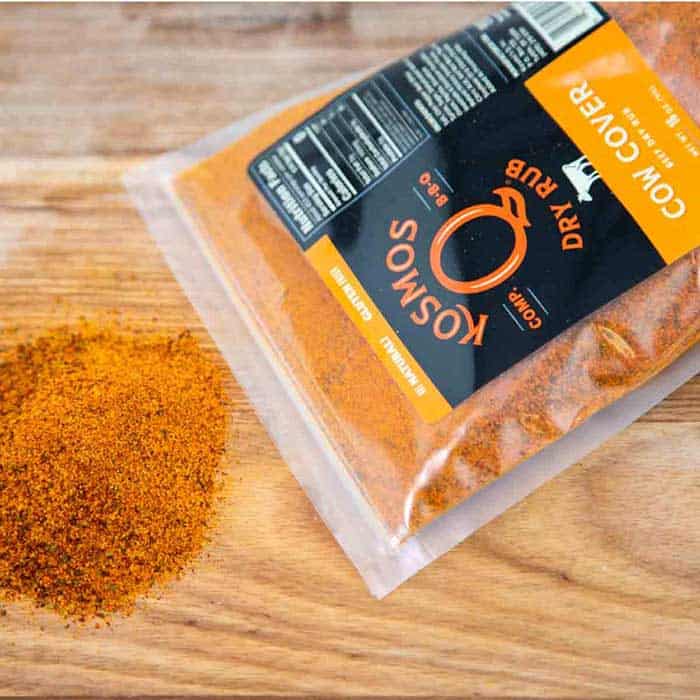 Kosmo Q are a brand long known for their competition level rubs, and the Cow Cover BBQ rub epitomises their mastery of low and slow cooking.

This is an award-winning brisket rub that will help you achieve brisket worthy of the professionals.

In truth this is designed to be a more general beef rub, but it does a beautiful job more specifically with brisket.

Made with fresh ingredients, this rub has a delicately balanced taste that ticks all the right boxes.

The game comes in a choice of heat levels, so it will suit pepper-phobes and spice freaks alike.

All in all it's a versatile rub that stays true to its origins as a traditional BBQ rub.
Obie-Cue's Big Bull's Texas Brisket Seasoning
Texas brisket is one of the traditional greats, so it's always the case with the cut of meat that the simpler the better.

And that's where this stripped back seasoning comes in.

It's simple in its recipe, and that's perfect for Texas brisket as we can allow its natural flavors to come to the fore without risking overpowering it.

It's made with just salt, garlic, herbs and chilli pepper, but the combination of them works perfectly.

In combination it gives you a simple rub that even pitmasters of the south would be proud of. It stays just the right side of smoky and spicy without ever straying into 'salty' territory, all while delivering a beautiful bark that will make you seem like a pro.