Smoked top round cooked low and slow over oak wood for the perfect plate of barbecue beef. Prepared with an easy dry brine and Texas-style paprika and garlic dry rub, this modest cut of meat is packed full of flavor! Learn how to smoke top round with our recipe.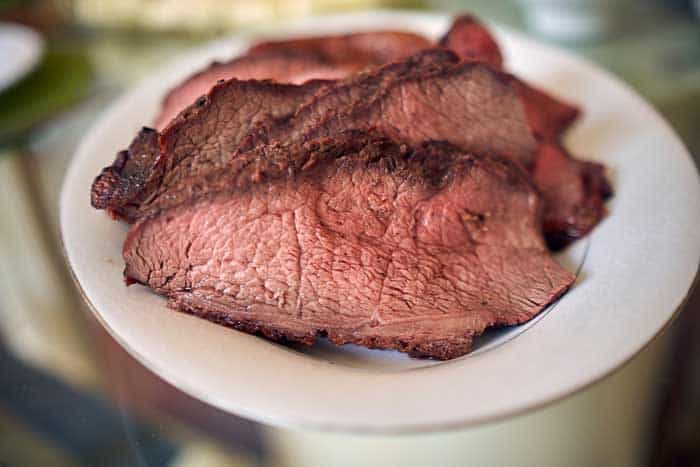 Today we're firing up the smoker to rustle up a smoked beef cut that is often ignored in favor of sirloin and flank. Hopefully, this walkthrough will show you why it deserves a place in your repertoire of barbecue recipes.
Beef top round is great for smoking, but unlike more renowned meats like brisket or chuck, it's best enjoyed served up in slices. This can be for sandwiches, tacos or fajitas…. or even just on its own. No one's judging.
What is top round?
Top round steak comes from the rear leg and rump of the cow, otherwise known as 'the round'. Beef round is split into several cuts, including the top round, bottom round, and eye round.
The leg is a well-exercised area of the cow, which means that the top round has relatively low fat content and marbling. This makes it lean and quite tough to eat, while also making it prone to drying out when we try to grill or smoke it. For this reason, it's usually cooked with slow 'moist' heat methods, like braising or slow cooking in a crockpot. It can also be enjoyed as roast beef, or as tenderized steaks.
Top round is often served in thin slices and can be dried or smoked to make jerky, or simply enjoyed on its own or in a BBQ sandwich.
When cooked properly, top round has an incredibly juicy flavor. However, because it's so lean it is also a cut of beef that is very easy to overcook and turn chewy or even dry.
How to store top round
Like most beef steak cuts, top round can be stored in the refrigerator for three or four days. You can freeze it for up to a year, but you will need to wrap it tightly in butcher paper or vacuum seal.
If you want to store it after cooking, you will need to wrap it or place it in an airtight container before putting it in the refrigerator. You should do this no longer than two hours after cooking. You can also freeze it, but it will begin to lose its quality after two months.