Delicious smoked beef bone marrow cooked low and slow over hickory wood. With a delicately beefy-but-sweet flavor, this unique recipe is a great way to enjoy beef. Best of all, it only takes 40 minutes on your smoker or grill.
Smoked bone marrow is the secret specialty that home cooks are going crazy for, even going as far as to call it the butter of the gods.
You may have seen bone marrow on the menu at high-end restaurants, usually served roasted and as an expensive starter. Although the taste is more than worthy of the price tag, you don't need to be spending big money to get this meaty-flavored delicacy.
Making your smoked bone marrow is easy to do at home and super affordable. All you need is your smoker, a few simple ingredients, and split marrowbones sourced from any good butcher. Discover how to smoke bone marrow today.
What is Smoked Bone Marrow?
Smoked bone marrow is seasoned bone marrow that has been smoked and scraped out of the bones to make a tasty butter-like spread or used as a flavoring in other recipes.
It has a beefy, savory flavor with a hint of sweetness. Due to its high fat content, it has a very smooth texture, giving it a creamy, buttery taste.
Bone marrow is a soft and spongey textured fat-like substance that forms in the hollow of bones. The bigger the bone, the bigger the deposit of bone marrow, and you'll mostly see the shank, tibia, or femur bones sold as marrow bones.
In the past, people would often save up meat bones for making stocks or soups with the idea that no part of the animal should go to waste. While this is perfect for things like chicken bones, beef marrow bones contain a tasty treat that deserves to be the main star of a dish rather than just a frugal flavoring.
Bone marrow is an excellent source of good fats as well as being delicious when prepared properly, which is why it's become a popular smoked dish.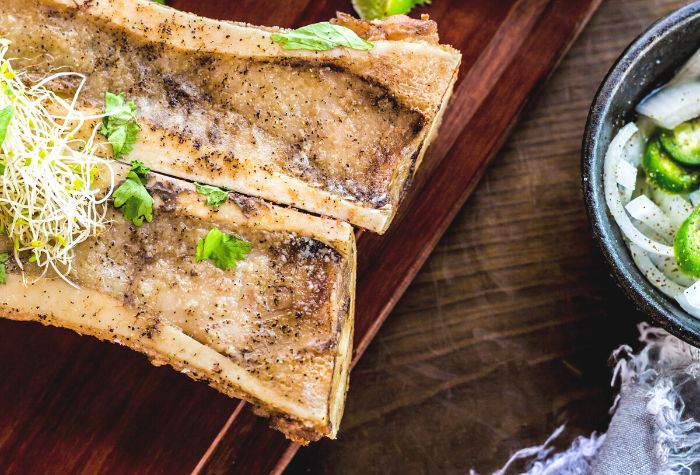 Where to Buy Marrow Bones for Smoking
The easiest way to smoke marrow bones is if they have been split in half, as it ensures an even temperature and flavor. Split beef bones are best bought from a butcher – it is not recommended to try splitting bones yourself.
Bone marrow can be extracted from bones that haven't been split. It's just a bit tricker – you can try using a small teaspoon to get most of it out and then a thin knife to clean out the rest of the cavity.
If you get cuts of meat from the butcher that have marrowbones intact, these can be saved and frozen to be smoked at a later date. Just ensure to thaw them out fully before preparing them to smoke.
Salt Water Soak
There isn't too much to prep when creating smoked bone marrow. The only thing you might want to do is clean any remaining meat off of the outside of the bones and draw out any residual blood that might be in the marrow. This is easy to do with a simple salt water soak.
Rinse the bones with cold water and arrange them in a tray or pot, deep enough to fully submerge them.
Make a saltwater mixture (1 tsp of sea salt to 1 cup of water) and leave the bones to soak in the fridge for up to 24 hours. Aim to change the water 2-3 times during that period to ensure that you draw out as much blood as possible. This mixture will also help loosen any meat stuck on the bone.
When they have finished soaking in the saltwater solution, rinse them off in clean water and pat them dry. They are then ready to go into the smoker.
Best Wood for Smoking Bone Marrow
Due to its spongey texture when raw and the way it renders down when smoked, bone marrow can take on a lot of flavor from the smoke. The best wood to use when smoking bone marrow is personal preference – if you're looking for a strong smokey taste, then something like hickory wood would give a great flavor. If you want a milder taste, you could try a fruit wood such as cherry or apple.
Times & Temperatures
Much like meat, bone marrow should be cooked to a minimum internal temperature of 145℉ (63℃) to ensure it is safe to eat. We'll be smoking it at a (relatively) high temperature of 300°F (150°C), and will take about 40 minutes to cook.
Serving Ideas
Smoked bone marrow is perfect for spreading on crusty bread such as a French baguette or toasted sourdough
Adding smoked bone marrow to other cooking ingredients or sauces is another great way to use it to give some extra flavor – try adding it to butter, aioli, or steak sauces
Save any of your leftover marrow to use in a classic homemade bordelaise sauce recipe. Reduce with red wine and shallots to create a rich, velvety sauce that'll elevate any grilled steak dish.
Quick Tips
Use an aluminum foil-lined baking sheet to hold the beef marrow bones on while they cook. This will help prop them up while they're on the smoker, and also collect any fat or liquid marrow that renders out while they cook.