Bavette is an underrated cut of beef that is perfect for barbecue. Find out what it is, how to prepare it, and the best way to smoke it with our reverse-seared Bavette steak recipe.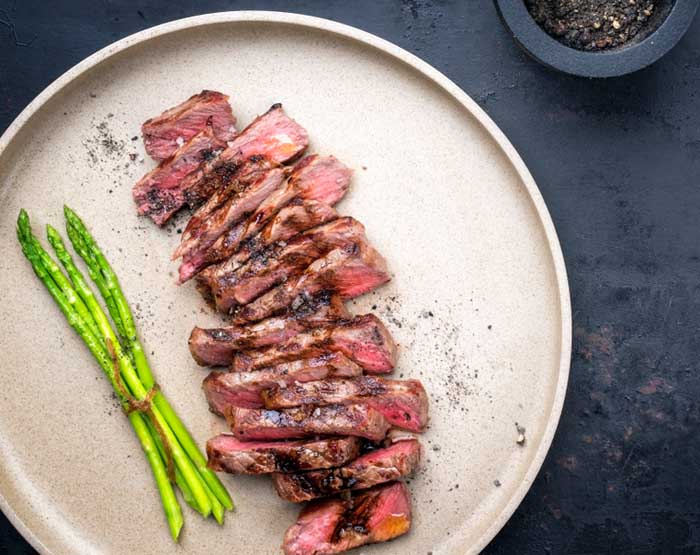 There aren't many cuts of meat that are as versatile as steak. Whether it's filet mignon or ribeye, or flank or skirt, you have so many recipes at your disposal.
Bavette steak is a unique yet underrated beef cut that deserves a lot more attention than it gets. It's tender, it's juicy, and – most importantly – it's downright delicious.
Let's take a look at what you need to know about this unusual beef part, and give you one of our favorite smoked Bavette steak recipes.
What is Bavette Steak?
Bavette steak is a large, long cut of meat from the bottom of the sirloin on the beef. It's characterized by its rich marbling, which keeps it tender and allows it to absorb flavors.
It's often confused with flank and skirt steak due to their similarity in appearance. Meanwhile, it's also confused with sirloin and tri-tip steaks due to their proximity to one another.
Where Bavette stands apart however is in its taste and texture. It can lock in flavor far better than flank, and tends to stay tender while being cooked.
Confusingly, Bavette often comes by different names. One is sirloin flap, while another is bottom sirloin butt. Neither of these names do justice to the beef cut, and might even be a reason why this beautiful cut of beef remains so elusive.
Where to Buy Bavette Steak
Unlike many other cuts of beef, Bavette isn't always easy to find in stores. Some butchers might be able to procure it in advance on request.
Unfortunately, Bavette isn't as popular as flank, skirt or top sirloin, so it isn't stocked as widely. It is growing in popularity though, so we hope that in a few years it will be much easier to track down in regular supermarkets.
Buy Online
The good news is that you can always turn to the internet for a little help. Our favorite online vendors both stock Bavette, and can deliver upon purchase.
Best Wood for Smoking Bavette Steak
A rich hardwood will go well with red meat like Bavette, so we recommend any of oak, hickory or mesquite.
For our recipe, we will use oak. It has a basic medium-strong flavor profile that will provide a robust smoke, without overwhelming the natural flavors of the steak.
Hickory provides a smoky and slightly sweet aroma. Likewise, mesquite gives a bold punch. Both of these are good choices, but ensure that you don't go overboard with your chunk quantities.
Times & Temperatures
We will be smoking our Bavette at 225°F (107°C) until it reaches our desired doneness. This is usually between 70-90 minutes, but will depend on the internal temperature of the beef.
Rare: 115°F; about 70 minutes
Medium-Rare: 125°F; about 80 minutes
Medium: 135°F; about 90 minutes
After we have smoked it, we will finish it on a high sear to complete our reverse sear cook (this recipe is quite similar to our reverse-seared flank steak). We will then leave it to rest for 10 minutes to allow it to finish coming to our final target temperature. This should add about 10°F to the internal temperature of your steak.
If you don't have a smoker thermometer, I strongly recommend you invest in one. They're the most accurate way to gauge the temperature of your meat, and far more trustworthy than going by feel.
How to Prepare Bavette for Smoking
Start by washing the steak under cold water, and then pat dry with a paper towel.
There should be little-to-no fat on the steak, but if you see any stray or excess bits of fat simply use some meat scissors to trim them.
On to seasoning. We're going to use a simple rub on our Bavette, and allow it to sit in the refrigerator to absorb as much flavor as possible.
Our rub ingredients are just Kosher salt, ground black pepper, garlic powder. That's it. We mix them in a small bowl and apply the mix across the surface of each steak. Be sure to rub them in firmly, on both the top and bottom sides of the beef. Leave in the refrigerator overnight.
Reverse Seared Bavette Steak
Delicious reverse-seared Babette steak cooked to medium-rare. Made with an overnight rub and slow smoked over oak wood, there's no cut of beef steak like Bavette!
Print Recipe
Pin Recipe
Ingredients
Dry Rub
1

tbsp

Kosher salt

1

tbsp

ground black pepper

2

tsp

Garlic powder
Instructions
Wash steak under cold water and pat dry with a paper towel. Trim down any excess fat.

Combine dry rub ingredients in a small bowl. Apply generously to steaks, seasoning on both sides. Massage into all areas of the meat.

Cover steaks in plastic wrap and leave in refrigerator overnight.

One hour before smoking, remove steak from the refrigerator and allow it to come to room temperature.

Heat up your smoker to 225°F. If you are using a charcoal grill, set it up for indirect grilling.

When the smoker or grill is at the target temperature, place steak on grates. Close the lid and leave to cook for 80 minutes, or until internal temperature has reached 125°F (52°C).

Transfer steak to grill on high heat, or add more coals to the charcoal grill. Sear for a minute on each side to achieve grill marks.

Remove Bavette steak from the grill. Leave to rest for 10 minutes.

Serve by cutting against the grain, slicing into your desired number of pieces.