BBQ dual probe thermometers allow you to keep on top of both your meat and smoker temperatures so that you can cook your food perfectly every time. Find out everything you need to know with our guide to the best smoker thermometers.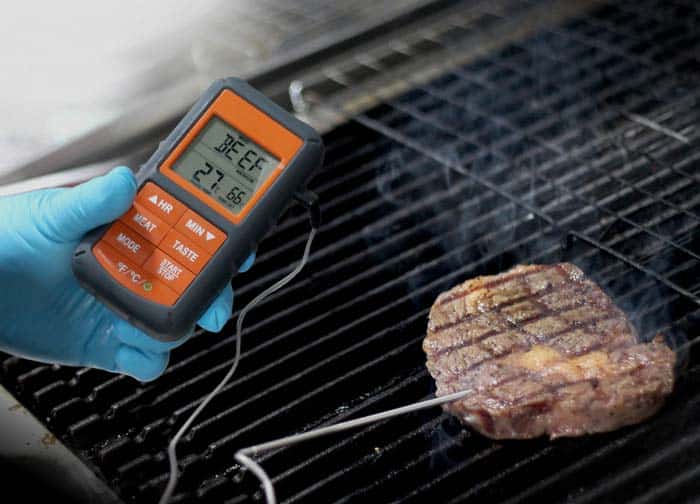 There's no cooking art quite like barbecue, but getting it right also makes it one of the most difficult. Part of that is the struggle of keeping good, low smoking temperatures consistent over the course of hours. Getting a reliable and accurate smoker thermometer is crucial to getting this right.
Dual probe thermometers allow you to monitor the heat levels of both your meat and smoker chamber simultaneously. But where do you find readers that are reliable and accurate, but also don't break the bank? This guide will show you the five best smoker thermometers out there today, as well as the features to look out for so that you can find the right choice for you.
Let's get into it.
Riida TM08 Wireless Thermometer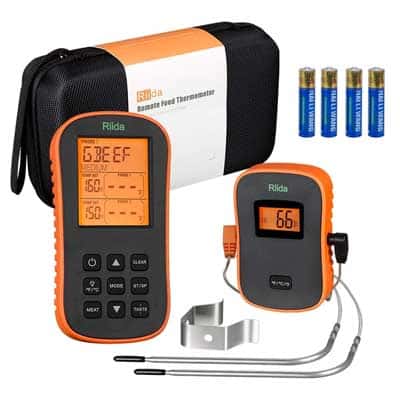 The Riida TM08 meat thermometer is a nice option if you don't need anything fancy. TM08 is good for up to 2 meat probes, and it doesn't have any Bluetooth connectivity, which is good if you want something simple.
TM08 is fairly inexpensive as well, so it works for those who don't need anything super-accurate or super-functional.
Still, this smoker thermometer has a few nice features for meat lovers. Out of the box, you are getting temps for 9 types of meat and 5 tastes. Not only that, but TM08 allows you to set temperature alarms and has count-up and count-down timers.
The advertised remote range is quite respectable as well – up to 300 feet. But in practice, the range will be much lower due to obstacles and interference. Within a backyard, the remote should work completely fine though.
Pros
Inexpensive
Preset temps for 9 types of meat and 5 tastes
Connection range up to 300 feet
Riida TM08 Wireless Meat Thermometer, Remote...
♥ Remote Meat Thermometer With Dual Probe: Digital wireless bbq temperature gauge to monitor...
♥ BBQ thermometer with preset temperatures for 9 types of meat(Ground Beef, Ground Poultry,...
♥ Instant Read Grilling Thermometer: No synch required. Large LCD displays shows accurate...
ThermoPro TP25
The ThermoPro TP25 is a good choice if you want a Bluetooth-connected meat thermometer, as well as more probes than in Riida TM08. TP25 supports up to 4 meat probes, and ThermoPro kindly includes 4 color-coded meat probes in the box.
TP25 is very functional too. Perhaps the most interesting feature is the Cook Time Estimator. This feature estimates how many minutes there are until the food reaches the target temperature. Cook Time Estimator won't work every time since there may be variables beyond what the algorithm can take into account, but it may be useful in some situations.
The TP25 meat thermometer lets you set temperature alarms as well. The alarm feature in this smoker thermometer sends a notification when the meat is 15, 10, and 5 degrees away from the target, allowing you to plan your meal.
The thermometer also records and charts the probing temperatures, which is neat and may be useful for some people.
The Bluetooth connectivity lets you keep track of the cooking process from your smartphone or tablet too. The connection range is advertised at 500 feet, but this is in perfect conditions, and you are probably going to get closer to 75-100 feet in reality.
What's a little annoying about TP25 is that the app can be buggy and drop connection sometimes, but ThermoPro updates the app fairly frequently, and it seems to get better with time.
Pros
Includes 4 probes
Preset temperatures for 9 meat types
Can connect to your mobile device via Bluetooth
Charts probe temps in real-time
Cons
The app is buggy and needs polishing
Sale
ThermoPro TP25 500ft Wireless Bluetooth Meat LCD...
Extended 500ft Range & Bluetooth 5.0 Certificate by SIG: Rechargeable bluetooth thermometer...
4 Different Color Coated Probes: 4-probes smart meat thermometer allow you to conveniently...
Simplistic, Multi-Functional App: ThermoPro meat thermometer wireless app contains editable...
BFOUR Wireless Bluetooth
The BFOUR meat thermometer is a very nice option for low budgets.
The highlight of this smoker thermometer is the support of up to 6 meat probes. BFOUR includes 3 probes out of the box, but you may add 3 more. For most people, 3 should be more than enough, but it's nice that the thermometer supports 6 probes.
What's also great about the BFOUR thermometer is that it can hook to smartphones or tablets via Bluetooth. The app seems reliable and bug-free, while the range is advertised at 100-200 feet, depending on how clear the line of sight is.
We like the large LCD display as well – it makes reading temperatures really easy. You get 7 preset temp settings out of the box too, and you may also add more if you want.
The BFOUR thermometer has all the essential features you'd want as well, like alarms and timers.
All in all, for the money, you probably won't find anything better than this smoker thermometer. It's cheap, and only time will tell how durable it is, but it's still a solid choice at its price point.
Pros
Inexpensive
7 preset temp settings
Includes 3 and supports up to 6 probes
Bluetooth connectivity
Large display
Cons
Nothing to complain about
BFOUR Bluetooth Meat Thermometer Wireless Grill...
Remote monitor & alarm function: The wireless meat thermometer adopts the most advanced...
Multifunctional app & temperature chart: With more than 11 modes USDA preset temperature...
Precise meat probes with winders: 3 probes are included to monitor different foods at the same...
ENZOO Wireless
The ENZOO wireless meat thermometer offers reliable performance at longer ranges. It's advertised to work at up to 500 feet, and although this probably is given for ideal conditions, a few hundred feet seems not to be a huge problem for this thermometer.
The display in the ENZOO meat thermometer is super-nice too. It's large and has wide viewing angles, making reading temperatures easy from afar.
ENZOO includes 4 color-coded meat probes with this meat thermometer as well. The temperature accuracy is advertised at +/- 1 degree, so this thing appears to be more accurate than previous thermometers.
The thermometer also comes with preset temperatures for 11 types of meat, and you may customize all the settings as well if needed.
Lastly, we like the included storage case – it's large, protective, and keeps all the accessories organized.
Pros
Includes 4 color-coded meat probes
Preset temps for 11 types of meat
Large display with wide viewing angles
Wireless range of up to 500 feet
Comes with a very convenient storage case
Cons
No Bluetooth connectivity
Sale
ENZOO Wireless Meat Thermometer with 4 Probes for...
Best Instant Read (1-3s) Food Thermometer - A good thermometer helps you eliminate all the...
Remote Range Cooking Thermometer - Wireless thermometers let you read the display from a...
Easy to Setup and Store - Meat thermometer with 4 probes can monitor 4 different kinds of meat...
NutriChef Smart Bluetooth Thermometer
The NutriChef Smart thermometer is yet another nice pick if you want more probes. It comes with 2 probes out of the box but supports up to 6. There's also a single-probe variant of this thermometer available, which may work just fine for some people.
This thermometer is again Bluetooth-compatible, so you may keep track of meat temperatures from your smartphone or tablet. The mobile app displays real-time temps, sends alerts and notifications when the meat approaches target temperature, and saves temp history.
One thing to keep in mind with this thermometer is that it doesn't support Wi-Fi, despite what the product title suggests. It only connects to mobile devices via Bluetooth. NutriChef is for some reason misleading buyers here, though we don't think that the brand has ill intent.
Pros
Includes 2 probes and supports up to 6
Supports Bluetooth
Single-probe variant available
Large and easy to read display
Cons
No Wi-Fi support, so the product name is a little misleading
NutriChef Bluetooth Meat Thermometer for Grilling...
Envision is now Pacific Blue Basic
ECONOMICAL 2-ply bathroom tissue in a long-lasting 9" jumbo junior roll format
JUMBO TISSUE is replaced less often reducing maintenance time and risk of run out during peak...
---
Important Features
When you look for a smoking thermometer, just like with any other accessory, it is important to know what features to look out for. This will help you know if you are getting quality, and also if the thermometer will do what you need it to do and if it is something that you can easily use.
Accuracy
This is a big part of getting the right thermometer. One might even say that it is the entire reason why you need to get one. The best way to regulate your smoker's temperature is to get a proven accurate thermometer. The old method of holding your hand out over the smoker will not give you an accurate reading. There's no way for you to tell the temperature by looking or feeling. The best you can do is feel if it's hot, warm, or cold, which will not do too much for you.
Accuracy is important when smoking so that you know exactly when the food is done and when it needs more time in the smoker. The temperature of the food prescribes whether it is safe to eat or not. And so it is essential that the reading that you get from the thermometer is very close or at most about 5°F off either way.
Number of probes
The number of probes on a smoker thermometer helps you take the internal temperature of the food you are smoking, meaning that you will not need to cut the meat or food and see if it is ready. A dual probe thermometer allows you to use two probes in getting the smoker's temperature and getting the temperature of the meat you are cooking.
The two probes will help you know when the food reaches a safe temperature to eat and also what temperature is in the smoker. You can also use both probes to measure meat temperature from different angles. You can split temperature probes into four categories:
The resistance temperature detector is amongst the most accurate and also the most expensive as well. It is made of a length of wire that is wrapped around a ceramic or glass core.
Thermocouple Probe only needs about two or five seconds to give a reading. This makes them a hit for anyone who is looking for a fast-reading thermometer. At the end of the probe, tips are two fine wires, which help give the food temperature. The downside is that it needs to be calibrated carefully.
Semiconductor-Based Sensors will pick up temperatures that are collected along with the bimetallic coil. The downside is that this type can take some time to give a reading, about 20 seconds. Also, you will need to make sure that you insert the probe at least 2 to 3 inches deep.
Negative Temperature Coefficient (NTC) Thermistor. This uses the resistance changes in the protein. As the temperatures rise, the resistance falls and this helps you give accurate temperature readings.
Wireless or Bluetooth capabilities
When a thermometer is wireless, it is easier to control even from a distance. Nowadays, you can also find thermometers with Bluetooth capabilities, which allows you to tell the temperature even when you are not near the smoker. However, you still need to be within range. In most cases, these thermometers will send temperature and time information to the receiving device, keeping you in the loop of how the smoking is going.
Temperature range
The temperature range on thermistor thermometers is between -100˚C and 620°F, while resistance temperature detectors range from -100°F and 1200°F. Thermocouple thermometers range from 390°F to 1400°F.
How to set up your smoker thermometer
In most cases, an in-built thermometer is set up nearer to the top of the smoker. But these will often give you a wrong reading that is off by several degrees. You may want to place the thermometer closer to the food for a more accurate reading, slightly above the grate. Here are the steps that you will need to take to install an effective thermometer in your smoker.
If there isn't a hole already, drill one just near the grates, making sure that the hole is large enough to accommodate the thermometer wire. Position this hole about 2 to 3 inches above the grate where you will be placing your food.
Now, thread the stem of the thermometer through the hole into the cooking chamber.
Once this is done, attach the nut, and tighten it just enough to keep everything in place.
All thermometers will need some sort of calibration, especially when they are still new. If you are using it often, you also want to make sure that it is calibrated at once in two weeks. To calibrate your thermometer using the ice method:
Fill a glass with crushed ice
Place the thermometer probe in the glass, making sure that it is not touching the sides of the glass or even the bottom. Stir it slightly.
Then wait until the temperature reaches 32°F or 0°C. If this is not the reading, you can push the button to reset it until it reaches that temperature.
Or you can use the boiling method to recalibrate.
Pour distilled water into a deep pan and bring to a boil
Whilst the pan is still on the heat, place the probe in the middle of it all
Then wait for the temperature indicator to stabilize. You want the thermometer to read 212°F or 100°C
Using both methods ensures that you get a more accurate reading.
How to take care of your smoker thermometer
To ensure that the thermometer stays in tip-top shape, you may want to follow some of the following maintenance tips;
Keep it clean always. Make sure that you clean the probe and thermometer after each use. When you clean it, just use water and perhaps some mild detergent, rather than soaking it entirely in water. I also like to clean it before so that I know I'm inserting a clean probe. You can clean it with lukewarm water or rubbing alcohol.
Try to always store it with the probe covered with the probe cap, if it is available
Make sure to store it in a cool, dry place.
Last update on 2023-12-02 / Affiliate links / Images from Amazon Product Advertising API