Easy grilled Korean short ribs fired over high heat. Better known as galbi, these flanken-cut beef ribs are prepared in a sweet marinade before flame-grilled for the perfect balance of sweet, salt, and charr.
These Korean-style grilled beef short ribs are the perfect place to start for newcomers to Korean BBQ. Prepared in a beautiful soy sauce and Asian pear marinade, these strips of meat are loaded with flavor and – best of all – only need minutes on the grill.
From making the perfect galbi marinade to finding the right flanken-cut beef ribs, discover how to grill Korean short ribs today. Let's get cooking
Korean BBQ Grilled Short Ribs
Korean BBQ has exploded in popularity in recent years thanks to its flavor-packed dishes, delicious sides, and fun way of eating. But few dishes are favored as highly as its short rib centerpiece: Galbi.
With just the right amount of chew, plenty of smokiness from the grill, and a delicious, spicy sweet whiff of the marinade in each bite, these Korean ribs are pure meat heaven.
While you might be used to slow-smoking beef short ribs, these ribs are cut flanken-style to make them thin and perfect for quick flame-grilling. You can either give them a lick of heat over an outdoor grill or even set up your own Korean BBQ station around the dining table. Whatever you choose, you're going to have an instant crowd-pleaser on your hands.
What is Galbi?
Galbi is a popular Korean dish that features beef short ribs ('galbi' literally translates to 'rib') prepared in a salty-sweet marinade. It's a staple of Korean barbecue and a must-have at any Korean BBQ restaurant. The soy sauce and sugar marinade give the ribs a flavor that's enhanced by the smokey and charred flavors from the grill.
So where did this Korean classic come from? Until as late as the 1800s, the slaughter of cattle was prohibited in South Korea. This changed with King Jeongjo, who wanted his workers to be well-fed for the construction of Hwa Castle in Suwon, so he opened up a cattle market for them. 
The Suwon region soon became an epicenter for the country's meat trade. And it was here in the 1940s at a restaurant called Hwacheonok where galbi was invented. It's believed that it started as a soup ingredient before the owners experimented with different marinades and ways of cooking the meat, where they ultimately stumbled on cooking the ribs over flame instead.
From here, Suwon galbi was born. However, it took on a new life in California, when Korean immigrants brought the dish with them, from where it exploded in popularity. More popularly known as 'LA galbi', this style of grilled beef ribs
Galbi then took on a new life in California, where Korean immigrants brought this favorite dish with them and it exploded in popularity and evolved from there. Known as 'LA galbi', this take on the original dish used flanken-cut ribs, where the bones peek out along the edge of the rack, and is heavily marinated to help tenderize the beef.
From here, LA galbi has made its way back to South Korea and led to an explosion in varieties of the dish. From the marinated yangnyeom-galbi to the non-marinated saeng-galbi, and even versions using pork such as dwaeji-galbi and dwaeji-saeng-galbi.
For our grilled Korean short rib recipe, we'll be going for the LA-style flanken-cut galbi beef ribs. It uses a beautiful gochujang marinade that loads the beef ribs with flavor, before we give them a lick of heat over fire for just a few minutes.
What are Flanken Ribs?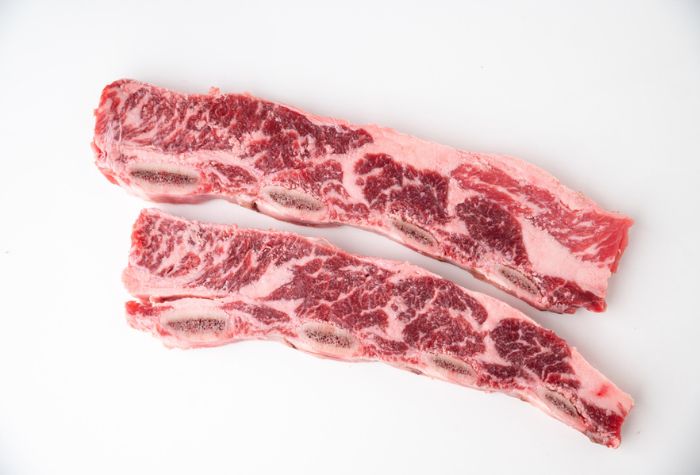 Flanken ribs are a style of beef short ribs that are prepared to feature cut bones peeking out along the edge. This makes them perfect for galbi because the meat is thinner, making them easier to marinate and quicker to grill. What you then get is a tender bit of meat with a beautiful layer of flavor coming from the small piece of bone in the beef.
Ingredients
Whilst the end result might be a simple but delectable slice of grilled meat, it takes a few special ingredients to get there. Don't be put off by the semi-long list, all these flavors work perfectly together and once you've got them, galbi can be yours any time you desire it!
Flanken-Style Beef Short Ribs: These are cut horizontally across the bones rather than along them like a traditional beef short rib might be. Cutting the ribs this way means you get those perfectly thin slices, ideal for grilling.
Marinade: This is where all those flavorful ingredients come in. Asian pear is one of the key ones and not to be skipped, along with soy sauce, mirin, sesame oil, ginger and garlic – amongst a few others. It's not strictly traditional to add gochujang but we like the sweet spiciness it brings to the meat.
Sauces & Sides: Being a traditional Korean BBQ dish it's as much about the main as it is the sides so make sure you're stocked up with plenty of rice, perilla leaves and ssamjang for dipping. The best thing to do is wrap the rice and galbi up in a perilla leaf and dip it in the ssamjang.
Marinade
Creating the perfect galbi marinade is a crucial step in preparing grilled Korean short ribs. The marinade's complex mix of sweet, salty, and savory flavors makes them truly unique, while also tenderizing them for grilling. Our full recipe can be found at the end of this article, but here's how to make galbi marinade:
Ingredients
1 Asian pear, roughly chopped
1 yellow onion, roughly chopped
5 cloves garlic
1-inch fresh ginger
1 cup soy sauce
¾ cup brown sugar
3 tbsp mirin
1 tbsp gochujang
2 tbsp sesame oil
2 tsp freshly ground black pepper
Step-by-Step
In a food processor, blitz the Asian pear, chopped onion, garlic cloves, and ginger into a rough paste
Transfer the paste to a bowl and then add in the soy sauce, brown sugar, mirin, gochujang, sesame oil, and black pepper. Whisk to combine to form a marinade.
Place the beef short ribs in a large ziplock bag and pour the marinade over. Squeeze out the air, seal the bag, and massage the meat to work in the marinade. Place in the refrigerator and marinate first least one hour.
Times & Temperatures
Galbi is best cooked over a high grill heat as it means the meat perfectly chars on the outside and cooks through quickly. Make sure your grill is heated to the highest setting and is at least 450°F (230°C).
The timings will depend on how thick the ribs are cut but it should be around 3-4 minutes per side. Be sure to factor in some resting time for a few minutes before serving with all the trimmings.
Quick Tips
Try not to flip the galbi too many times as you want the meat to build up a nice, caramelized outer layer – that's where all the flavor lies.
While our recipe says to marinate the ribs for at least an hour, for maximum flavor and tenderness try marinating them overnight
Make sure you grill the ribs over high heat. This will improve the flavor by both caramelizing the marinade and also giving the beef a little bit of charr.
If you have any leftover marinade, try pouring some over the ribs as they cook to form a braise
Don't forget to rest the meat after grilling for a few minutes. This will help lock in moisture and flavor.