Delicious rump roast smoked low and slow on your backyard smoker or grill over hickory wood. Prepared in a simple dry rub seasoning, this easy BBQ recipe is the perfect choice for holiday dinners or weekend family gatherings.
This smoked rump roast recipe is set to be the star of your next barbecue dinner. With its rich beefy flavor, this lean meat cut becomes irresistibly tender and juicy when cooked slowly over smoke. Our easy-to-follow method uses a garlic and paprika dry rub, adding layers of taste that meld beautifully with hickory wood smoke.
From choosing the best smoking wood to resting your beef, discover how to smoke rump roast from scratch. Let's get cooking!
What is Rump Roast?
Rump roast is a beef cut from the cow's hindquarters (just above the hindlegs) and forms the top part of the round primal cut. Because this part of the animal isn't well-worked, rump roast is rich in connective tissue, making it extremely tender and juicy. It's also a lean beef cut, meaning that it needs to be cooked low and slow to bring the best out of it. That's where barbecue smoking comes in.
While you can buy rump roast bone-in (also known as standing rump roast), boneless rump makes it easier to prepare and also keeps smoke times shorter and more consistent across the roast.
How to Smoke Rump Roast
Smoking rump roast is quite simple and can be done in just a few steps. Full ingredients and temperatures can be found at the end of this post, but the five key steps are:
Fire Up: Preheat your smoker to 225°F (107°C). If you're using a charcoal grill, make sure you've set up for 2-zone cooking and have plenty of room on your grates on the indirect side for your roast.
Meat Prep: Use a paring knife to trim any excess fat off the rump roast, but do not remove the fat cap that sits on top of it.
Dry Rub: Pat the beef dry with paper towels and then coat with our dry rub seasoning blend
Smoke: With your smoker warmed up, place the roast on your smoker grates and cook to either medium rare or medium doneness
Rest: Pull your rump roast from the smoker and allow it to rest for 15 minutes before slicing to serve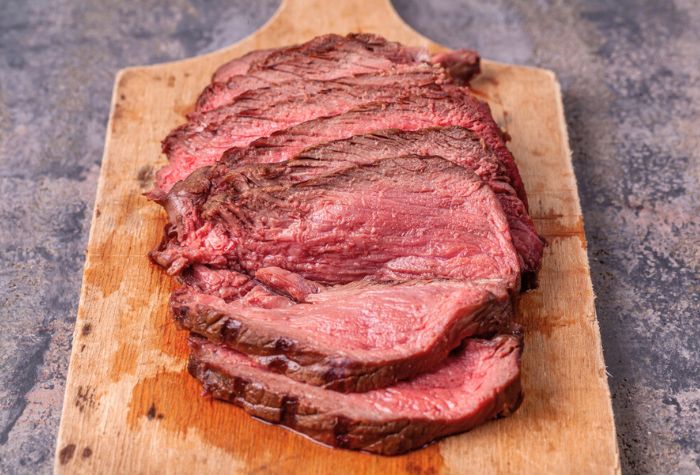 Best Wood for Smoking Rump Roast
When you are selecting wood for smoking a rump roast, you have many options to choose from. The best and most popular choices are either oak or hickory, and will bring an additional level of smoky flavor to your beef.
If you are looking for a sweeter taste, try blending in some applewood with hickory. While you will still have a smoky flavor, it will be mixed in with a subtle level of sweetness.
Time and Temperatures
Our rump roast will be smoked at 225°F (107°C) until it reaches an internal temperature of 130-135°F (54-57°C) for medium rare, or 140-145°F (60-63°C) if you prefer medium doneness. There's no hard and fast rule for how long this takes since factors like meat size, smoker performance, and even the weather can all impact cook time. However, in general, this should take about 30 minutes per pound, so at least 2 hours for our 4lb roast. Always use a digital meat probe to measure meat temperature.