The best BBQ rubs for your smoked brisket, ribs and grilled chicken. Take your barbecue flavor to the next level with these delicious store-bought seasoning blends!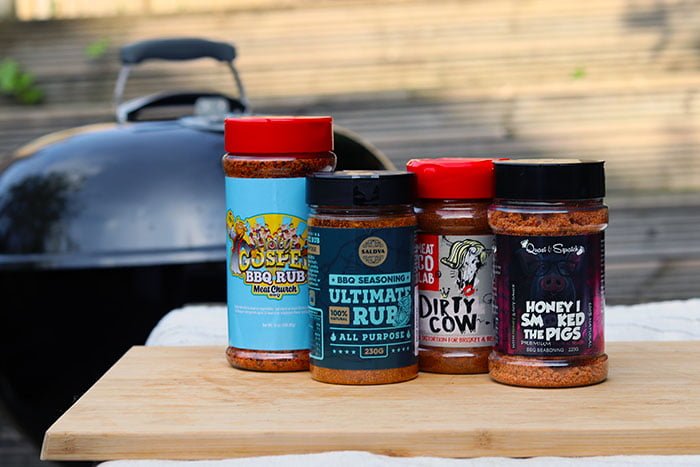 Whether you are barbecuing ribs, brisket, fish or turkey, there is one thing that your barbecue ritual should absolutely include: a good BBQ rub. The right rub can take your meat from ordinary to extraordinary, and all you've got to do is (yup, you guessed it) rub it into the meat. BBQ rubs usually comprise a blend of salt, sugar and spices that give the meat a specific taste profile based on the style of the rub.
Now, some pitmasters like to make their own rubs and spend years fine-tuning the quantity of each spice until they have found the perfect mix. However, if you are a relative newbie, enjoy trying out different barbecue styles and flavors, or simply don't have the time to make your own, there are some fantastic ready-made BBQ rubs on the market.
While many BBQ rubs are versatile and can be used on a range of meats and vegetables, some are particularly suited for a specific type of barbecue. We've put together a list of some of our favorite BBQ rubs and have broken the list down into categories so that you'll know just what to look for next time you want to prepare a specific dish.
Things to Consider When Choosing a Rub
The first and most obvious point to consider when choosing a rub is personal taste. What sort of flavors do you like: sweet and spicy, smokey and savory, or sweet and savory? Can you handle a lot of heat or are you looking for something the whole family will enjoy?
You also want to pay attention to the amount of sugar and salt in the rub. While both of these can certainly add to the flavor, too much of either of these is going to be unhealthy (especially if you light up the barbecue on a regular basis!). What's more, too much salt can dry out the meat, and too much sugar will lead to burning and bitterness at a high heat.
The best way to find a rub that you like—dare we say, your 'forever rub'—is to try out a few (and then a few more) until you find the perfect rub for every occasion.
Best BBQ Rubs for Pork
Meat Church Holy Gospel BBQ Rub
For those who worship all things barbecue, this sweet, smoky rub is the holy gospel… or at least that's what the folks at Meat Church would have you believe. A blend of two existing rubs in the Meat Church range – Holy Cow Beef Seasoning and The Gospel All Purpose Rub – this BBQ rub is perfect for a variety of pork dishes, including ribs, pork shoulder and pork chops.
Killer Hogs The BBQ Rub
There's a reason why the Killer Hogs' The BBQ Rub has been a crowd-pleaser for more than a decade; it delivers a bold, spicy flavor that never disappoints. Developed by the Killer Hogs Championship BBQ team, the rub is a blend of brown sugar, salt, paprika, chili pepper, dehydrated garlic, dehydrated orange peel, mustard flour, dill weed and other spices. It's a bit heavy on the sugar, but that's what caramelizes in the heat, giving your pork a crunchy exterior and a juicy, tender interior.
Lillie's Q No. 16 Carolina Dirt BBQ Rub
The name should leave you with no doubt: this is a traditional Carolina-style BBQ rub, which means you can expect a sweet and smoky flavor. So, what is that number 16 all about? Well, it was this exact rub that was used on the pork shoulder that went on to become the Memphis in May Champion in 2016.
And, just in case you're wondering, it's not actual dirt. The rub is a blend of sugar, paprika, brown sugar, sea salt, chili pepper, salt, onion powder, garlic powder, mustard seed, celery seed and other spices. It pairs well with slow-cooked ribs and pulled pork, but there is no shame in using it to season your fries too.
Lambert's Sweet Rub O' Mine
Another rub that's helped a pitmaster become the Memphis in May grand champion (in both 2009 and 2013) is Lambert's Sweet Rub O' Mine. This understated rub, which is well-balanced and has just a hint of sweetness, was created by Mark Lambert. His go-to rub for pork, Lambert also used this blend of sugar and spices when he went on to become the three-time World Pork Shoulder Champion. Basically, if there is a BBQ rub out there that can safely rest on its laurels, this is it. Simple and flavorful, this rub lets the meat take all the glory.
Best BBQ Rubs for Beef
Spiceology x Sasquatch BBQ Dirt Espresso Chile Beef Rub
If you are after slightly more original flavors, this rub from Spiceology won't disappoint. Created with beef lovers in mind, this rub works well not only with steak and brisket, but also with bison meat. The rich, smoky flavor and striking color that the rub gives the meat can largely be attributed to two key ingredients: activated charcoal (from coconut) and espresso powder. The rub also includes chili and other spices, which, when combined with the acidity of the coffee, packs quite a punch.
Spiceology is owned and operated by professional chefs, so it is perhaps not so surprising that their rubs are bursting with adventurous new flavor combinations. We love the fact that they grind their spices in small batches and ship directly to the consumer to ensure freshness.
John Henry's Texas Brisket Rub
Executive chef John Henry grew up in east Texas, where he helped his grandfather smoke meat from a young age. It's not surprising, therefore, that his brisket rub embraces all those delicious smoky East Texan flavors. A blend of brown sugar, salt, paprika, garlic powder, onion powder, lemon oil and other spices, this brisket rub works equally well on any other cut of beef. On a brisket, however, it is exceptional, and (if you're up to the job) you can anticipate a juicy brisket bursting with flavor. John Henry's rubs were good enough for one of the American presidents, so they should stack up in your backyard.
Obie-Cue's Big Bull's Texas Brisket Seasoning
If you want to make a classic brisket with traditional Texas-style flavors, you can't go wrong with Obie-Cue's Big Bull's Texas Brisket Seasoning. The combination of chili, garlic, salt and savory herbs will give your brisket a robust and authentic flavor. Pro tip: make sure you apply the rub to your brisket at least an hour before you put it in the smoker and then, once again, halfway through the smoke.
Best BBQ Rubs for Poultry
Plowboys Yardbird Rub
If you're a fan of the Kansas City-style barbecue – slow-smoked meat served with a sweet-and-spicy tomato-based sauce – you want to get your hands on a bottle of Plowboys Yardbird Rub. Winner of the 2009 American Royal Championship, this versatile rub can be used on a variety of poultry dishes, including chicken, turkey and duck. A combination of sweet and salty, with just a hint of heat, this rub contains salt, sugar, chili pepper, paprika, garlic powder, onion, celery powder, and mustard flour. It's quite strongly flavored, so use a light hand when using it for the first time.
Jake's Grillin Poultry Rub
Ready to try something a little out of the ordinary? Jake's Grillin Poultry Rub – which also works well on fish – offers up a unique blend of coffee and citrus flavors. Not only does the ground coffee in this rub contribute to the interesting flavor profile, it also helps to seal in tasty natural juices. Sage, parsley, garlic and onion give the rub a savory base, while zesty lemon and orange peel add a light note of citrus.
Wildwood Grilling Boom Boom Chicken Spice Rub
If you like your poultry with a kick (and then some), the Boom Boom Chicken Spice Rub delivers a bold, spicy flavor with its blend of Szechuan peppercorn, paprika, garlic and brown sugar. We love that this rub is made entirely from natural ingredients and is free of GMOs.
Best BBQ Rubs for Fish
Traeger Anything Rub
As the name suggests, you can put the Traeger Anything Rub on anything and everything. Including a variety of fish dishes. A blend of salt, peppercorns, garlic, basil, oregano, paprika and chili peppers, this rub is relatively mild, which adds to its versatility. We love the fact that the rub comes in a metal tin.
Old Bay Seasoning
Don't make the mistake of overlooking Old Bay Seasoning because of its old-school (and, frankly, unimaginative) packaging. It looks like something that was around 75 years ago because it was around 75 years ago. Renowned for its classic Chesapeake Bay flavor, this rub works well on grilled fish and seafood. While the manufacturer, McCormick, says the rub contains 18 herbs and spices, the only ingredients they are willing to share are celery salt (salt, celery seed), spices (including red pepper and black pepper) and paprika.
Best BBQ Rubs for Vegetables
Kinder's Organic Woodfired Garlic Rub
Whether you're a barbecue-loving vegetarian or simply want your veggies to taste as good as the meat on your barbecue, rubs are key to getting that great taste. This woodfired garlic rub is the perfect choice for vegetables because while it adds flavor, it isn't too overpowering. What sets this garlic rub apart is that it takes inspiration from the rich flavors that you get from smoking garlic over real hardwood.
Traeger Veggie Rub
This versatile garlic and herb rub – with notes of citrus, black pepper, paprika and onion – will take your veggies from 'meh' to 'more please.' Before popping the vegetables on the grill, brush them lightly with oil and sprinkle on this delicious rub… even your kids will be asking for a second helping of broccoli.