Check out these BBQ grilled sandwiches that will go down a storm at your next BBQ party! Including delicious fillings like BBQ chicken, vegan jackfruit, smoked beef, pulled pork, and more! Perfect barbecue recipes all year round.
Nothing says summertime like the smokey, mouth-watering scents of BBQ. The process of barbecuing itself embodies the carefree, buoyant feeling of freedom that comes with summer. Standing by your grill under open skies, tongs in hand, cold beverage within reach, all feels right with the world. Of course, while the process itself is great fun (and therapeutic as well), most of us probably wouldn't go through it if it wasn't for the delicious end result.
BBQ sandwiches are the perfect food for a backyard dinner with friends and family, for game night, or simply as comfort food. It is a distinct, yet highly varied style, allowing endless experimentation and innovation.
In this post, we have summarized for you 17 of the best BBQ sandwich recipes out there. These delicious recipes come in different styles and cooking methods. There are pork, beef, and chicken recipes, and even a vegan option. Keep scrolling to find your new favorite BBQ sandwich recipe.
BBQ Grilled Philly Cheesesteak
This BBQ take on the classic sandwich has strips of beef steak drowned in a filling of onions, peppers and cheese. It's guaranteed to have everyone reaching for more. Learn how to make Philly cheesesteak here.
Brisket Grilled Cheese
This easy spin on the classic comfort food serves leftover smoked brisket between two slices of Texas Toast and is topped with melted cheddar and gruyère cheese. Add a dash of barbecue sauce (homemade or store-bought) and you'll have a brisket grilled cheese sandwich that's dripping with smokey barbecue flavors.
Prime Rib & Provolone Ciabatta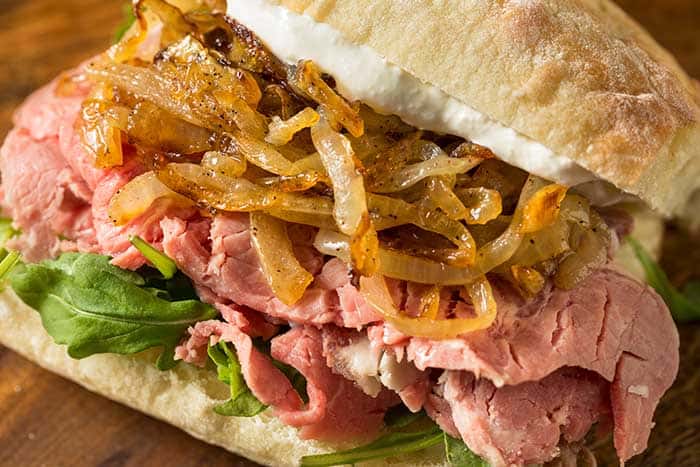 These leftover prime rib sandwiches use remaining smoked beef in the best way possible. Toasted ciabatta bread serves as the vessel for caramelized onions and melted provolone cheese, providing an incredible sharp flavor. The filling is then topped with horseradish mustard and arugula for a refreshing way to use your beef leftovers.
Memphis Style BBQ Smoked Pork Sandwich
Showcasing the Memphis style, one of the four major American BBQ styles, this sandwich is incredibly juicy and flavorful. The meat is smoked very slowly, making it extra tender, and the paprika-based Memphis-style rub gives this sandwich a perfect balance of delicious flavors.
Homemade Smoked Pastrami
Skip the deli counter and make your own pastrami at home for the perfect sandwich filling. This recipe for smoked pastrami is unlike any other. This is the best way to eat brisket flat: Cured for several days before being cooked low and slow over cherry wood. It takes patience but is well worth the wait.
Grilled Chicken Sandwich with Spicy Sauce
A homemade take on the popular Popeyes deep-fried chicken sandwich, this grilled chicken sandwich is even better than the original. With a buttermilk brine and a spicy and aromatic rub, this sandwich is juicy, flavorful, and so much better than any fast-food dish.
Barbecue Grilled Chicken Sandwich
Relatively quick and easy to make, this grilled chicken sandwich is one of the best BBQ sandwich recipes out there. Made with thin chicken cutlets briefly soaked in a quick brine, and topped with sauteed mushrooms, grilled bacon (that's right), and melted cheese, this sandwich is hearty, crunchy, tasty BBQ perfection.
Pit Beef Sandwiches
This sandwich is made with "pit beef", Baltimore's take on BBQ. Grilled instead of smoked, coated with a thick seasoning rub, and shaved paper-thin, the meat in this sandwich turns out incredibly tender and flavorful. Topped with sliced onions and served with horseradish sauce, this sandwich is a perfect alternative to sweeter BBQ styles.
Braised BBQ Short Rib Sandwich
Wholesome, rich, and flavorful, this braised BBQ short rib sandwich is perfect for summer afternoons. Braising the ribs in a BBQ, beef stock, and stout mixture gives them incredible flavors, which are balanced by a fresh and crunchy simple slaw topping. Easy and fun to make, this sandwich is a guaranteed crowd-pleaser.
Sausage Sandwich
This grilled Italian sausage sandwich recipe is the ultimate crowd-pleaser. Stuffed into a French baguette and flooded with vibrant toppings, this is the perfect BBQ lunch or tailgate food. Get the recipe here.
Bourbon BBQ Pulled Pork Sandwich
Take your BBQ game to the next level with this bourbon BBQ pulled pork sandwich. First coated with a bourbon flavored crushed chips rub, then soaked in apple juice and bourbon, the pork in this recipe is just overflowing with flavor. Topped with white onions and crunchy potato chips, this sandwich is a party of tastes and textures.
BBQ Sausage Sloppy Joes
No BBQ recipe list is complete without Sloppy Joes, and this BBQ sausage Sloppy Joe sandwich isn't only one of the best out there, it's also among the quickest to make. Italian sausage links, sweet and sour BBQ sauce mixture, and hidden vegetables make this sandwich a well-rounded and delicious meal.
Carolina-Style Pork BBQ Sandwiches
This recipe is in the Carolina style, another of the four major styles of American BBQ. Slow-cooked in vinegar and apple juice, the pork in this sandwich is incredibly tasty and tender. The cooking juices are then used to make the sauce, giving this sandwich maximum flavor.
BBQ Pulled Pork Sandwich
Straightforward and unpretentious, this BBQ pulled pork recipe still delivers the goods, and then some. Slow-cooked to ultimate tenderness and then barbecued, the pork in this recipe will practically melt in your mouth. With a thick sweet and tangy sauce and topped with coleslaw, this sandwich is a BBQ classic.
Pineapple Pulled Pork Sandwich
Offering an incredible combination of flavors, this pineapple pulled pork sandwich is almost too good to be true. Richly seasoned pork cooked in pineapple juice mixes with caramelized onions and pineapple to create a sandwich that is a perfect, rich balance of sweet and savory flavors.
Jackfruit BBQ Sandwich
This one's for the vegetarians and vegans out there. This BBQ recipe uses jackfruit instead of pork, and does it so well your dinner guests won't even know the difference. The jackfruit is cooked in a boozy, sweet and tangy sauce, enhancing the fruit's natural nutritious value with delicious BBQ flavors. Tasty and healthy, this showstopper sandwich will wow vegetarians and stun meat-eaters.
Vegan BBQ Beet & Quinoa
A delicious vegan beet and quinoa sandwich that's crispy on the outside, but soft and rich on the inside. All topped off with a zingy lime, avocado and red onion topping.