Incredible beef prime rib sandwiches filled with sweet caramelized onions and melted cheese on toasted ciabatta bread. This easy recipe is the best way to use your leftover prime rib roast.
This leftover prime rib sandwich recipe serves juicy roast beef slices on toasted ciabatta bread to deliver a meaty barbecue sandwich that's out of this world. Topped with melted cheese, caramelized onions, and horseradish mustard dressing, there's flavor packed into every single bite of this sandwich.
This easy sandwich is our favorite leftover prime rib recipe and it's easy to see why. It uses up spare smoked prime rib while keeping its juicy and tender texture intact, giving you the ultimate meat sandwich.
Discover the best way to reheat beef prime for this sandwich, as well as incredible filling ideas and cooking tips. Let's get eating.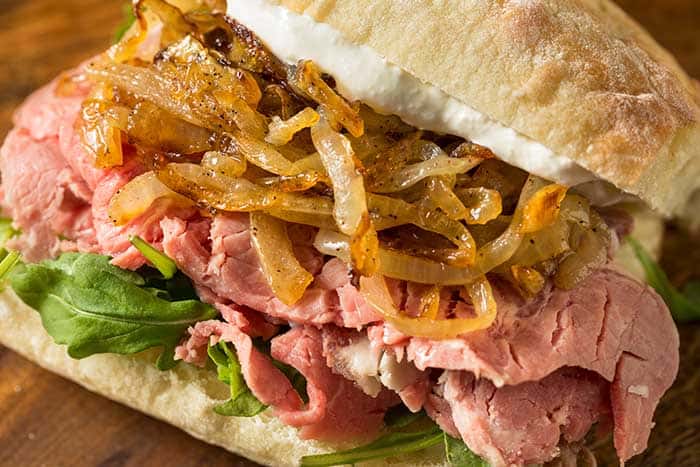 Main Ingredients
To make this easy beef sandwich you will need:
Beef Prime Rib Roast: We use remains from our juicy smoked prime rib by reheating it whole in the oven before thinly slicing it to serve.
Toasted Ciabatta Bread: Italian ciabatta has the right balance of crunchy crust and doughy inside that we want for our barbecue sandwich. We toast it to add an even more satisfying texture.
Deli-Sliced Provolone Cheese: Keeping with the Italian theme, provolone is a creamy Italian cheese that melts beautifully when sliced. Monterey jack, fontina, and mozzarella cheese are all good provolone substitutes if you need an alternative.
Caramelized Onions: Slow-roasted onions improve everything. Slowly cook them in oil and salt at a low temperature until golden brown to add an incredible sweet note to your sandwich.
Horseradish Mustard: While horseradish or mayonnaise are perfectly good toppings for this recipe, I prefer a bit more zing with yellow or Dijon mustard. However, horseradish mustard combines all the above well into one condiment. You can either make your own or buy a store-bought version like Annie's horseradish mustard online (Amazon link).