The best BBQ grilled Philly cheesesteak recipe. Made on a flat top grill or skillet, this classic steak and cheese sandwich is quick, easy, and delicious.
Today we're tackling one of the world's best steak sandwiches with this grilled Philly cheese steak sandwich recipe.
We're taking the traditional recipe and taking things up a level by kicking things off on the grill to give us the best mouth-watering sandwich possible.
I love finding new ways to put together well established recipes, and I think the addition of grilling the steak here offers something different to takes I've had on it in the past.
As ever, the key to getting the most flavor out of it is to make the effort to get a good cut of steak in the first place.
What's the best steak for Philly cheesesteak?
We're all often in the habit of choosing steak that's thick and rich in meat, but for the purposes of this recipe, we want to go against type and instead go for something thin.
We need the meat to cook quickly, and we need it to be easy to slice and chop into pieces. We're going to serve the meat in thin one-inch slices, so anything thick won't be up to the task.
I have seen some other recipes encourage you to grind your beef to make a mince-like filling, which you can do with a manual meat grinder. I want to stay as faithful as possible to my understanding of traditional cheesesteaks, so I've gone for steak slices. If you have any leftover steak, this will work but it might lack some of that rich, beefy flavor.
What equipment you'll need
Instead of grilling the steak whole and then chopping up, I want to ensure that we've cooked it as evenly as possible throughout.
To do this, I want to chop it first and then grill it.
The problem with this approach is that the small pieces are prone to slip through our grill grates and end up on our flames or propane burners. Not ideal.
So we need a flat surface. If you have a flat top grill then you can simply get to work on that. If you don't, then I recommend getting a skillet that's compatible with your outdoor grill.
If you're not sure what to get, then take a look at the Weber Gourmet BBQ System Griddle. It's a flat top surface that can easily be used on any grill, and works by evenly transferring heat to the skillet surface.
You can find it here on Home Depot, or here on Amazon.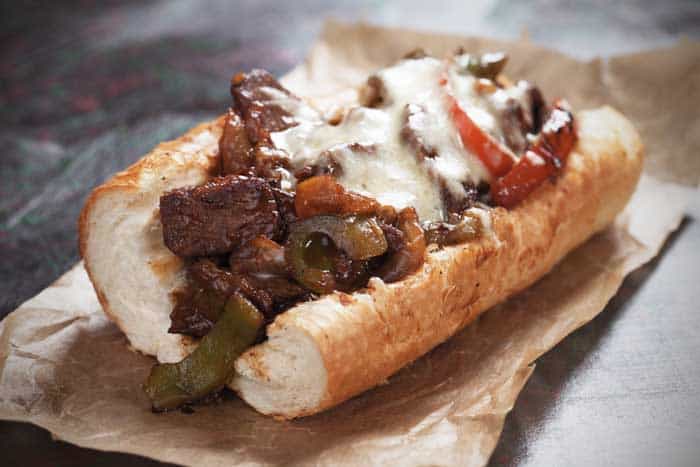 Quick tips for the perfect cheesesteak
Here are a couple of quick tips to help you make the best Philly cheesesteak possible.
Cheddar cheese
I've listed English cheddar here because I find it quick to grate, and it melts easily. In truth you can use any cheese you like here. Personally, I think the key here is to pick something that melts nicely, but I'm such a cheese fiend that I'll forgive you if you choose something else!
Mushrooms
I haven't listed mushrooms here, but I know plenty of people who do like to add them. I don't have anything against them (I love mushrooms) but I didn't want to overload these sandwiches.
Also, it gives me more room for steak and cheese!
BBQ Grilled Philly Cheesesteak
This BBQ take on the classic sandwich has strips of beef steak drowned in a filling of onions, peppers and cheese. It's guaranteed to have everyone reaching for more.
Print Recipe
Pin Recipe
Ingredients
1

green onion

diced

1

green pepper

sliced

1

red pepper

sliced

1

thin beef steak

1

tbsp

Worcestershire sauce

1

tbsp

butter

1

cup

English cheddar cheese

grated

kosher salt

ground black pepper

2-4

Small baguettes or sub rolls/buns
Instructions
Prepare the raw beef by cutting it into inch-long slabs of meat.

Heat up your skillet on your grill to a medium heat. Add oil.

Transfer the beef to the skillet and allow it to brown.

Add the Worcestershire sauce, salt and pepper to the pan. Cook for a further minute or two.

Remove beef from pan and sit to one side.

In the same pan add butter, chopped onion, and peppers. Caramelize until the onion starts to brown.

Add the meat back to the mix and combine well over heat.

Prepare toasted bread by buttering each side. Add meat mixture straight from the pan.

Top with cheese and leave for a minute to allow it to melt. Serve and enjoy.