Gameday grilling doesn't come any bigger than on the Super Bowl. From beautiful game day smoked brisket, to famous beer can chicken, discover the best Super Bowl BBQ recipes for you to get stuck into.
No other sporting event goes hand-in-hand with grilling like the Super Bowl. The annual event is the perfect platform not just for tailgating, but also cook-offs and BBQ parties at home. If it isn't cooked over fire, it isn't football food.
Host the ultimate Super Bowl party with these barbecue and grill classics. From meaty classics to mouthwatering sides, there's something for everyone here. Let's get into it!
Texas Style Smoked Pulled Pork
Peppery smoked pulled pork with a difference, you say?
This pulled pork recipe does away with the traditional sweetness we normally see with pulled pork, and instead gives a Texan version of the smoker favorite.
To do this, the recipe has a pepper-based rub featuring onion powder, garlic powder and cayenne.
It's then cooked low and slow over apple and hickory wood to give a deep, firey serving of pulled pork.
Beer Can Chicken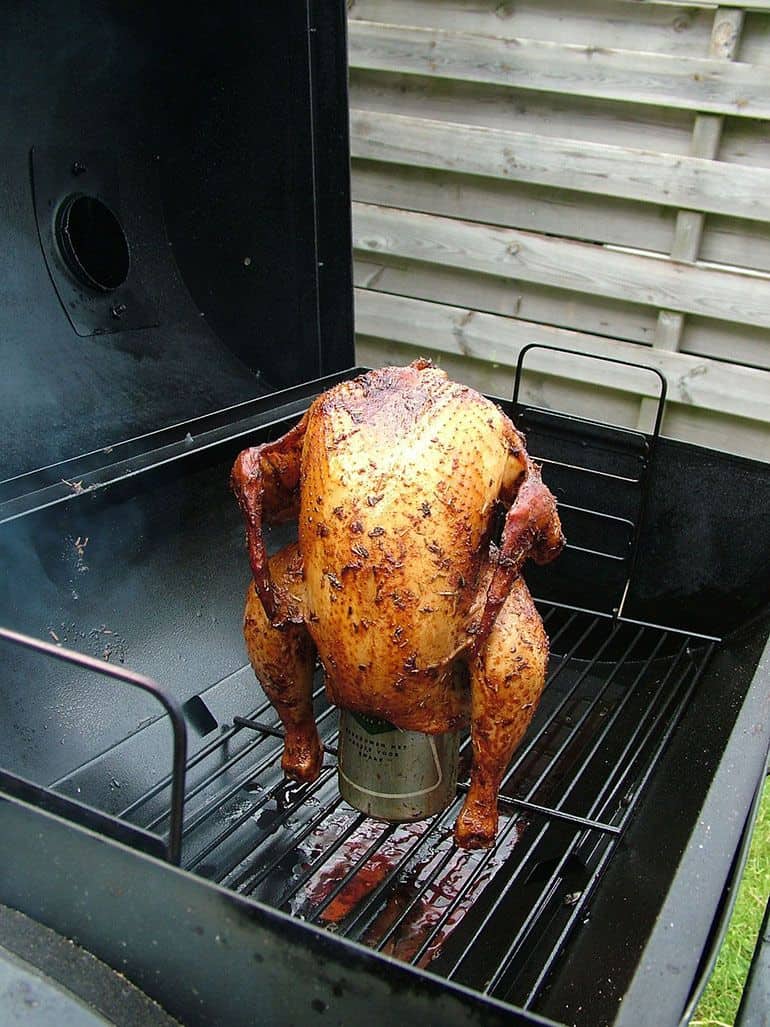 If you're after a center showpiece for your Super Bowl party then look no further than beer can chicken.
Matched with the right choice of BBQ rub and smoking wood, this dish will prove a huge hit. Just make sure you leave enough for yourself!
Smoked Mac & Cheese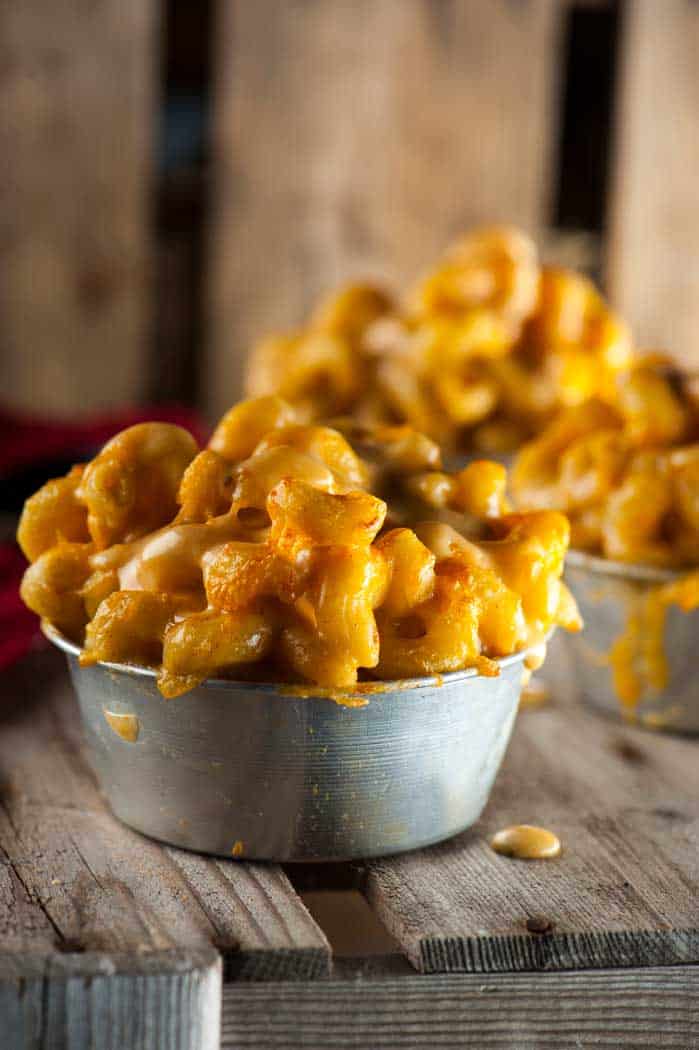 If you didn't think the classic comfort food dish could be improved, think again. This smoked mac and cheese recipe crams in melted cheddar and gouda melted over macaroni, before cooking it over delicate apple smoke and topping it with crispy bacon.
Buffalo Chicken Dip
Originally being from the UK, my mind melted when I had my first encounter with buffalo chicken dip. It's not hard to see why.
Chicken. Yogurt. Cream cheese. Hot sauce. This is essentially my desert island ingredient list.
This recipe is a fuss-free dip that will have people fighting for more.
Applewood Smoked Chicken Wings
No game day cook-off is complete without a good serving of barbecue wings. Slathered in BBQ sauce and cook low and slow over applewood, our smoked chicken wings are bursting with flavor with every bite.
Best of all, wings are quick and easy, needing only an hour on your backyard smoker or grill. Pre-brined to lock in moisture, coated with a beautiful dry rub, before slow smoked over applewood, this will be your new go-to wing recipe.
Homemade Smoked Tomato Salsa
Ditch the store-bought dips and take things up a level with this simple smoked salsa. Perfect with chips or as a filling for BBQ tacos, this dip will steal the show.
Made by smoking the tomatoes, this barbecue spin on the classic game day dip is infused with a beautiful layer of smoke and carries just the right amount of heat.
Grilled Cheeseburger Sliders
What about these cheesy sliders for a different take on the usual hamburger fare?
They fit the brief of easy party food, while also not demanding hours of time to put together. They're also a great option if you have fussy kids to please.
Smoked Chicken Thighs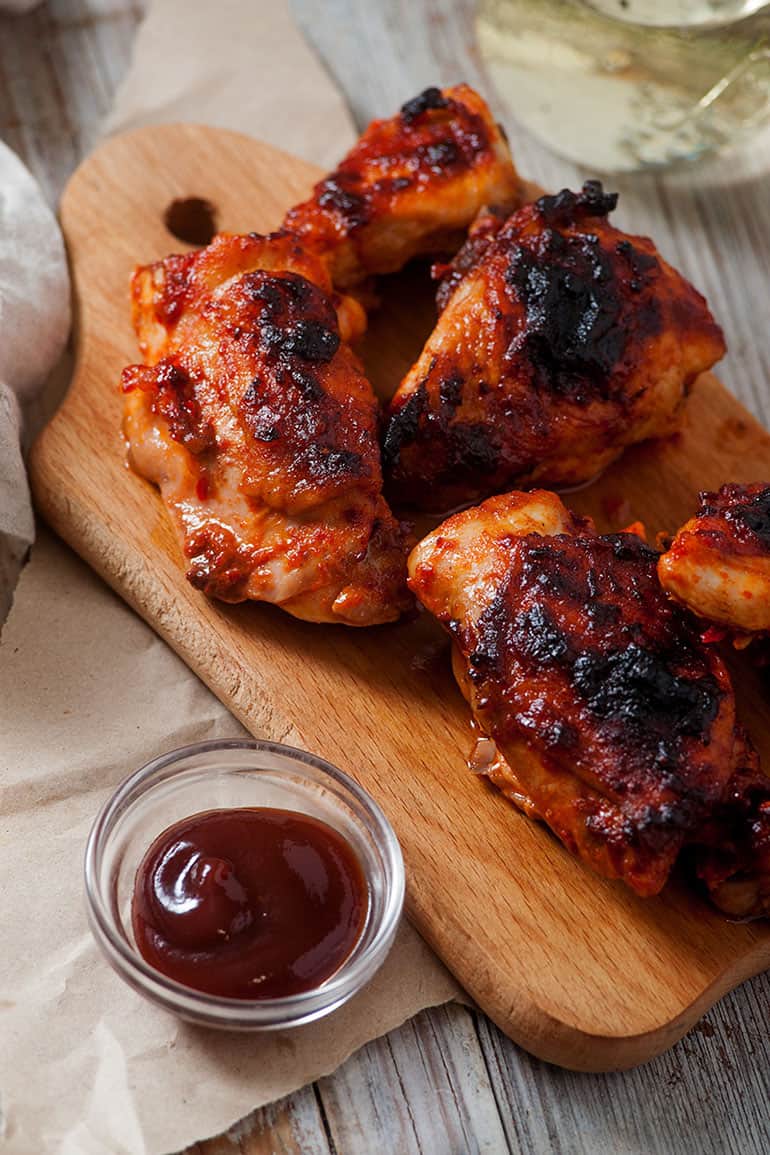 Chicken thighs are criminally underrated, but for me they make the perfect party food. They're cheap to buy, and just like with wings they're easy to cook in bulk.
But the real clincher is the fact that they're comprised of dark meat which, while higher in fat content, is rich in flavor. This makes them perfect for BBQ smoking.
Learn how to smoke chicken thighs in our full guide and step-by-step walkthrough.
BBQ Chili Burger
Right, there's no getting around it: This is pure decadence.
But if you want a crowd-pleaser that packs in everything that we love about party food (meat, chili, chips, cheese) then this delicious chili burger should tick a lot of boxes.
Plus, they're a great stomach liner for when the beer tally starts to pile up.
Smoked Jalapeño Poppers
If there's anything that elevates an ingredient, it's lining it in bacon.
These jalapeño poppers are great however you prepare them, but they're best fresh off the smoker.
They taste great hot and cold, making them the ideal party food.
St Louis BBQ Ribs
This list is crying out for a good BBQ rib recipe, and I just had to include this one. I mean… JUST LOOK IT.
These ribs are dry rubbed, and double-basted with apple juice, all to give you these beautiful, tender, dream BBQ ribs.
Grilled T-Bone Steaks
If you want something for a main, then why not try steak? It's quick, easy, and should satisfy just about anyone who eats meat.
T-bone steaks are from the short loin of the beef (just like New York strip steak)and one of the best quality cuts of meat that you can get.
If price is no barrier then why not go down in legend as the steak master?
Grilled Half Chickens
Most people might grill chicken by the whole, but doing the job in halves can help make the work a bit easier as well as make the whole thing more delicious.
Smoked Pig Shots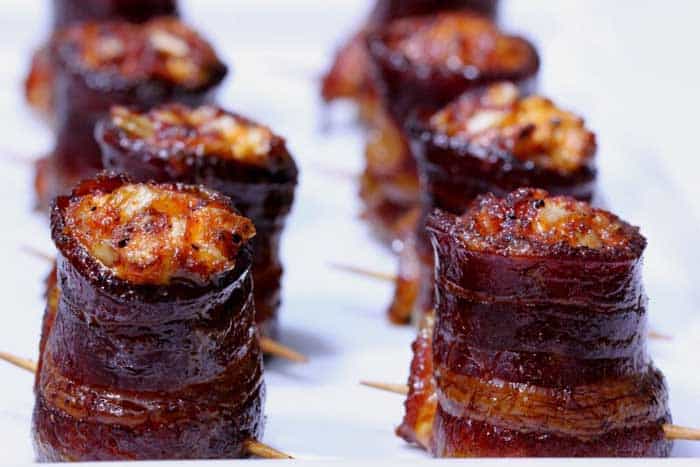 These beauties are a whole different kind of shot that you might be used to at parties.
Containing cheddar, cream cheese and onion, they're wrapped in beautiful bacon. Just be warned: They're addictive as hell.
Wrapped Lil' Smokies
Continuing with the bacon theme are these delicious lil' smokies.
These easy-but-delicious treats are essentially cocktail sausages wrapped in bacon, but there's nothing wrong with that. Mouthwateringly simple.
Grilled Sausage Sandwiches
Sandwiches are king, and these grilled sausage sandwiches are on top of the throne.
Quick and easy, and with plenty of room to customize, they're a great option to have if you're like me and always leave things to the last minute.
Smoked Beef Brisket Nachos
Nachos are a given at almost any Super Bowl gathering, but these are a little different.
Topped with beautiful beef brisket, this BBQ take on the party dish will prove a sure fire hit!
Smoked Meatball Sandwiches
Alright, alright, I just had to include another sandwich. But when you see the filling for this one, I just couldn't leave it out.
The meatballs are barbecue smoked to give you a beautiful, juicy filling. They're then topped off with parmesan, marinara sauce, and mozzarella.
Texas Style Beef Brisket
I had to include an iconic smoked BBQ dish, and I just couldn't look past brisket.
If you want a BBQ centerpiece to show off at your Super Bowl party, then look no further than this.
Brisket can be intimidating for newcomers, but the challenge is in the preparation. Get that right and you're onto a winner.