The classic way to smoke chicken in your backyard. This beer can chicken recipe is a twist on poultry like no other. Find out everything you need to know with our tips and techniques for the best BBQ beer can chicken.
There aren't many barbecue show stoppers better than this beautiful BBQ beer can chicken recipe.
One of the best things about this recipe is that there's so much room for you to experiment and play with once you've mastered the core recipe.
As well as the ingredients you list below you will also need the best wood to smoke chicken (for the purposes of this chicken, this would ideally be hickory or cherry).
Be sure to soak the chips for around an hour prior to smoking, OR if you really want to take things up a notch… Soak them in beer.
A few tips for this recipe:
Beer Can Chicken Holder
Despite what everyone says, propping up the chicken for on the grill isn't easy. You're effectively trying to form a tripod out of the beer can and the chicken's two legs, and then hope that holds in the grill for well over an hour.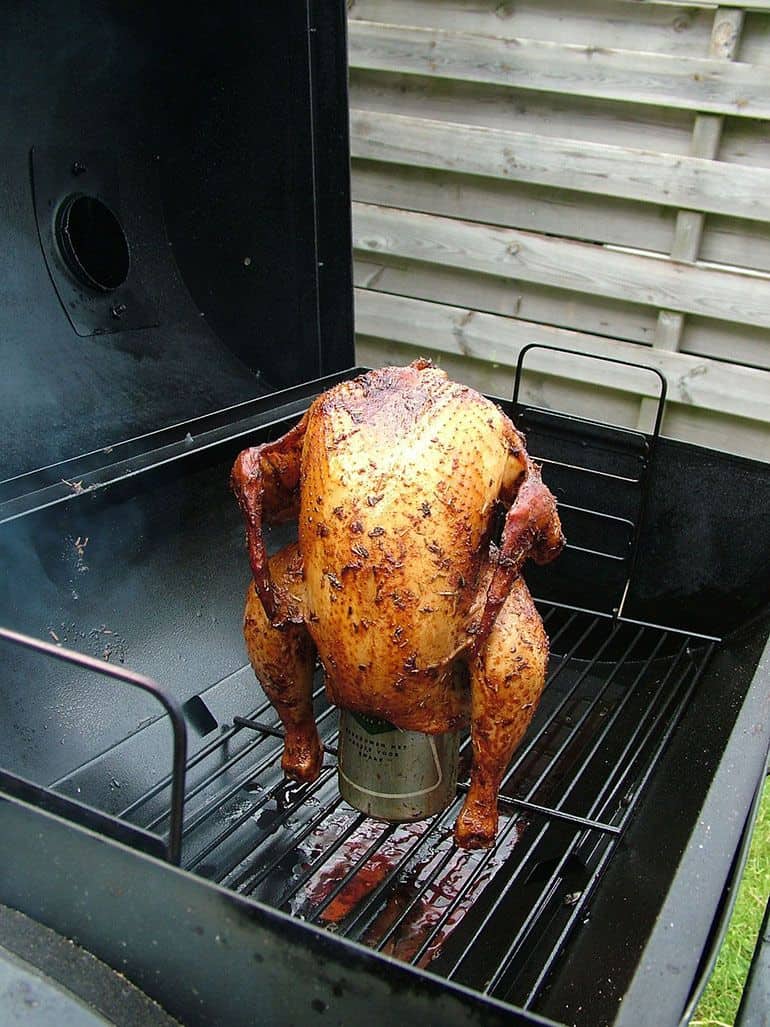 Purists might be up in arms over me suggesting such a thing, but there's no harm in pulling in a little outside help with this. I recommend getting a beer can chicken holder, like this one on Amazon. It makes the whole thing much easier and lets you get on with, you know, actually cooking the chicken.
Dry Rub
A lot of people have a go-to chicken rub, so start thinking about what you would like for yours. While you can easily buy one from your local store or online, where's the fun in that?
I recommend making your own. It's quick and easy, and gives you so much control over the flavors and spice levels of your rub.
If you don't know where to start, try my smoked chicken BBQ rub. It's packed with paprika, thyme, chili powder, and cayenne to give a really well-rounded rub… with a bit of a kick.
Use Indirect Grilling
If you're new to grilling, you might have seen the term 'indirect grilling' bandied about. It's a technique that's key to cooking large cuts of meat, like whole chicken, so it's important to understand it before taking on this recipe.
Find out more about the technique here on my post about indirect grilling on a charcoal grill.