The best dry rub seasoning for beer can chicken. Loaded with smoked paprika, chili powder, and cayenne pepper, this simple seasoning blend will take your smoked beer can chicken to the next level.
This beer can chicken rub is the perfect seasoning blend for your barbecue beer can chicken, bringing together sweet n' heat into one easy-to-make BBQ rub blend.
This seasoning is a must-have for fans of DIY homemade rubs. It takes just a minute to throw together, it can be tweaked to incorporate your sweet & spice tolerances, and is ready to use on your smoked beer can chicken right away.
From making the perfect blend to storage tips, discover how to make the best beer can chicken rub today.
How to Make Beer Can Chicken Rub
Like any seasoning, this beer can chicken rub is quick and easy to put together. For full ingredient quantities, make sure you check out our recipe card below.
Prep the Chicken: You will need to fully prepare your chicken before applying the BBQ rub, not the other way around. Do this by removing the giblets and rinsing out the cavity, before patting the chicken dry with paper towels.
Combine the Ingredients: Add all the seasoning ingredients, including salt and black pepper, to a small bowl. Use a fork to combine and aim for an even blend. Use the fork to remove any clumps that may form (or crush them!)
Oil the Skin: Apply a thin layer of olive oil across the entire chicken skin. Not only will this help glue the dry rub to the skin, but it will also help the chicken skin turn crispy during the smoke.
Apply the Rub: Liberally apply the rub seasoning to the chicken, covering as much as possible and using your hands to work the rub into any folds along the chicken surface.
Smoke: With the chicken fully seasoned, mount the chicken on a half-can of open beer and smoke at 250°F (120°C) for 2 hours.
Storage
Got leftover seasoning? Transfer it to an airtight container or jar (we use these ones from Amazon) and store in a cool, dark place, such as a cupboard or pantry, away from light and moisture. If stored correctly, it should last for at least two months (but no more than six).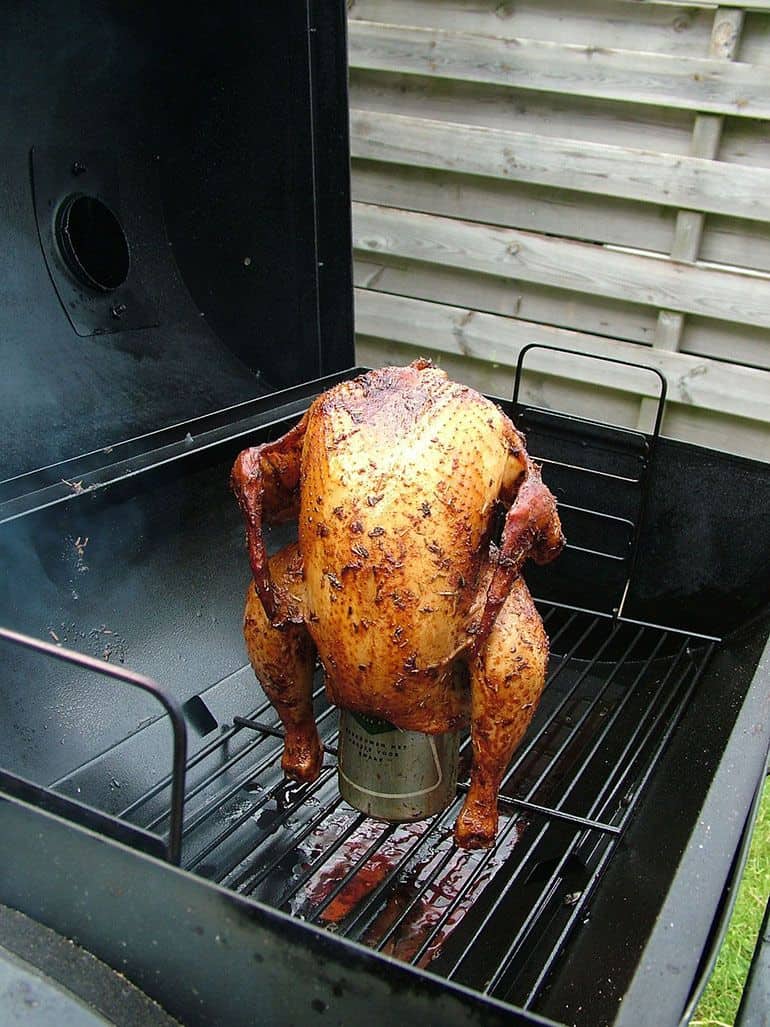 Quick Tips
If you want less spice, dial down the cayenne pepper and chili pepper to just one tablespoon of each. If you're a heat freak only add a little more of each (it's really easy to overdo the spice) or add a teaspoon of ancho chili powder for a dash of extra smoke.
Don't be shy with applying this seasoning! Aim for an even coating across the chicken surface, and use your hands to work it into any gaps or dents in the meat surface (disposable food gloves can come in handy here).