Looking to get more bang for your buck with your barbecued pork? Try this easy BBQ pork rub recipe for a beautiful, deep flavor.
We all know how important it is to grill or smoke meat perfectly, however the secret to great flavors often lies in the preparation, and for me the best way to do this is with a good dry BBQ rub. If you go without a rub then you go without flavor.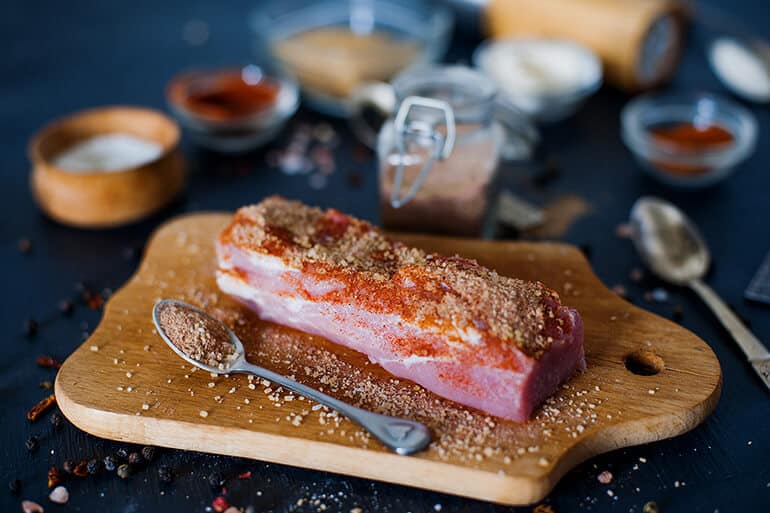 Perhaps it's because I'm a total spice-head, but dry rubs are my favorite form of BBQ prep. Sure, marinades are great, but nothing else comes close for me to getting that perfect blend of herbs and spices.
The best thing about BBQ rubs is that they are so simple to put together and apply. No fancy devices needed, you just mix the seasonings and spices together, rub it on your meat, and leave it to set before cooking.
This BBQ pork dry rub has cumin, paprika and chili powder at its core to create a beautiful, smokey taste that will match perfectly with your meat. In truth, it can match with chicken but I find this mix just goes perfectly with pork, and besides… I actually already have a smoked chicken rub recipe.
I do wish I could write out a long-winded method for this dry rub, but the truth is it's so ridiculously simple that it would be silly to do so.
I've used it on smoked pork butt, pork shoulder, and even baby back ribs. It's always gone down a treat.
What I should say though is that, despite the rub itself only needing a minute to mix together, once you've applied the rub to the pork do let it sit for a good couple of hours in the refrigerator prior to cooking. Some people tend to only leave it for 15-30 minutes, but it really is a case of the longer the better so personally I try to do it for 2 hours minimum – sometimes overnight if I really do have the luxury of time!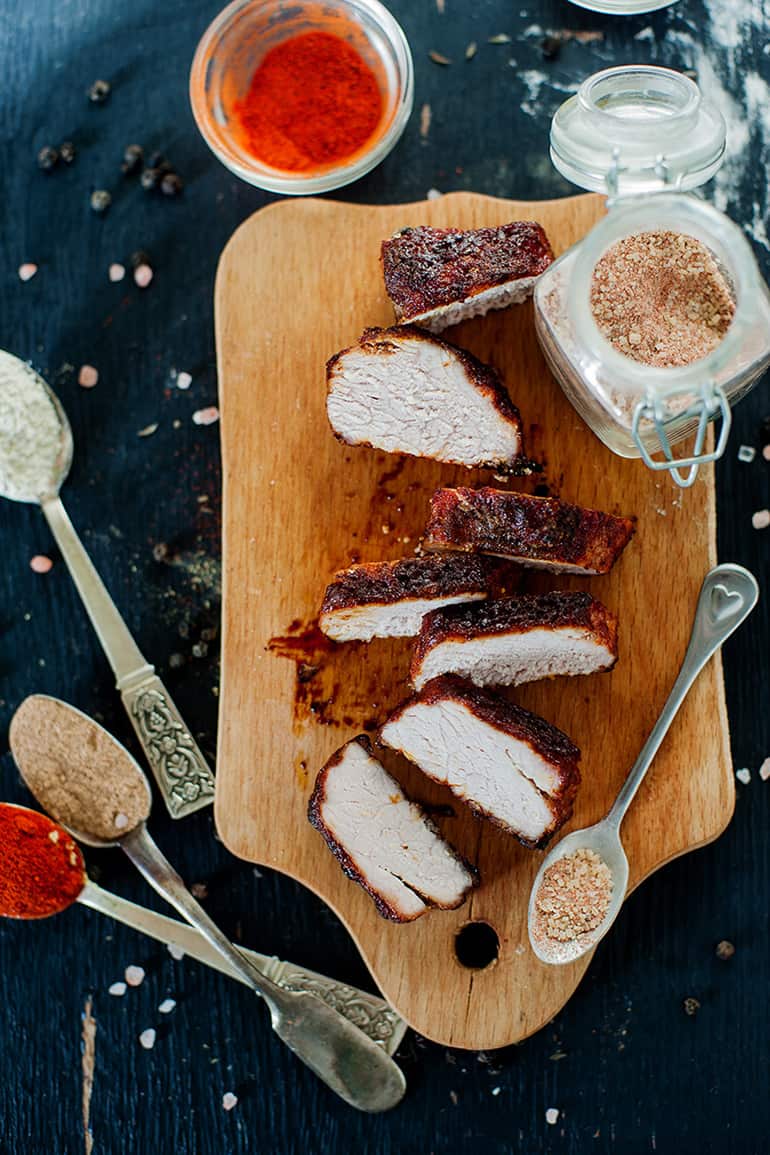 When applying the rub to your meat, try to be as thorough as possible. Use your hands to rub it on directly, making sure to cover all sides of the meat.
Try to be as creative as possible with this. If you're unsure about any of the ingredients in this recipe then try your own! In my experience, some of the other best herb and spice pairings with pork are cayenne, thyme, coriander and sage. Give them a go and let me know what you think (so I can steal your ideas… I mean give them a try)!
Also, if you like this then be sure to check out my pork chop seasoning recipe!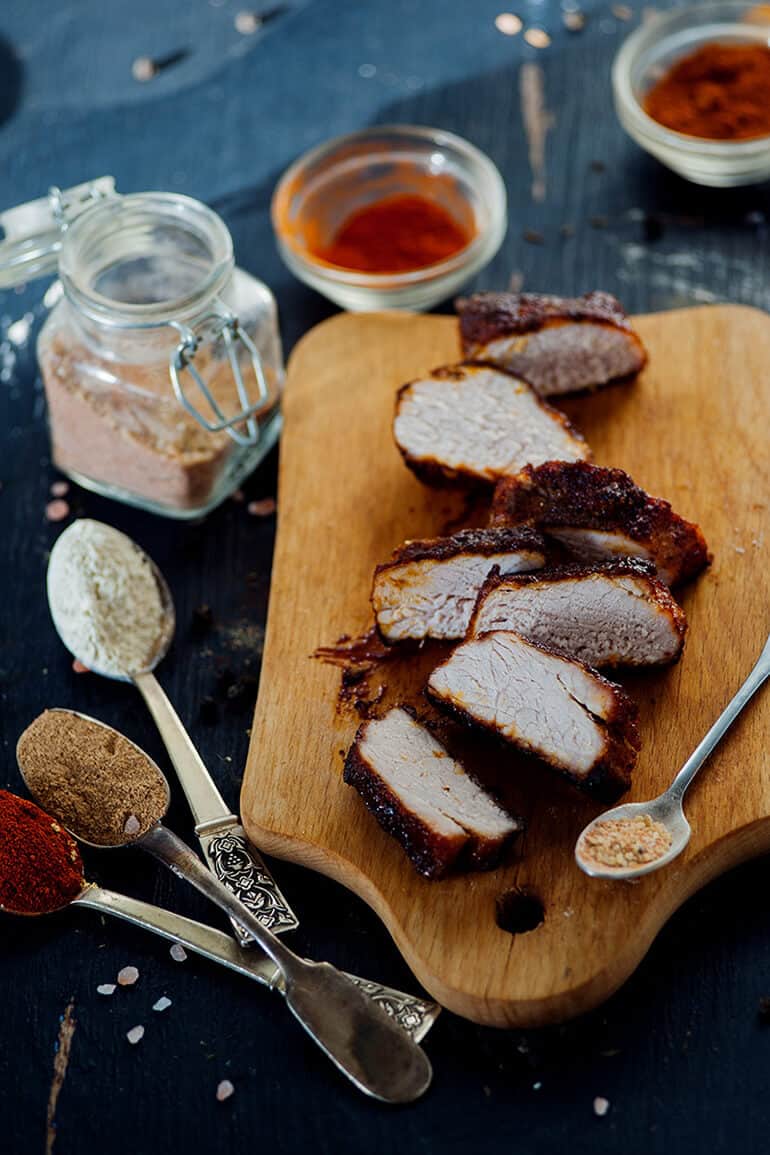 Why Use a Dry Rub?
Adding a dry rub seems like adding an unnecessary extra step that just gets in the way between you and your tasty meal. However, it's crucial to making your pork full of flavor. Dry rub enhances the flavor of your meat and is less messy than a liquid marinade. It also creates a flavorful bark on the exterior of your pork as it smokes, adding a delicious crunch to the texture of the meat.
How Long Can You Dry Rub Pork?
Any good BBQ rub needs a bit of time to work its magic, and this is just as true for pork as it is for beef or chicken. You should allow the dry rub to rest on the pork for between 15 minutes and 3 hours. There is no real limit though, and you can even leave the rub on overnight if you want to prepare ahead of time. If you are leaving it with the rub on for more than 30 minutes, then ensure you leave it to sit in the refrigerator at a safe temperature.
What Spices Are Good for Pork?
The most popular spice ingredients for pork are paprika, onion powder, and garlic powder. You can also add other ingredients like cumin, chili powder and brown sugar for a little more kick.
Should I Put Rub on Pork Overnight?
The purpose of a dry rub is to infuse meat with extra flavor. It makes sense that the longer it stays on, the more flavorful the meat will be. Letting the pork sit in the dry rub overnight will make it extra tasty.
There are a few things you can do to make an overnight dry rub work. Make sure that the rub will stick to the meat by slathering the skin with mustard first and wrap it up in plastic wrap to keep the rub in place. However, if your dry rub has tenderizing ingredients such as citrus, don't let it sit overnight as that will ruin the texture of the meat.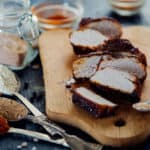 BBQ Dry Pork Rub
A delicious and easy rub recipe that will go perfectly with pork tenderloin to then be cooked either on the grill or in your smoker.
Print Recipe
Pin Recipe
Ingredients
2

tbsp

smoked paprika

2

tsp

cumin

2

tbsp

chili powder

½

cup

brown sugar

½

tsp

dried onion powder

1

tsp

garlic powder

2

tsp

kosher salt

1

tsp

ground black pepper
Instructions
Mix all ingredients together in a medium sized bowl.

Once mixed well, transfer to an airtight container.

When ready to use, apply generously over your chosen cuts of meat. Rub in firmly and try to cover as much of the meat as possible.

Move the pork to your refrigerator and allow to sit for at least 2 hours, or even overnight.

Remove from refrigerator and dust off any excess rub. Cook as desired.