The best homemade BBQ rub recipes from around the world. With recipes for pork ribs, chicken and beef, find your new favorite dry rub!
A good BBQ rub can make or break your barbecue meat. Use it right and you can make all the difference to your recipe without overpowering it. The best thing is that they're as easy to make as they are practical.
At its core, a BBQ rub is little more than a quick mix of spices and herbs. In fact, the best ones are just three or four ingredients, usually made with salt, black pepper, and brown sugar. Once smoked or grilled, they'll start to caramelize and form a crispy texture on the skin of the meat.
Most of the time you'll see people using rubs for barbecue or grilling, but they can be used with other cooking methods too. From roasting or baking, they can elevate any kind of cooked meat. Moreover, they can be easily stored for later and can last for months in the pantry.
Rubs can range from simple salt and pepper mixes found in Texas-style barbecue or more creative creations with dozens of spices and herbs. This makes them versatile, meaning you can have the perfect one for a different number of meats. Whether it's beef brisket, pork ribs, or chicken, there's always a good rub you can use.
Whether you need something for your baby back ribs, smoked turkey legs, or beer can chicken, we have the right seasoning mix for you. There are the best BBQ rubs out there today.
Sweet and Savory Rub for Pork
The perfect all-purpose seasoning for all pork cuts, whether it's Boston butt, ribs, or pork shoulder. It's made with brown sugar for a syrupy flavor that balances with its paprika, cumin, and cayenne. Onion and garlic powder add a deeper note of flavors. It's simple but provides the exact right level of sweetness for pork.
Coffee All-Purpose Dry Rub
This all-purpose BBQ coffee dry rub is easy to make and goes with anything. Take your barbecue steak, pork chops, or spare ribs to a new level with this flavor-packed seasoning rub. Made with just a few simple ingredients, including instant coffee grounds, cinnamon, and brown sugar. Its deep flavors pair perfectly with beef, but also works with pork chop, baby back ribs, and even chicken.
Easy Beef Rib Rub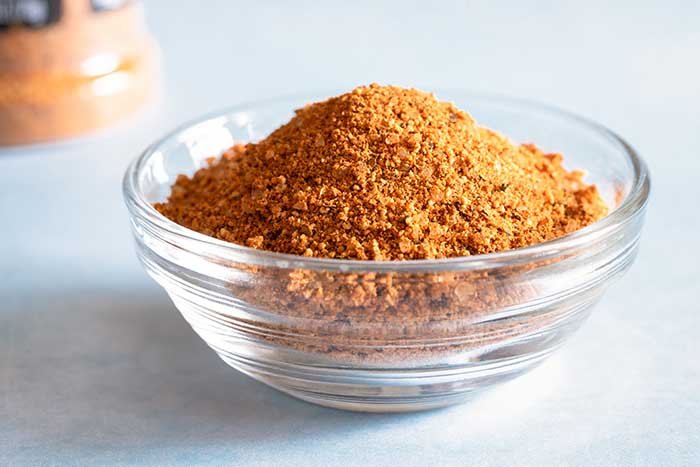 Strike the perfect balance between sweet and heat for your short or beef back ribs with this easy dry rub seasoning. Our beef rib rub combines smoked paprika, brown sugar, and cayenne pepper to create an earthy sweetness and mild heat.
Beer Can Chicken Paprika & Cayenne Pepper
Loaded with smoked paprika, chili powder, and cayenne pepper, this beer can chicken rub will take your barbecue chicken to the next level. It brings together sweet n' heat into one easy-to-make BBQ seasoning blend, and can even be used for any cut of chicken you like.
Texas-Style BBQ Rub
Our Texan friends know what they're doing when it comes to barbecue and flavor. This blend of brown sugar and chili powder strikes just the right level of heat, and goes best with smoked poultry or pork.
The brown sugar will start to caramelize on your meat as it cooks, especially if grilled, while it boasts a delicate sweet finish. It throws in a touch of paprika for smoke, while its garlic and onion powder keeps the whole blend grounded in barbecue.
Pastrami Spice Rub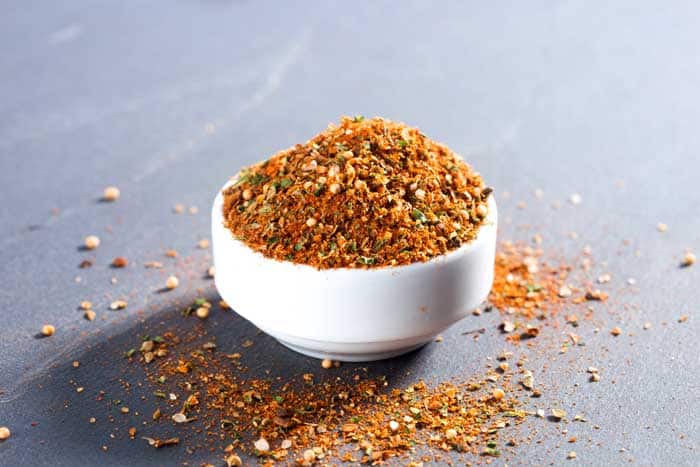 If you've ever been brave enough to make your own homemade smoked pastrami, this rub is for you. It's a basic blend of ingredients, including black peppercorn, coriander, and mustard seeds. As with all barbecue beef seasonings, the goal is to add a layer of flavor to the meat that withstands hours of cooking. This smoked pastrami rub adds a slightly sweet and spicy taste to the finished meat.
Sweet Rub for Pork and Chicken
Proof that the simplest blends are often the best. This ground mustard and paprika blend can go with almost any grilled meat, but it's best suited to either pork or chicken.
Along with the usual ingredients of salt, black pepper and garlic powder, this mix adds ground mustard for a nice touch of acidity.
Sweet Texas-Style Dry Rub
Sweet and hot, this rub will take your smoked meat to the next level. Put it on some ribs and let it do the rest. The mix of sweet and spicy packs in so much flavor, all without overpowering the meat.
If you haven't tried it, are you even grilling right?
Memphis Dust
Despite its name, the special ingredient is not dust! Its secret is its use of rosemary, making it unique compared to the other recipes on this list. The herb gives it an unmistakable scent and flavor, with a strong but balanced taste. It does not include salt, so you might want to brine your meat first, especially if you're smoking poultry or pork.
Super Easy BBQ Pork Rub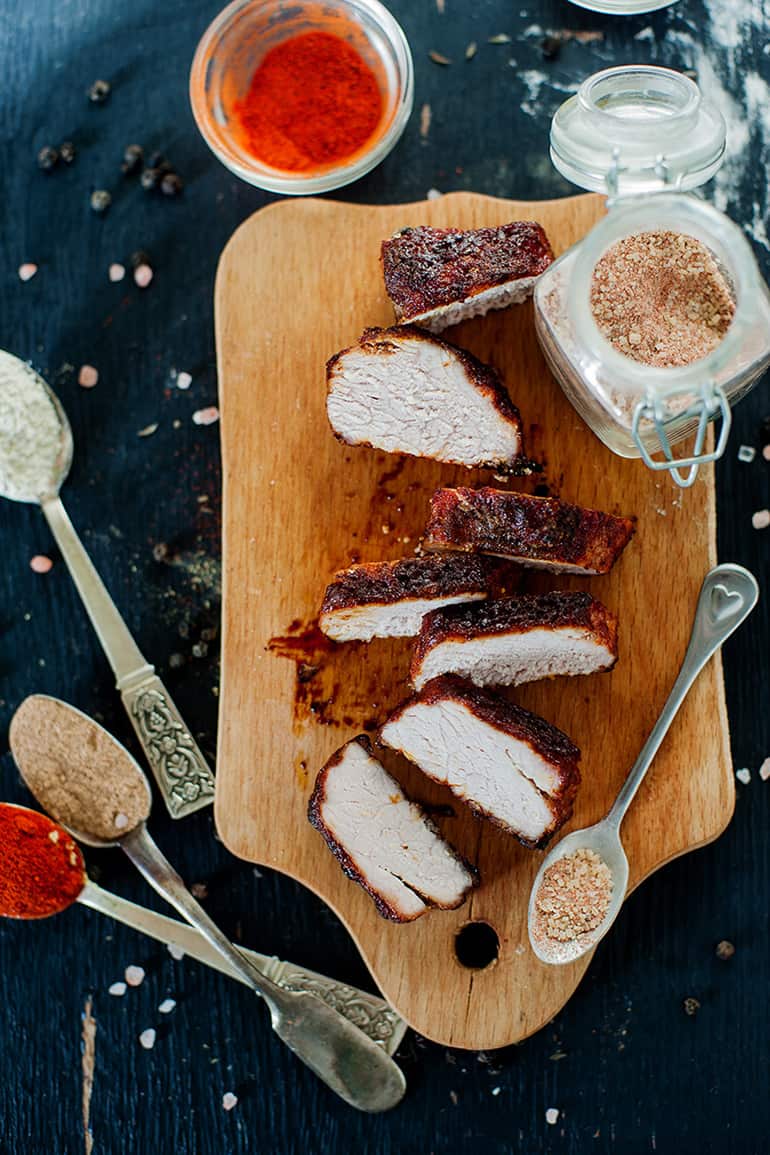 This dry rub for BBQ pork goes with any grilled or smoked cut of pig meat but is especially well suited to pork tenderloin. It balances sweet and spicy beautifully, with ingredients like paprika, chili powder, and brown sugar, before adding a delicate twist of flavor with garlic and onion.
Smoked Chicken BBQ Rub
Barbecue smoked chicken is all about the meat prep, and seasoning is crucial to that. This smoked chicken rub blends spices and herbs including paprika, thyme, and chili powder to deliver a punch of flavor. It delivers a sweet and spicy taste that still allows the smoked flavors of the poultry to come through. Perfect for chicken breasts, thighs, and whole birds.
Memphis-Style Rub for Baby Back Ribs
The allspice and the Provence herbs in this rub will give your ribs a very special and unique flavor. It's easy and quick to make and yet it delivers amazing results. Your smoked ribs will surely be the king of the barbecue.
Dry Rub for Beef
Most cuts of beef have a robust taste, so only rubs with a robust flavor will do. A blend that's up to the job will develop a nice, crunchy crust on the meat while imparting some amazing flavors. The diverse ingredients of this rub will achieve a perfect richness on your brisket, steak, or short ribs.
Baby Back Ribs Seasoning
This rub goes best with ribs, but you can put it on any pork cut you want, even on chicken. This rub uses a mix of sweet and spicy paprika which gives it a strong smoky flavor. The balance between sugar and salt ensures the flavor is balanced and strong.
All-Purpose BBQ Spice
This is a simple take on the BBQ-style spice mix. It's very practical because of its versatility, you can put it on any meat. You can save it, and if you ever want a different flavor it's easy to transform it into other rubs anytime! It has a mild, sweet, and smoky flavor that goes well with everything!
Adaptable BBQ Rub
Another all-purpose seasoning blend, made with a touch of mustard powder and cayenne pepper to add a more all-round flavor. Perfect for almost all meats, and even a side or grilled vegetables, tofu, or potatoes. It's also easy to tweak if you like more heat, or if you prefer a more Mexican style or presence of garlic.