Pastrami was originally a means of preserving meat, but is now enjoyed as a meat in its own right. Perfect in sandwiches or even served alone, it's one of the best ways to enjoy a brisket flat. Find out everything you need to know with our smoked pastrami recipe.
What is Pastrami?
Pastrami is cured beef brisket, applied with a layer of spices and seasoning. It is brined, seasoned, and then either slow smoked or steamed.
It shares a lot in common with corned beef, and in fact has a very familiar preparation process. The key difference is the spice mix, and then it being slow smoked instead of boiled.
Why Do We Use the Brisket Flat?
Pastrami used to be prepared with mutton or beef naval, with the beef cut becoming more widely used as pastrami became more popular in Western Europe and North America. We use brisket because it's easier to procure than naval, and we use the flat instead of the point because it has lower fat content and is leaner, making it easier to slice after we smoke it.
Pastrami Rub
Like with a lot of beef, we'll be applying a good barbecue rub to the pastrami before throwing it on the smoker. For this recipe, we'll be using a simple black peppercorn and coriander blend, using a thin layer of yellow mustard as an adhesive. For this recipe, we've used a simple seasoning with just three ingredients but if you want more sweetness and heat, try our smoked pastrami rub recipe.
Why no salt in the rub? You might be asking. Well, having brined the brisket for the best part of six days, we'll already have plenty of salt embedded in the meat. Anything extra would be overkill, and we don't want to go through all this work only to then ruin it with an overly salty lump of meat.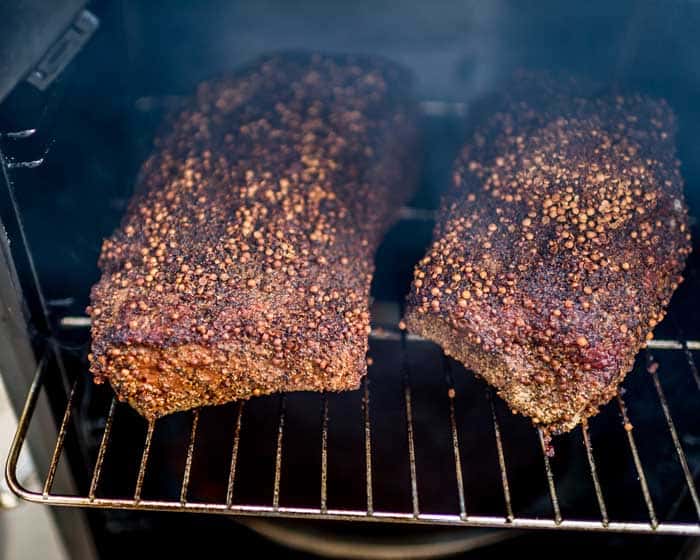 Best Wood for Smoking Pastrami
For this recipe, I've gone for cherrywood. While we often use deeper, more earthy woods for brisket, the cherry flavors in the wood complement the spices and seasonings in the pastrami perfectly. It also helps to develop that deep pink color that we like to see in pastrami slices.
How to Smoke Pastrami
My full smoked pastrami recipe is below, but here are some tips to help you get the most out of your cooked beef.
When you come to wrapping the brisket in foil, ensure that you wrap it as tightly as possible. This will help to retain the bark that the meat will have developed up to that point. If you leave too much room, or the foil tears, the humidity in the smoker will ruin the bark.
When we transfer the wrapped brisket back to the smoker, we increase the temperature to about 300°F. The reason we do this isn't to expose it to smoke or wood, but instead to allow the connective tissue and fat in the meat to render and break down. Doing this while wrapped and at a higher temperature helps to speed the process up.
Aim for an internal temperature of 205-210°F. Ultimately, internal temperature is key here, but also check for resistance when inserting the probe. If you don't experience much resistance then you know your pastrami is nice and tender.
If you're planning to eat it the same day that you cook it, allow it to rest for about an hour before slicing it. This will allow the juices in it to redistribute, making it as tender as possible.
Instead, if you're planning on keeping it, transfer it to the refrigerator and allow it to cool down. You can slice it when it has completely cooled down and the meat should hold its shape perfectly.
When you do come to slicing it, it's important to note in which direction the muscle fibers are running. Rather then slice with the grain, we want to slice perpendicular to it.
Don't throw away the juice that's remaining in the foil packet. If you are keeping the pastrami for later, you can store it in the juices or reheat it in them to help retain flavor.
How Long to Smoke Pastrami
Pastrami needs to be smoked for a total of 7 hours. After you have prepared and cured it, smoke it at 250°F for 5 hours. After this wrap it in aluminum foil and cook at 300°F for 2 hours. The pastrami will be done when it reaches an internal temperature of 150°F (66°C)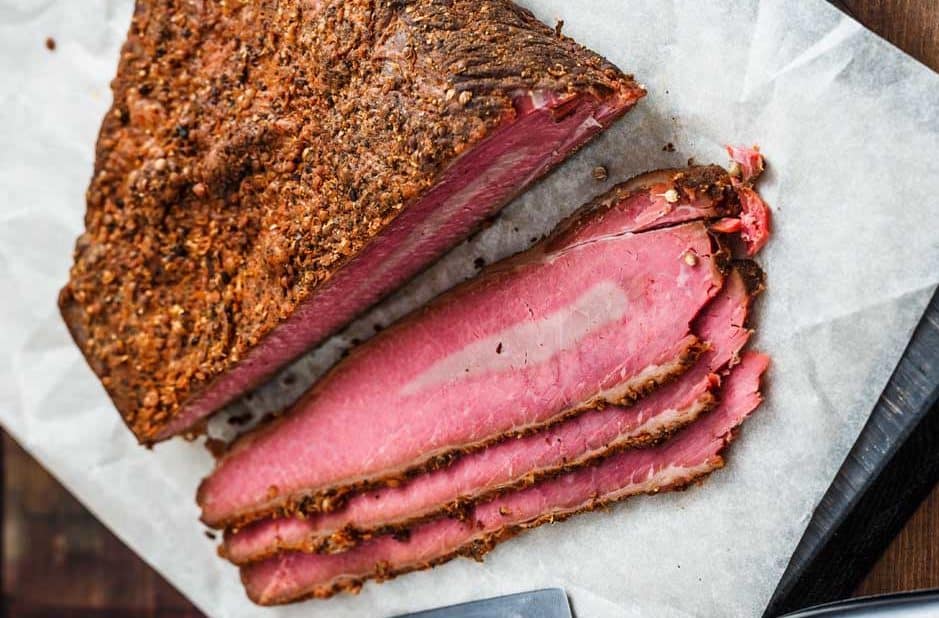 Smoked Pastrami
This smoked pastrami recipe is unlike any other. Cured over several days before cooked low and slow over cherry wood, this is the perfect way to enjoy brisket flat.
Print Recipe
Pin Recipe
Equipment
Offset smoker

Cherry smoking wood
Ingredients
For the pickling spice
1

tbsp

black pepper corns

1

tbsp

coriander

1

tbsp

mustard seeds

1

tbsp

red chili flakes

1

tbsp

all spice berries

1

tbsp

whole cloves

1

tsp

ground ginger

1

tsp

ground mace

1

bayleaf

torn up

1

stick cinnamon

crushed
For the brine
4

quarts

water

1 ½

cups

kosher salt

1

cup

white sugar

4

tsp

pink curing salt

10

cloves

garlic

crushed

8

lbs

ice
For the pastrami rub
4

tbsp

black peppercorns

4

tbsp

coriander seeds

yellow mustard
Instructions
For the pickling spice
Add black peppercorns, mustard seeds, and coriander to a dry skillet over high heat. Keep pan moving so ingredients can cook on all sides. Toast until fragrant.

Remove from skillet and pour into napkin.

Spread seeds out evenly and fold napkin once to cover seeds. Use skillet to crush seeds.

Pour broken seeds into small bowl. Add all remaining pickling spice ingredients, and combine well.
For the brine
Heat up water in large pan.. Add all brine ingredients except ice, plus ¼ cup of the pickling spice.

Bring water to a boil and stir thoroughly.

Once salt and sugar has dissolved, remove from heat.

Add ice to brining bucket, and pour in brine solution.

Once the solution has cooled down, submerge trimmed brisket flat to solution. If your bucket has a plate, you can use that to help keep the meat completely submerged.

Transfer bucket to refrigerator. Leave for 4-6 days.
For the seasoning
Remove brisket from brining bucket. Run under cold water to remove any excess spice or solution. Pat down with paper towel.

Mix black pepper and coriander in small bowl.

Apply a thin layer of yellow mustard across surface of brisket, on all sides.

Apply seasoning mix liberally across all sides of the brisket.
For the smoked brisket
Heat up smoker to 250°F. If you are using a charcoal grill, set up for indirect grilling and keep a close eye on temperature.

Transfer brisket to smoker. Close door and cook for 5 hours.

Remove brisket from smoker and wrap tightly in foil.

Increase temperature to 300°F and place wrapped brisket back in the smoker.

Cook for another 1-2 hours. Check brisket internal temperature with meat probe (you can do this through the foil), aiming for internal temperature of 160°F (66°C).

Remove pastrami from smoker, and from foil.

Find muscle fibers running through meat, and slice perpendicular to their direction. Serve and enjoy!
Nutrition
Calories:
582
kcal
|
Carbohydrates:
34
g
|
Protein:
61
g
|
Fat:
23
g
|
Saturated Fat:
8
g
|
Polyunsaturated Fat:
1
g
|
Monounsaturated Fat:
11
g
|
Trans Fat:
0.001
g
|
Cholesterol:
176
mg
|
Sodium:
21512
mg
|
Potassium:
1127
mg
|
Fiber:
4
g
|
Sugar:
25
g
|
Vitamin A:
340
IU
|
Vitamin C:
2
mg
|
Calcium:
132
mg
|
Iron:
7
mg