Delicious smoked beef brisket burgers slow-cooked over fire and coals. Made with freshly ground beef brisket and blended with simple garlic seasoning, these homemade burger patties are loaded with beef's natural, juicy flavors.
These easy smoked brisket burgers are a spin on the classic cheeseburger. Instead of your regular store-bought patty, these homemade burgers use fresh juicy beef brisket for their meat filling. Brisket's natural marbling and fat content make the beef cut perfect for smoked burgers, and smoking over oakwood takes them to a whole new level.
Our simple recipe uses just ground brisket (you can get this store-bought or grind it yourself using leftover brisket) and simple fresh garlic and salt for seasoning. This means that (almost) all the flavor comes directly from the beef. And when you're using a delicious primal cut like brisket, why wouldn't you want that?
Find out how to make the best smoked brisket burgers from scratch, including the best smoking woods, burger topping ideas, and how to keep your burger patty meaty and juicy. Let's get smoking.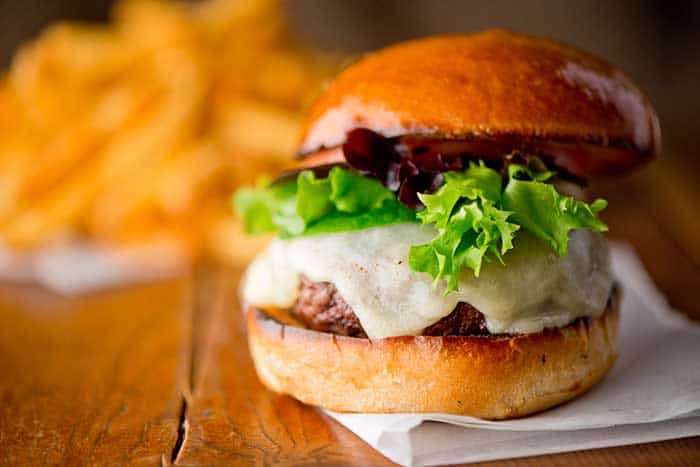 How to Grind Brisket for Burgers
While some recipes call for either the brisket point or flat, we need both for this recipe. The flat is too lean and the point is too fatty. We need somewhere around 20% fat. So by combining the two, we end up in the sweet spot, somewhere in the middle.
The average beef brisket is between 9 and 12 pounds, so you'll need to scale up the recipe or only use half of each the point and the flat and freeze the rest.
Usually, we need to be careful when cutting brisket into the flat and point, but we can be more carefree for ground beef. Find the fat layer that separates the two and slice into it, pulling them apart. Next, roughly chop the flat and point into large chunks.
Set up your meat grinder to its coarse plate setting and start feeding the brisket chunks through it, alternating between the flat and point. Switch the grinder to its medium plate and feed the ground brisket through it a second time.
Smoking Wood
The best wood for smoking brisket is oak or hickory. While other hardwoods like mesquite or fruitwoods such as apple or pecan can work well, both oak and hickory are best at imparting a rich smokey flavor on the beef without overpowering or distracting from its natural flavors.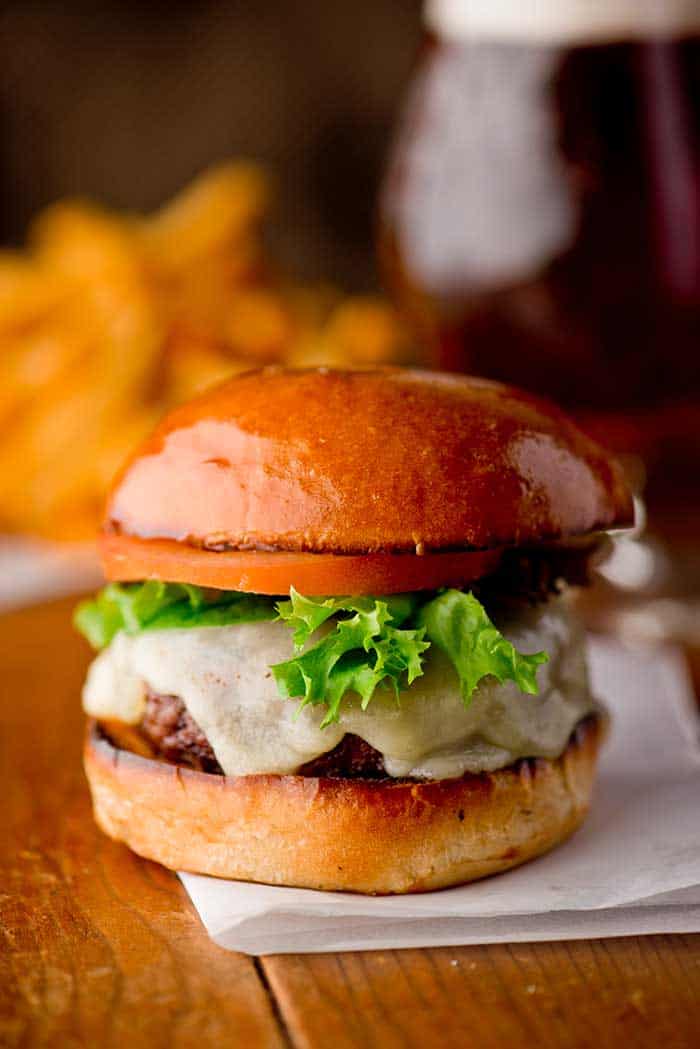 Quick Tips
If you choose to grind your beef brisket yourself, prepare your meat grinder by storing the main components in the freezer beforehand. As you grind your meat, the friction and kinetic energy will generate heat and start to render the fat in your meat.
Salt the outside of each patty just before cooking. This will help retain moisture without the meat becoming too dense.
Push a small indent with your thumb into the center of each patty just before cooking. While the benefit of doing this has been exaggerated over the years, a shallow indent about 1-inch in diameter will help keep the patty flat and prevent it from plumping.
Do not pierce the meat with a knife. This can lead to the entire patty losing its shape and juices as it cooks.