BBQ Chicken Wings should be a staple for any grilling enthusiast. Here's a really easy recipe that you'll be able to pull out the bag at any cook-off or party. Just be prepared to fight for that last wing!
Everyone needs a go-to BBQ wings recipe, and this one has stood the test of time over the years. I've stripped back complicated marinades and dipping sauces, leaving you with simple wings that you can rely on.
This leaves you the real star of the show: The wings. These beauties are fall-off-the-bone delicious, and should have everyone reaching for more!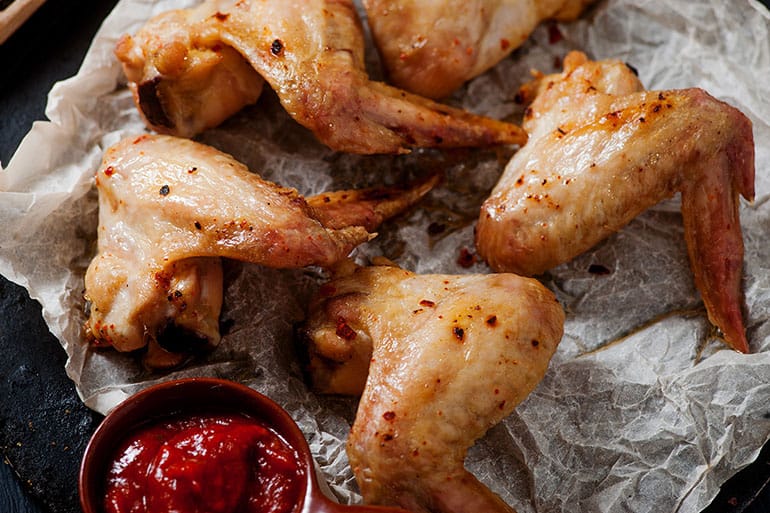 This recipes uses a really simple chicken injection marinade, just to help infuse a bit of sharp flavor into the mix. It's just a simple soy sauce and vinaigrette blend, but there are so many different ingredients you could use here.
Feel free to experiment here. I've seen marinades using honey, chili sauce, crushed garlic, lime, ginger, sriracha, hoisin sauce, and much more.
Basically, if it has a bit of zing to it then it's a contender for a marinade!
If you want to try a dipping sauce here, then I recommend taking a look at some of the ideas here. Failing that, I've been really enjoying Cola BBQ sauces recently. The combination of spice and sweetness offered by them goes really well.
If you're not strapped for time then the best way to enhance the flavor of these little beauties is to make use of a good brine.
If you've never used a brine before then be sure to check out my guide on how to brine chicken wings. I walk you through all the steps, as well as everything you need to pull together an effective brining solution.
Finally, make sure you heat up your grill full before putting the wings on it. This will help to prevent the chicken from sticking to the grill.
How to Buy Chicken Wings
Good wings starts at the meat counter. If you buy cheap meat, you're setting yourself up for failure before you've even fired up your grill, so make sure you look out for the following signs of good quality meat when you come to buying chicken wings.
Good quality wings will have a creamy white or yellow color, with any visible flesh looking pink and plump in appearance. The meat should be fresh and chilled, not frozen, and should be organic and antibiotic-free.
How to Cook Wings on a Charcoal Grill
If you are using a charcoal grill, like my trusty Weber Jumbo Joe, you will need to set up for indirect grilling. Also known as 2-zone cooking, this involves setting up the charcoal on one side of the grill, and placing your food on the other. This method allows us to bring the wings to temperature without exposing them to direct heat, drying them out, or over-charring them.
How Long to Grill Chicken Wings
Chicken wings need to be cooked until they reach an internal temperature of 165°F (74°C) (source). This should take about 20-25 minutes when grilled over a medium-hot flame on the grill. Make sure that you flip them every few minutes, cook them evenly through, and that there is no pink meat inside the wings.