Easy BBQ smoked chicken wings cooked low and slow on your pellet grill. Prepared with smoky dry rub seasoning, these smoked chicken wings are loaded with flavor and finished with the perfect crispy sear.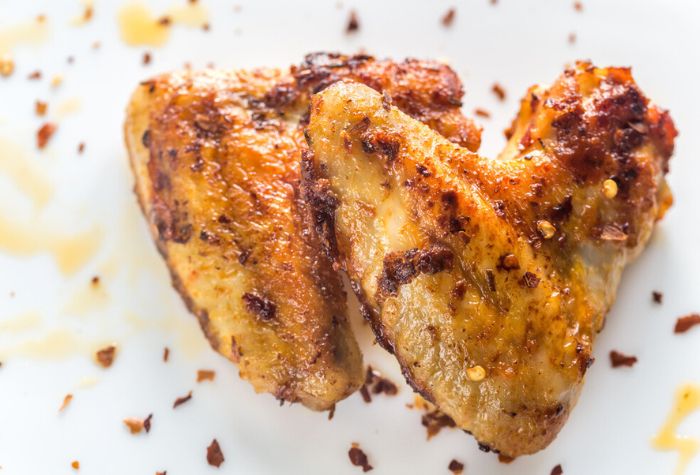 Smoked chicken wings are the ultimate backyard party food. Whether you're preparing a delicious BBQ platter or rustling up something at the weekend, barbecue wings are as popular as smoked meat gets.
Our easy pellet grill smoked chicken wings are prepared with our paprika and thyme dry rub, giving them an unmistakable smokey flavor that's enriched by low and slow cooking over applewood smoke.
From meat preparation to smoking advice, here's how to smoke chicken wings on a pellet grill. Let's get smoking!
How to Smoke Chicken Wings on a Pellet Grill
With your wings ready to go, here are the basic steps to making the best chicken wings on your pellet grill:
Fire Up: Load up your pellet grill with applewood pellets and preheat to 250°F (120°C)
Dry & Coat: To turn your wings crispy, we need to do two things. First is to pat them dry with paper towels to remove excess moisture. Next, lightly (and we mean lightly) coat your wings with baking powder.
Season: Create the dry rub in a small bowl and use a fork to combine the ingredients for an even blend. Liberally coat the wings with the dry rub seasoning, covering all sides.
Smoke: With your pellet grill at our target temperature, place your chicken wings on the grates, close the lid, and cook!
Sear: Once the wings hit an internal temperature of around 155°F (68°C), dial up the temperature on your grill to high (about 450°F/230°C). This sear will help give the wings a beautiful crispy-charred finish.
Pull: Once the wings hit an internal temperature of 165°F (74°C), pull them from your smoker and serve right away!
Dry Rub
For our rub, we'll be using our homemade smoked chicken rub. It features a blend of paprika, thyme, and cayenne pepper for an earthy but spicy kick. If you're not a fan of spice, simply swap out the chili powder and cayenne for more paprika and a dash of brown sugar.
Ensure you pat the thighs with paper towels before applying the rub. Drying the meat surface like this will help provide a crispy finish to your smoked chicken wings.
Wood Pellets
The best wood pellets for smoking chicken wings are woods that offer a subtle smokiness with a hint of sweetness, like apple, pecan or maple.
Applewood pellets are a bit more mellow than other fruit-based pellets, which is why it's often our default wood choice. However, pecan has a bit more depth to it without being too rich. Pecan is the more pronounced of the three and even has a slight nuttiness behind its sweet flavor profile that many BBQ fans love.
When buying your pellets, quality is key. The best wood pellets for smoking use pressed sawdust without the addition of chemicals or filler agents. Look out for 100% natural hardwood pellets for the best possible quality smoke.
Times & Temperatures
Chicken wings should be cooked at 250°F (120°C) until they reach an internal temperature of 165°F (74°C). This usually takes about 1 hour, but factors like meat thickness will impact the cooking time. Always cook to temperature, not time.