Make the best smoked pulled chicken with this easy barbecue recipe. Smoked low and slow over pecan wood and prepared in delicious BBQ sauce and brine, this is the best way to enjoy the classic barbecue meat.
You do not have to give up on smoked pulled chicken as I will take you through the whole process of making the best smoked pulled chicken.
This pulled chicken is made with smoked chicken thighs without bones and skin. For maximum smoke flavor, pecan is the best wood to use as it is slow and intense. You can even mix it with cherry or apple or any other fruitwoods. This is best done with fresh chicken thighs, but can also be done with leftover chicken if you have any.
Temperature control is critical when it comes to chicken. A great mixture of marinade and brine will make the chicken more tasty and savory. This is how to make smoked pulled chicken.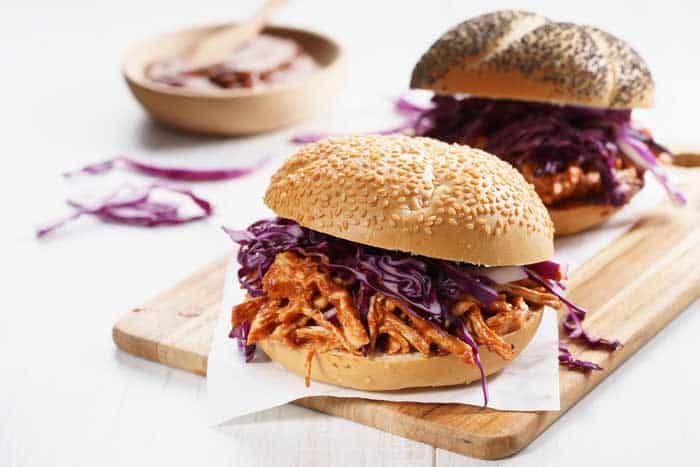 What cut of chicken is best for smoked pulled chicken?
Thighs are the best part when you want to make smoked pulled chicken. It has more fat, and it is the best part of a chicken that can take up more heating time. A combination of thighs and brine brings more moisture, and having dry chicken is very low. Chicken thighs have this particular way of getting more tender which is good for chewing. Boneless and skinless thighs are ideal for smoked pulled chicken. As much as the skin keeps the chicken moist, skinless chicken tends to come out better without skin.
Smoked pulled chicken brine
One of the best ways to preserve the moisture and flavor in chicken while it smokes is to use a good brine. Just like with our classic chicken wing brine, this mixture works by using salt to lock in the meat's natural juices so that it doesn't dry out when cooked over smoke.
You mix salt, beer, water, and some flavor of your choice.
Wait until the salt dissolves in water.
A change of color might occur if you use smoked salt, but if it is white, it becomes clear.
Add sugar to the mixture.
Add hot sauce to the mixture as well.
Stir evenly until you have a balanced mixture
Best smoking wood for making pulled chicken
The best smoking woods for chicken are mild fruit woods, such as apple, pecan, or maple. For this recipe we'll be using pecan. It has this powerful smoke flavor that it leaves to the smoked pulled chicken. It does not take away the original taste of chicken. It is an excellent type of wood that easily blends with other fruit woods that gives your chicken an extra sweet flavor. Just in case you cannot have pecan, you can try fruit woods like cherry and apple.
What temp for smoked pulled chicken
When smoking pulled chicken, you have to make sure that it has two different temperatures. The smoker should be 230 degrees F, but as you start smoking your chicken, the initial temperature should be 175 degrees F.
Using 160-165 degrees F has been the standard time for any type of chicken, but with the temperature mentioned above, smoked pulled chicken can be made great.
How long to smoke pulled chicken
Smoking pulled chicken takes more time than you think. You have to make it slow, and you need less heat. You cannot rush the process by using more heat than needed. Preparing time takes about 15minutes. Preparation evolves around marinating, gathering all the equipment you need, seasoning, preheating, and gathering all the ingredients as well. The smoker temperature has to be 230 degrees F. Brine time takes 3 hours. These three hours involve marinating, some rub, and refrigerate to absorb all the brine and get well-seasoned. The meat finish temperature is 175 degrees F.
Other tips
You do not have to keep any amount of air inside the bag before you seal it. Keeping air outside the bag makes the meat have more contact with the rub or marinade (source).
Temperature control is quite important when it comes to smoking chicken; otherwise, you will not enjoy it. Not only is temperature regulation but also the choice of wood. Temperature levels can be easily regulated when you know how to adjust your smoker's temperature.
How to make smoked pulled chicken
When smoking pulled chicken, the best way is to use any type of rub of your chicken that gives you a saucy chicken with maximum flavor. If you have no idea about what type of sauce to use, I would suggest that you use barbecue sauce. You will not go wrong with barbecue sauce. The right choice of wood and ingredients will make the best out of your smoked pulled chicken.
Smoked Pulled Chicken
Beautiful barbecue pulled chicken made from smoked chicken thighs, cooked over pecan smoke and served in a filling seeded bun and topped with red onions. Smoky, sweet, and tangy!
Print Recipe
Pin Recipe
Ingredients
5

lbs

chicken thighs

boneless

½

cup

BBQ sauce

BBQ rub
Brine
1

gallon

water

1

cup

kosher salt
Sandwiches (optional)
8

seeded or brioche buns

1

large red onion

thinly sliced
Instructions
Pour the water into the brining bucket. Add the salt and stir in until fully dissolved. Submerge chicken thighs in water. Place the bucket in the refrigerator and leave to bring for one hour.

Preheat smoker to 225°F (107°C). While your smoker warms up, remove chicken from brine and transfer to a drying rack. Pat dry with paper towels.

Transfer thighs to a large bowl. Add BBQ rub, coating evenly, and working rub into the thighs as much as possible.

Place chicken thighs in smoker, spread evenly on cooking racks. Leave at least half an inch between each thigh to ensure even smoke coverage. Close chamber door and smoke for 2 hours, or until internal meat temperature has reached 165°F (71°C).

Remove thighs from smoker and leave to rest for 10 minutes, wrapped in aluminum foil.

Use shredder or forks to pull chicken meat. When evenly pulled, move chicken to a large bowl. Add BBQ sauce, stirring for even coverage.

Serve with your favorite side, or in sandwiches with thinly sliced red onion.
The Final Word
The above stages will not leave you without enough information about the perfect smoked pulled chicken recipe. Pecan is the type of wood I prefer, and barbecue sauce gives a great marinade to the chicken. Temperature regulation remains quite an important aspect.