Need to make the most of your leftover grilled and smoked chicken? These quick and easy ideas will stop all your poultry from going to waste. From tacos to pizza, healthy burrito bowls to easy stir fry, these are the best leftover chicken recipes to get you out of trouble.
Meal prepping and planning ahead are the tenants of healthy eating and sticking to your grocery budget. Having grilled or shredded chicken on hand is a great way to accomplish these goals, and it's always handy to have on hand. But it can be easy to get burned out from making the same old recipes over and over again. Here are 17 of the best recipes that utilize leftover chicken that are sure to be a welcome change at your dinner table!
Grilled Chicken Parmesan
If you are looking for a delectable Italian dinner that can be ready in less than ten minutes, this is a great go-to meal. It's hard to beat the combination of a flavorful spaghetti sauce, mozzarella, and breadcrumbs – and this recipe surely won't disappoint. This dish pairs really well with a green salad and whole-grain pasta. Check it out here.
Roasted Red Pepper and Mozzarella Sandwich
This sandwich makes an excellent lunch or dinner, and can be ready in minutes. Most grocery stores carry roasted red peppers in the canned vegetable aisle, making this recipe as easy as can be. Roasted red peppers and pesto is truly a match made in heaven! This recipe especially nice if you are avoiding turning on the oven during those hot summer months. Check it out here.
Homemade Enchiladas
These enchiladas have it all: tender chicken, luscious melted cheese, delicious filling and just enough kick. Green chilies are a great way to introduce spice without overwhelming anyone, they are even popular with kids! This is sure to be your new go-to recipe for leftovers. Check it out here.
BBQ Smoked Pulled Chicken
What could be easier than tossing your leftover smoked pulled chicken with your favorite BBQ sauce? Whether starting from scratch or using leftover chicken, these sandwiches make a filling and delicious dinner. These are excellent served with coleslaw and fresh fruit.
Grilled BBQ Pizza
Shred or chop your leftover chicken, add some delicious veggies for texture and create your own grilled pizza in less than 45 min! The corn gives a sweetness and crunch that is unique and scrumptious. The best part about this meal, is it really has it all, no need for side dishes, just grab your favorite drink and you are good to go. Check it out here.
Leftover Chicken Fried Rice
Leftover chicken and rice is transformed in this quick and easy recipe. You won't believe how the addition of a few key ingredients makes this classic restaurant dish available to you at home! This is another all-in-one meal, but it also only uses one pan, which makes clean up a breeze! Check it out here.
Easy Pepper Stir Fry
This healthy and uncomplicated Asian-inspired dish can be on your table in 30 minutes. The bell peppers bring a nice sweetness and crunch to this dinner, and the sesame seeds lend the perfect crunch. Serve with rice and you are all set for a perfect meal. Check it out here.
Rotisserie Chicken Tacos
Take your Taco Tuesday game to the next level with these intensely satisfying chicken tacos. Made with leftover rotisserie chicken served in crispy taco shells and topped with bubbly melted cheese this recipe is sure to wow your family and friends. Check it out here.
Burrito Bowls
With cilantro-lime rice, guacamole, and crunchy fresh veggies, this makes one mouthwatering meal. This recipe makes a killer lunch or dinner, and it is an easy meal prep option for when you need a healthy lunch or dinner option to go. Check it out here.
Teriyaki Quesadillas
This recipe could not be more straightforward, but you will be surprised by how delicious it turns out. Pan frying the tortilla with butter makes for a delicious crispiness which pairs perfectly with the melty cheese and sweet but tangy chicken. This recipe is a knock out! Check it out here.
Chicken Casserole
It seems that everyone remembers the chicken and broccoli casserole of their childhood with fondness, but the cream cheese and paprika in this recipe really set it apart and make it extra scrumptious. Smokey, creamy, crunchy, and filling – you really can't ask for more from a casserole dish. Your family be will sure to ask for seconds with this meal! Check it out here.
Buffalo Chicken Dip
This beautiful dip combines a perfect blend of leftover grilled chicken with buffalo sauce, cheese, cheese, and more cheese. It's the perfect tailgate or grill side, and ideal party food for the next Super Bowl party. Bold and sharp in flavor, this buffalo chicken dip will go down a storm.
Grilled Chicken Nachos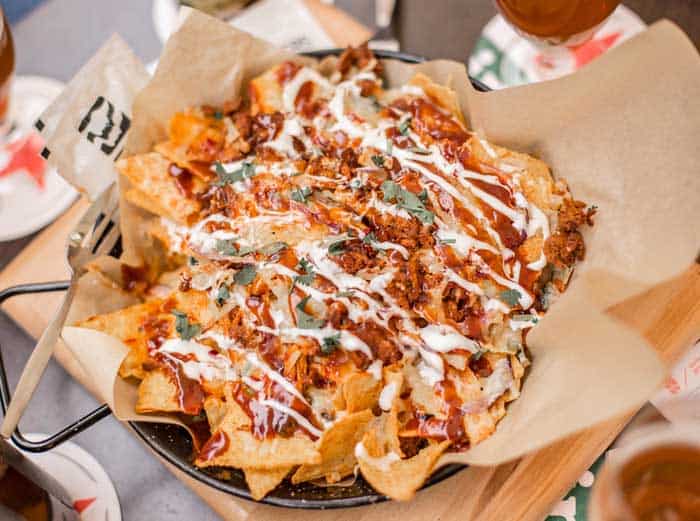 This buffalo chicken nacho recipe doesn't just make good use of shredded chicken: The entire thing is cooked on the grill. This lets the wood and smoke in your charcoal cooker add unique barbecue flavors to your nachos in order to make something unlike any other nacho dish you've had before.
Topped with BBQ sauce and meat rub for a kick of heat, and with the deep flavors you'd expect from smoke, this is more than just your standard store-bought fare.
Easy Tinga Tacos
Chicken tinga is criminally underrated. The Mexican dish is done best by keeping things simple, and Isabel's recipe here does just that. Shred your chicken and mix into a tomato and onion base with smokey chipotle BBQ sauce, before serving on a toasted tortilla. Check it out here.
Buffalo Chicken Sliders
Leftover chicken goes so well with buffalo and ranch dressing, and these sliders are the perfect example why. Placed in a garlic butter bun, there's an outrageous amount of flavor in each sandwich. Check it out here.
Cheesy Burritos
Chicken and burritos go pretty much hand in hand. These little beauties are loaded with refried beans, Mexican red rice, capsicum and sautéed onions to give you a smugly satisfying mouthful of smoked chicken. Check it out here.
Grilled Pesto Chicken Couscous Bowls
For something on the lighter end of the scale, these couscous bowls make for an easy and cheap meal. Perfect for when you're feeling equal parts hungry to lazy. Check it out here.