Delicious chicken thighs smoked low and slow on your Traeger or favorite pellet grill. This barbecue smoked chicken classic is tender, juicy, and packed full of flavor.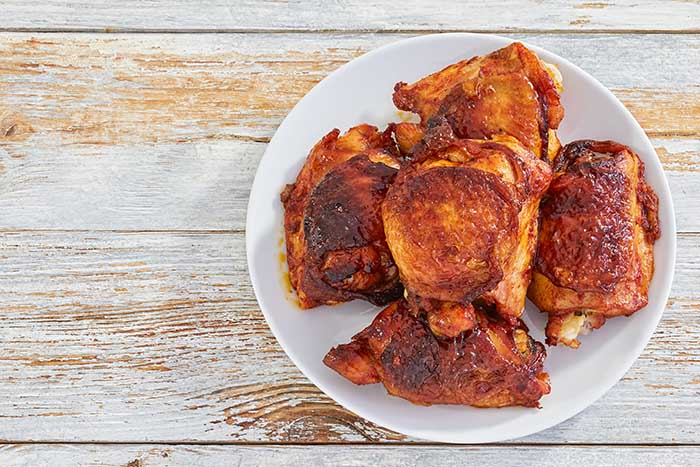 Pellet grill chicken thighs are the perfect fuss-free quick barbecue meat for smoke pros and newcomers alike. Their rich dark meat provides all the flavor, while their fat content helps ensure they don't dry out. No brines and no marinades. Just a simple dry rub before throwing them on your pellet grill's grates, and they're done in an hour. Easy.
From meat preparation to the best wood pellets, discover how to smoke chicken thighs on your pellet grill today.
Chicken Thighs Explained
Chicken thighs come from the upper leg portion of the chicken, just above the knee. The thigh muscles are well worked, meaning the meat is dark and well-worked – a sure-fire ingredient for delicious flavor.
Thighs also contain more fat than chicken breast, meaning that they're perfect for smoking. The low and slow cooking method helps the fat render slowly, turning the thighs tender and juicy.
This easy-to-cook meat cut is sold bone-in or out, and skin-on or off, making it a versatile type of chicken. While chicken breast is prone to turning dry while cooking, thighs stay juicy and are loaded with much more flavor.
For this recipe, we'll be using bone-in and skin-on thighs. These are easier and cheaper to buy than bone-out, and also pack in more flavor. If you want to use boneless thighs instead, no problem – just keep in mind that they will cook a touch faster so keep an eye on your meat probe's reading.
Dry Rub
For our seasoning, we'll be using our homemade smoked chicken rub. It features a blend of paprika, thyme, and cayenne pepper for an earthy but spicy kick. If you're spice-averse, simply swap out the chili powder and cayenne for more paprika and a dash of brown sugar.
Ensure you pat the thighs with paper towels before applying the rub. This will help dry the surface, helping provide a crispy finish to your smoked chicken thighs.
Time & Temperature
Chicken thighs should be cooked at 275°F (135°C) until they reach an internal temperature of 165°F (74°C). This usually takes between 1 to 1 ½ hours, but factors like meat quantity and whether they're bone-in or boneless will impact the cooking time. Always cook to temperature, not time.
Why not smoke at 225°F? At a lower temperature, chicken thigh skin shrinks significantly due to a combination of the meat's water content evaporating and proteins tightening. At a higher cooking temperature, we can shorten the cooking time before the skin has a chance to shrink.
Quick Tips
If you don't like chicken skin, I urge you not to buy skinless thighs. The skin contains a lot of juices that help enrich the flavors of the final dish. So, instead, smoke these skin-on and remove the skin after if you prefer. Don't remove it prior to cooking.
Ensure you place the chicken thighs skin-side up on your smoker grates. This will help reduce the risk of the skin drying out and shrinking as it cooks.