The Traeger Silverton 620 is a special edition pellet grill from the brand that has been at the forefront of modern day pellet grilling for years. It's difficult to find, but is it worth the extra expense and effort to uncover? Our review takes a closer look at what the unit has to offer.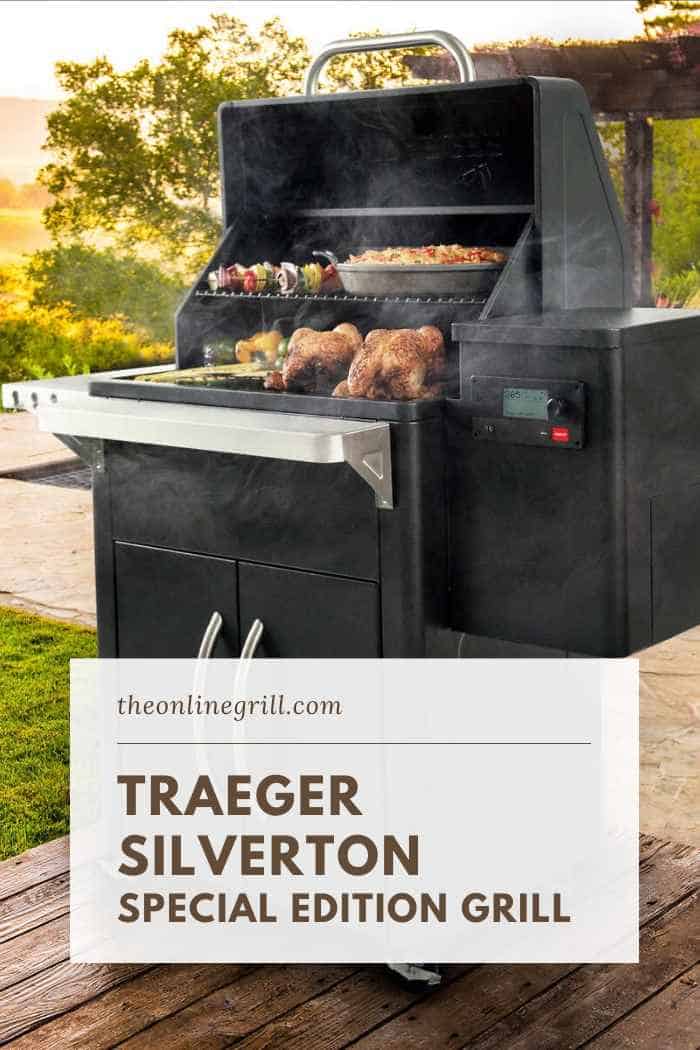 Traeger has long held the torch for pellet smoker grills, with the brand being one of the first to champion the backyard cooker type at the end of the 20th century.
With other brands now providing stiff competition, how do newer offerings from Traeger hold up?
One of their most recent additions is the Silverton, which came out in 2018 as a special edition grill.
This is a special edition grill from Traeger that had a limited circulation. It's worth saying that as far as I'm aware, it's no longer in production but I do see one turn up on second-hand selling sites from time to time.
Is the update an upgrade? How does it compare to other pellet smokers from rival brands? Let's take a deeper look in this Traeger Silverton grill review.
Traeger Silverton Specifications
Silverton alternatives
If you're keen on a brand new Traeger grill, take a look at the Pro Series 22 (the original version of the Silverton). Read our full Traeger Pro Series 22 review.
Stainless steel construction
The Traeger SIlverton acts as a great upgrade on the Traeger 22 series, which has been one of their best sellers over the past few years.
As part of this new and upgraded model, Traeger has included stainless steel construction on the inside of the grill chamber. This eliminates the powder coating showing up on the inside of your grill as you cook, which is a welcome feature in my book!
On the inside of the chamber sit dual cast-iron cooking grates, protected by robust and clear nontoxic coating. These provide two levels of total 600 square inches of cooking space, giving you more than enough room to take on most classic barbecue and grilled food.
Large hopper capacity
Where the 22 series had an 18-pound hopper capacity, the Silverton dwarfs that with an offering of 25 pounds. This equates to about 5 gallons of pellets, making it one of the most outstanding hopper volumes we've seen in recent years.
Not only this, but it has a pellet dump door, which helps you to recycle pellets for your next grilling sessions, and in turn helps to keep your hopper clean.
Although the pellet dump door in itself isn't new, what is new is how it works. Traeger have reworked the sloped design of the hopper to help better funnel pellets out of the hopper, which helps to keep the hopper clean.
Gen 2 motor series
Its auger is fitted with Traeger's Gen 2 motor series, which until now have mostly been used on their high-end pellet grills, like the Timberline.
In practice the Gen 2 motors have a lot in advantage over the Gen 1. They're DC powered, and have the D2 direct drive brushless auger motors. In real terms this is about 8 times the power of their Gen 1 auger motors.
They also have clog sensors that pick up on any unwanted pellet buildup, and can go into reverse motion to remove the hazard.
It's one heck of an upgrade, and one we love to see in a limited edition pellet grill range.
It comes with a different heat defuser to what we've seen in the past from Traeger, which helps to eliminate warping after continuous use.
Grilling power
The Silverton is built with double lining to help retain heat and maximize durability. This added heat retention helps the 610 and 820 grills boast a power rating of equivalent to 32,000 BTUs of cooking power.
It has a reworked 'downdraft' venting system to previous models. Gone is the smoke stack, and instead is a ventilation system that diverts the exhaust smoke and air out the side.
Although the pellet dump door in itself isn't new, what is new is how it works. Traeger have reworked the sloped design of the hopper to help better funnel pellets out of the hopper, which helps to keep the hopper clean.
Traeger have also moved the drain from outside the chamber to now inside. This has helped eradicate a real bug bear of mine, which was that the drain funneling outside of the grill meant that a lot of fatty run-off would find its way to the floor or ground around your grill, which isn't that hygienic.
The Silverton funnel system is now inside the unit and accessible through the doors at the foot of the unit. This helps to keep everything cleaner and safer while grilling.
Heat shield
Traeger have also reinvented their heat shield system for the Silverton. Gone is the box-like shield from their 22 model, and supplied instead is a rounded shield that sits like a rainbow above the fire box.
Its shape means that it should resist warping far more efficiently.
The drip tray then sits above the heat exchanger but beneath the grill grates, easily able to catch any run-off and funnel it into the drain.
The Silverton has porcelain enamel grates for good heat distribution and flare-up reduction, although it does come with an added cast iron grate insert that sits on top of the porcelain to help provide a better sear for your meat. This is one of those things where I didn't realize that it should be a thing until I saw it. Why don't more grills offer this?
There's good distance between the main grates and warming rack, so you have plenty of room to work with.
The total grill size is about 18 inches deep and 24 inches wide, meaning that capacity is not a problem for the Silverton. Whole turkeys, beer can chicken, whole hams. It can all fit.
Does the Traeger Silverton have WiFire?
The good news is that yes, the SIlverton 610 and 820 models both have WiFire capability. The Silverton syncs with Traeger's WiFire app so that you can monitor and control your pellet grill remotely. It might sound like a gimmick, but the convenience this adds to your barbecue smoking can't be underestimated.
How to clean the Traeger Silverton
Maintenance and cleanliness need to take priority when it comes to your pellet grill. Much like with a car, you need to keep things clean to ensure that you get the best performance out of it over the long term.
You will need:
Grill cleaning fluid: I'm a big fan of Traeger's own All Natural Cleaner (

Buy on Amazon

)
6-in-1 painter's tool: Red Devil's tool is easy to work with and fairly cheap (

Buy on Amazon

)
Mini vacuum cleaner: Pellets can create a lot of dust and lead to blockages. A small vac like the Craftsman is a handy tool to have around (

Buy on Amazon

)
Start by emptying the pellet hopper of any leftover pellets or dirt. The best way to do this is by opening your pellet door, and emptying the contents of the hopper into a bucket. We can reuse them later, so don't discard the pellets. Make sure that you store the pellets in an airtight container to protect them from moisture and humidity.
Open the smoker chamber and scrape down the cooking grates with your brush. Start with the top grates and work from top to bottom, removing any excess dirt or crumbs. After this, carefully turn over each grate and scrape the underside of each. Pay special attention to the temperature sensor on the inside of your grill, and make sure you don't knock or damage it. Remove the grates completely when you are done.
Now onto the grill chamber. Use your painter's tool to lightly scrape away any excess dirt or residue on the inside of the chamber. Don't worry about any small bits that are caked on. Use the beak on the painter's tool to work into any hard-to-reach nook and crannies in the chamber. Allow all crumbs and dirt to fall into the bottom of the chamber so that it's easier to clean them up once you are. Use a dry towel to wipe down the inner surfaces.
Remove the drip pan, tray and heat deflector. Again, just lightly scrape with the painter's tool and wipe with a towel. With the parts removed, use the vacuum to clean all surfaces and areas of the grill, including the fire pot and hopper. The more ash you can remove, the better.
Once done, place all removed parts back in grill. Refill hopper with pellets.
Didn't find what you're looking for? View more pellet grills from Traeger on Amazon