Pellet smokers offer incredible cooking versatility unlike any other type of barbecue. With wood-fuelled fire and motorized control, they offer BBQ fans convenience and versatility in equal measure. These best pellet smokers will take your outdoor cooking to the next level.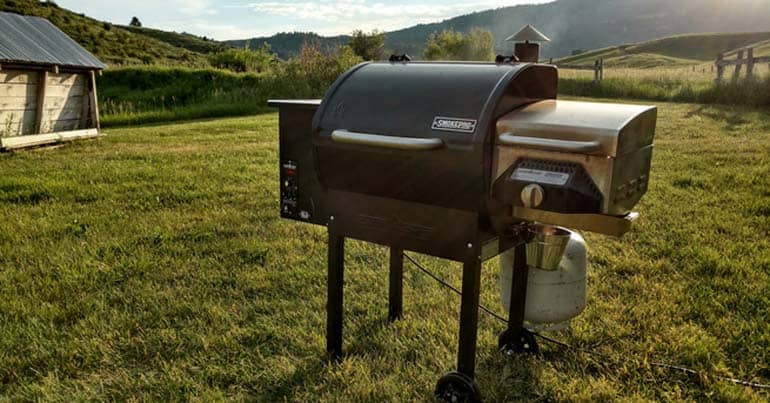 Pellet grills and smokers offer many of the same benefits and features as charcoal smoking or gas grilling. The crucial difference is that they don't use lump charcoal or propane gas. Pellet cookers use wood pellets to get their beautiful and unique aromas and flavors. Using an automatic feed and auger to feed the firebox, they're easy to control and use to achieve delicious barbecue flavors.
At a Glance: Our Top 3 Picks
Best Pellet Smoker:

Camp Chef SmokePro PG24


The perfect all-round backyard cooker. A heavy-duty unit that packs in everything you could possibly need for wood pellet cooking.
Runner-Up:

Traeger Pro Series 34


A seriously powerful unit that forms the perfect next step for the world's most famous wood cooker brand. Excellent heat retention and a heavy duty build make this an elite level model.
Best Budget Option:

Pit Boss 700FB


Budget-friendly with a side searing plate and automatic feed make this a great option for newcomers.
Camp Chef SmokePro PG24 Deluxe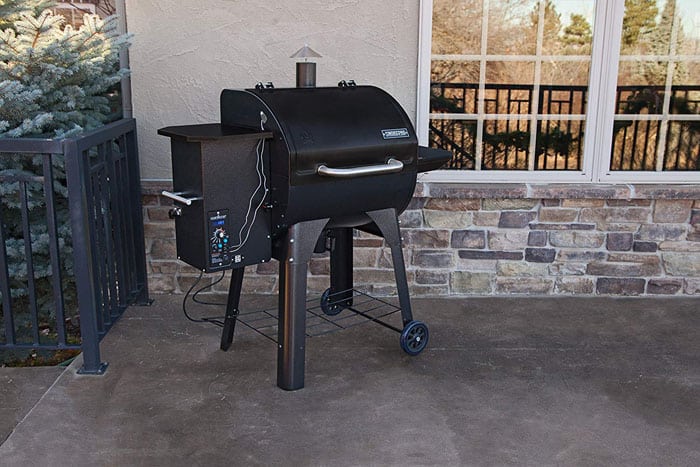 The Camp Chef SmokePro is a mid-size smoker that strikes the perfect balance between superb quality and value for money. Nothing is compromised, giving you good bang for your buck that's worth the investment.
The Camp Chef SmokePro's layered cooking racks give you a generous amount of extra room to cook with. Underneath the lid, the SmokePro offers 560 square inches of cooking area, which rivals most industry standards for backyard cookers of this quality.
It's more than enough space for most barbecue buffs and can cook for a crowd. Camp Chef has moved its smokestack to the rear of the chamber, allowing you so much more room to work with.
The SmokePro's warming racks sit just above the main grates, providing extra space to warm and rest food on, or presents added space for smoking food. With these racks included it offers a huge total cooking area of 811 square inches.
With any pellet smoker we want to be able to have the same level of temperature control that we'd have on a gas grill or kitchen oven. The temperature controller that Camp Chef PG24 gives us exactly that. It's easy to use, and its temperature controls enough range and flexibility to allow you to smoke anything you want.
As is becoming more and more standard, the digital thermostat control allows you to program in your desired temperature. This allows you to easily reach the 225°F-250°F temperature range that we often try to aim for. If you want to take things up a notch for grilling or searing, then you can bring it up to 500°F easily.
None of this comes at the cost of even smoking temperatures though thanks to its convection fan, which helps reduce cold spots and flare ups.
This program setting allows you to set and forget in the truest sense of the phrase. With the temperature set you can leave the smoker to do its thing.
Crucial to its beginner-friendly use is its start-up time. In contrast to traditional charcoal grills, you don't need to wait the best part of 30 minutes for it to reach your target temperature. Instead, you're good to go in no more than 10 minutes.
The SmokePro's ash cleanout system makes it easy to empty ash from the chamber. Easy cleanup is a common feature among pellet cookers, and the SmokePro stays loyal to type here. It has a simple cleanup system door on its base to allow you to quickly empty ash building up at the bottom of the smoker chamber.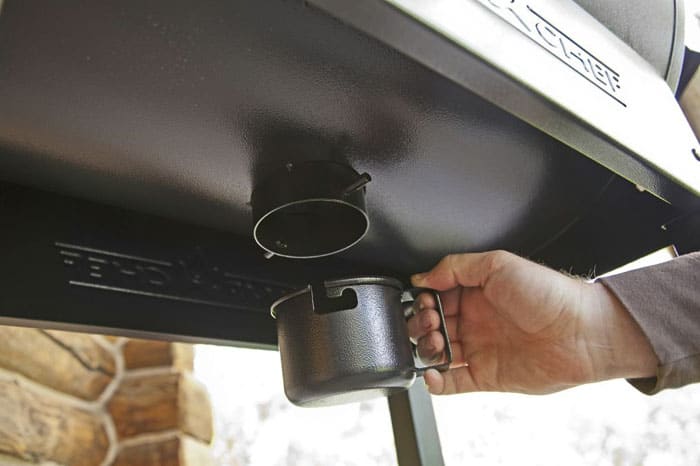 The SmokePro is mainly built with heavy gauge stainless steel, which makes it extremely durable and fantastic at retaining warmth during the entire cooking process. This in turn makes it incredibly energy efficient, which will help you save on fuel costs in the long run.
The SmokePro has the option of an added sear box which can reach an incredible 900°F, and will allow you to sear steaks or burgers, as well as use advanced cooking methods like reverse searing.
Another mid-range price smoker, this features a two-level cooking rack covering about 430 square inches of cooking space. It also has an ash clean out system for easy cleaning, and a built-in temperature probe. No more running a wire under the lid!
The main chamber has a trap door, making cleaning much easier. This smoker is great value for money, and will long outlast its (admittedly poor) one-year warranty. If you want a Camp Chef but can't stretch to $900, this would be a great alternative.
Final Verdict: The Camp Chef SmokePro can do everything. If you have the budget and are serious about getting a pellet wood cooking, this is the one for you.
Camp Chef SmokePro SG
Camp Chef SG Wood Pellet Grill and Smoker, Black (PG24SG)
Grilling Area Volume: 4850 Cubic Inches, 811 sq-inch Rack Surface Area
Electric Auto-Igniter, Automatic Auger, and Simple Temp Select System
---
Traeger Grills Pro Series 34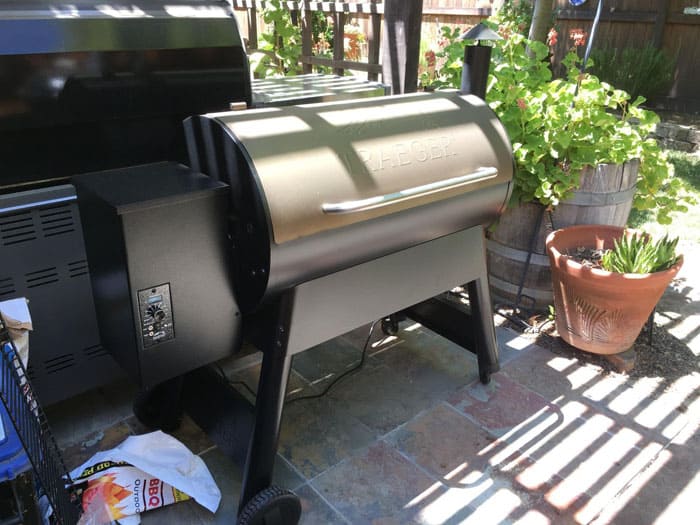 Traeger is the original pellet cooker brand, so it stands to reason that they still make one of the best wood pellet grills out on the market today. We've seen it with their Tailgater and Renegade Elite models, and here we see it with their Pro series.
The Traeger Pro Series 34 is one of the largest, most powerful units out there, and this new version in the form of the Pro Series is another sign of the pellet grill's progress.
Gone are past issues with warm up speeds and heat retention, all in favor of a reliable, study, smoker that locks in smoking temperatures.
What's changed? The new Traeger engine has been developed to turn the pellet auger quicker, which means that more fuel can get into the firebox faster. This means a quick heat-up time, and more responsive controls.
It include a built-in temperature gauge to allow you easy temperature readings for your smoker surface and ambient temperature. However I would always recommend investing in your own specialist temperature meat probe for reliable accurate readings.
The smoker's digital controller allows you to tweak temperatures in 5°F increments, making aiming for that ideal 225°F relatively easy.
A recent addition to a lot of barbecue equipment is WiFi connectivity. This is much more than just a gimmick though, as pairing with your handheld device or smartphone will allow you to control the smoker remotely. Not only that, but the app on your smartphone will also allow you to align your cooking with the built-in and preset options in the app.
Whether you think you need this added connectivity or not is up to you, but even with this put to one side there is no denying that is an extremely efficient and powerful pellet cooker.
Traeger Grills Pro Series 34
Never use gas or charcoal again: cooking with wood just tastes better. Traeger created the...
Versatile barbecue cooking: hot and fast, or low and slow, the Traeger Pro Series 34 pellet...
Precision temperature control: The Digital Pro Controller rocks Advanced Grilling Logic, which...
Z GRILLS ZPG-7002E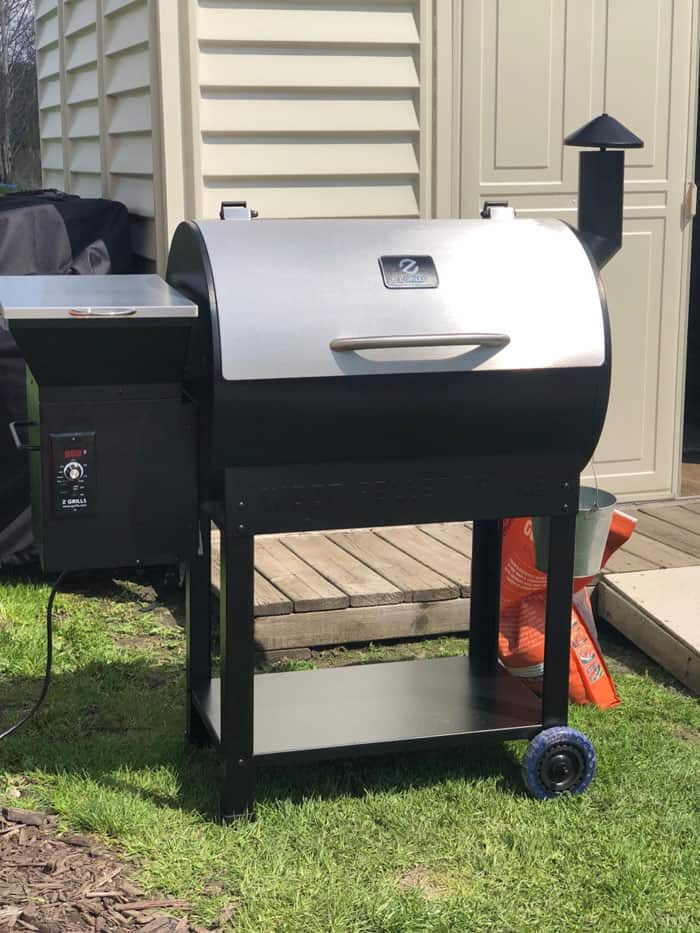 Z Grills have been behind some of the budget-friendly grill ranges for the past few years, and it's great to see this tradition carry on into pellet grills too.
The Z Grills 7002E is a fantastic BBQ smoker for anyone new to the game. Its quick start ignition system works flawlessly, and pairs perfectly with its pellet feed system to make startup fast and easy for beginners.
Its temperature control range sits within the range of 180°F-475°F, which is actually a little lower than a lot of smokers we see, however is perfectly fine for a general use unit.
The fact that they're were founded in 2017 in China might arouse suspicion as to the build quality of the 7002E, but you need not worry: This is a fine smoker.
The Z Grill actually offers a larger pellet hopper than many of its competitors, giving you a significantly longer use time. You don't need to fill the smoker up with wood fuel as often, and your smoker does more with less. To do this at lower cost is impressive.
It has all the usual little add-ons that make nice features, like utensil hooks and warming racks, but the real star of the show is its performance.
Any cons? My major gripe is the absence of a good temperature probe, meaning that you'll need to get your own for monitoring the progress of your meat. I often recommend getting your own anyway, but for a beginner-friendly grill this seems like a major oversight.
Sale
Z GRILLS ZPG-7002E
HUGE CAPACITY - Features 700 sq inches of grilling space that allows you to place all at once...
BUILT TO LAST - Sturdy construction equipped with a stronger stainless steel lid retains heat,...
PELLET GRILL TECHNOLOGY - Infuse your food with rich smoky flavor. Just put enough pellets into...
Green Mountain Grills Davy Crockett
This entry from Greenhouse Mountain Grills is an affordable smoker that is great for taking on the road. And yes, you read that right. This thing has WiFi.
It's one of the best portable pellet smokers we've tested, and packs in an impressive number of features for its size. If you want a pellet cooker for camping or tailgating, this might be the one for you.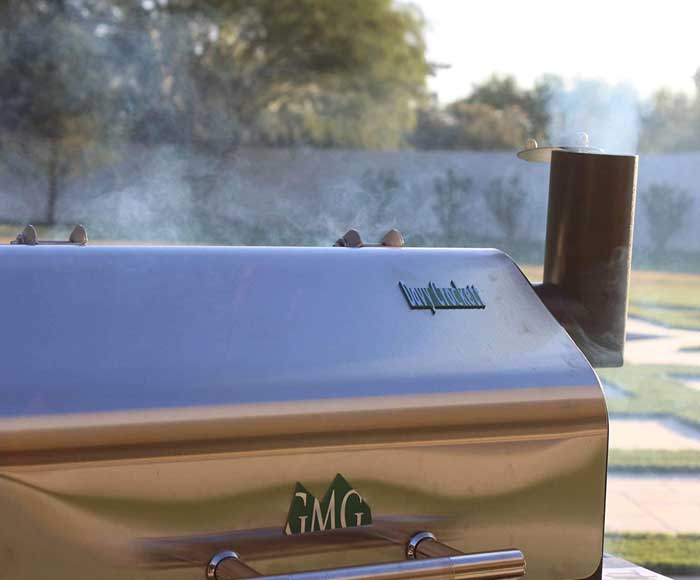 You will need to prepare this thing before you head out on the road however, and I definitely recommend giving it a practice run first because it is awkward to use out the box.
Its Wi-Fi connected app makes it easy to use, control and monitor the smoker.
Despite its small build, the smoker chamber is thick and well-insulated. While portability has obviously been a key concern for GMG, I'm pleased to say that this hasn't come at the cost of proper insulation.
My qualm with other tailgate grills or smokers has been that despite being light and portable, when it comes to actual use they're often too weak to be practical.
I'm glad to say this isn't the case with the Davy Crockett. It has a regular plug option, an auto plug, and a 12v battery all provided. In fact, the latter comes with what are essentially jumper cables to help you run it from the battery of your car. While a little intimidating to use at first, it does provide a very good backup option.
Its temperature control offered by the app is solid enough albeit a little bit confusing at first to get to grips with.
What matters most if the food however, and here it doesn't disappoint. It provides excellent smoky flavors to cooked meat, helped by the wood pellet function and excellent heat retention in the Davy Crockett.
The Davy Crockett is armed with its Sense-Mate internal thermal sensors, which gives you a reading of the ambient temperature inside the smoker chamber.
As well as this, it comes with a solid meat thermometer, allowing you to take readings of the internal temperature of your meat. The latter is pretty handy, especially if you take this on the road with you.
Both feed into the pellet smoker's LED controller display, as well as a smart phone app that's compatible with any iOS or Android device.
Green Mountain Grills have done away with their old two-piece 'Open Flame Technology' drip pan system, and replaced it with with a simple one-piece pan and heat shied. The adjustable shield allows you to set up for indirect cooking, but then slide it back to expose your meat to the flames so that you can finish it off with a sear.
All in all a very solid performer at the more affordable side of the scale. It is more limited in size, but if you want something to take on the road with you then this is the one to go for.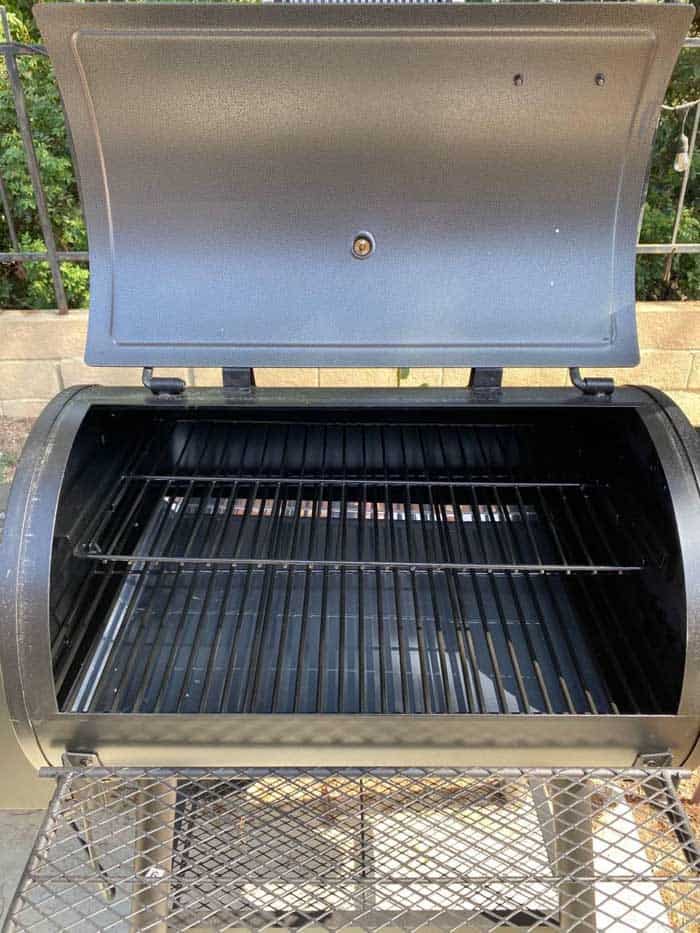 Big Horn Outdoors
This stripped-back pellet smoker from Big Horn Outdoors proves that you don't need a bunch of add-on features to make a great BBQ smoker.
It's perfect for smoker newcomers who are looking to make the transition from propane to pellet.
Its cooking area is a generous 700 square inches in size, and its digital control on the hopper ensures tightly controlled smoking temperatures.
It also easily doubles up as a grill, creating the high cooking levels you'll need for searing.
Big Horn Outdoors
【 WHY BUY A WOOD FIRED GRILL 】Taste, 6-in-1 Versatility, Ease to Use, Ease to Clean,...
【 LARGE COOKING ARE 】Enjoy our Pellet Grill with a large cooking area of 700 square inches,...
【 VERSATIL BARBECUE COOKING 】Low and slow, or hot and fast, the Big Horn Pellet Grill...
Camp Chef SmokePro LUX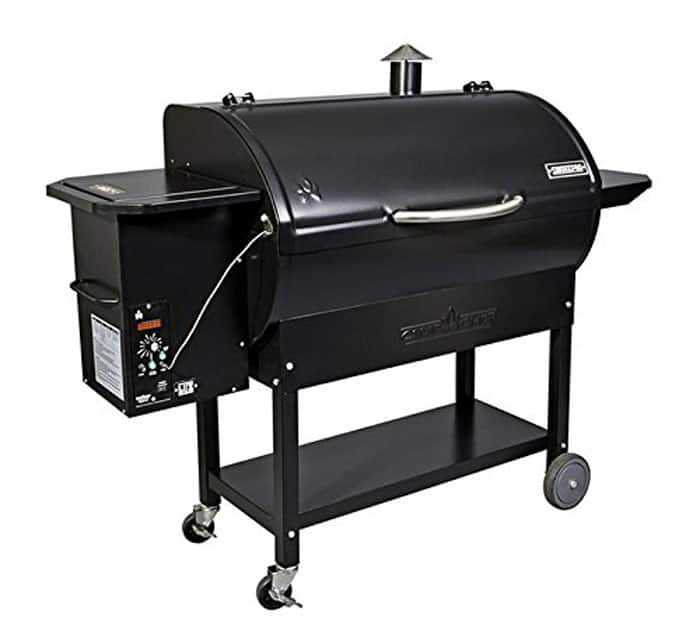 One of the most impressive things about this smoker is its fuel-to- power efficiency. Even though its hopper is a relatively modest 18 inches in height, once full it can burn for a good 12 hours. Even longer if you're using it in warm weather.
What makes this even more remarkable is that its cooking area is generous in size. This smoker can take a lot of food.
This smoker also comes with the option of an added sear box, giving you a bit more freedom with your barbecuing. For an added cost you can get a 16,00 BTU sear box installed in it, which should be able to reach upwards of 800°F to help you with reverse searing.
It does come with its own built-in temperature and meat probe, but I'd recommend getting your own. It's a bit flimsy, and in all honesty I prefer buying my own because third party models tend to be far more reliable and accurate in their temperature reading.
We've found that its temperature calibration can be a bit wide of the mark, usually by about 30°F. We always want to ensure consistent cooking levels, so this can be frustrating. It shouldn't be enough to discourage anyone from considering this grill, but you'll just need to recalibrate the smoker every few uses.
Camp Chef SmokePro LUX
Digital Controls - Electronic auto-start ignition
Dual LED temperature readout: internal cooking temps and internal food temps
Stainless steel probe measures internal food temperature
Z Grills 7-in-1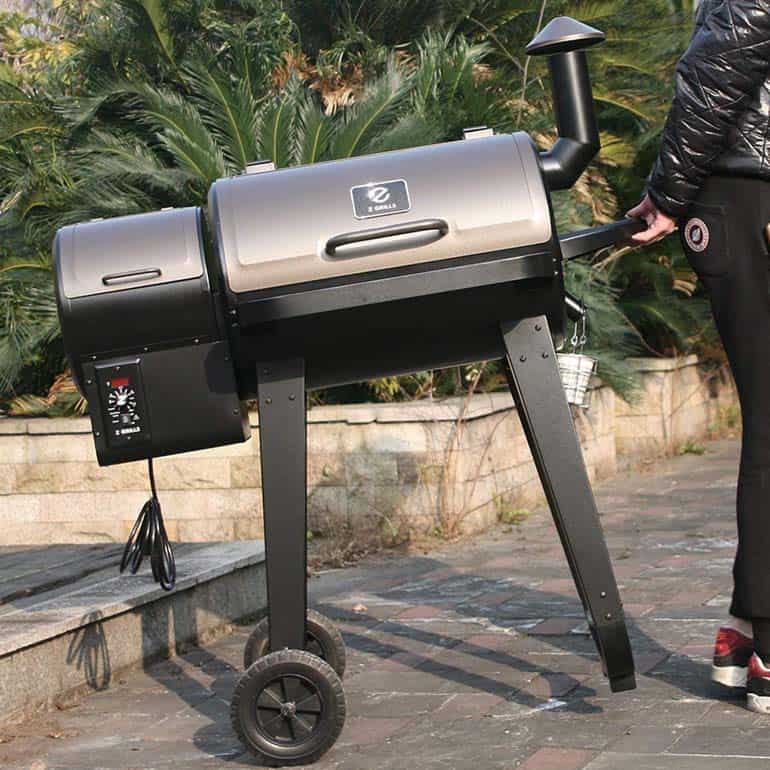 The Z Grills describes itself as having 700 sq. in. cookspace, but it's actually 684, over two racks. A small complaint, but worth including for accuracy. That said, this is still a great smoker. It has an induction fan for even cooking, and a waste oil collector for easy cleanup.
Most people find it really easy to assemble in under an hour, even though it's fairly weighty. It even comes with the tools you'll need to put it together!
It holds its temperature really well even in breezy conditions, something that not every smoker does. The temperature controls and smoking settings are really useful, too.
This is a great, solid smoker that will consistently produce tender meat with a great flavor.
Camp Chef Woodwind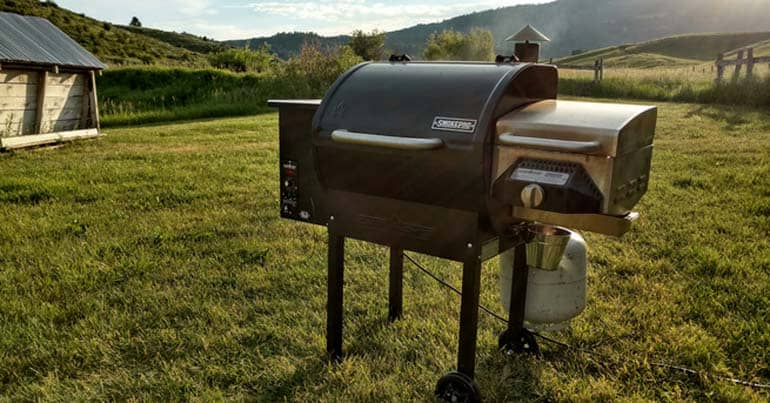 The Camp Chef Woodwind is a little heftier in the price department but if you can splash out it's worth every penny. It's another multi-tasker, but it does it a lot better than the Dyna-Glo.
The propane-run sear box means you can smoke or grill and sear at the same time, and the flavor is incredible.
If your budget allows it, we would highly recommend this smoker as it's pretty comprehensive with lots of useful features like the patented Ash Cleanout system, which makes cleaning the grate as easy as pulling a lever.
It's equipped with a high quality PID controller that makes it one of the easiest and efficient BBQ smokers to use.
Camp Chef Woodwind
SMART SMOKE TECHNOLOGY- The digital temperature control and automatic auger feed pellets into...
ENDLESS VERSATILITY- Grill, smoke, bake, roast, braise, and barbecue all your favorite foods...
HUGE COOKING AREA- 570 square inches of cooking surface area and a removable upper warming rack...
Pit Boss 700FB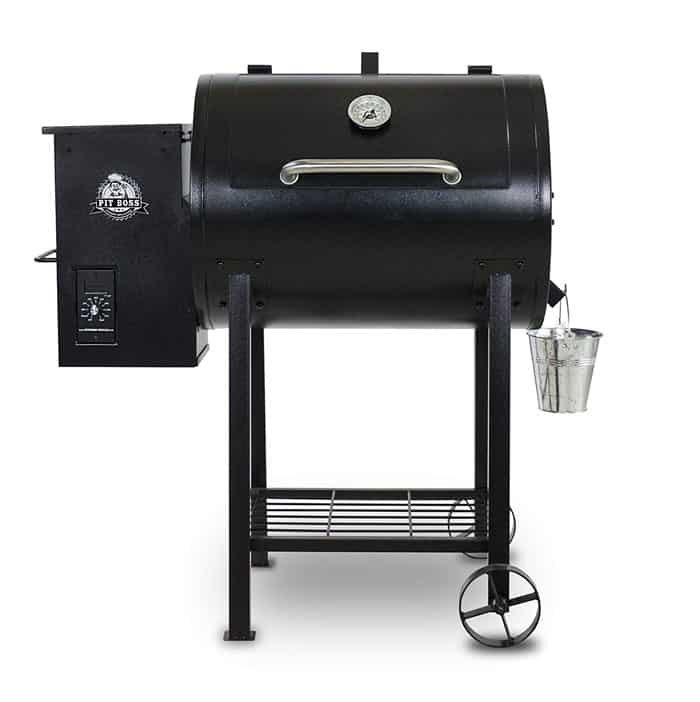 As one of the leading pellet grill brands, Pit Boss offer a whole range of pellet smoker-grills that are affordable and extremely excellent performers. But the 700FB is their best by some distance.
Check out our full Pit Boss 700FB review
It comes at a much more affordable price than the majority of similarly sized pellet units, with very little compromised as a result. It sits within heavy gauge stainless steel construction, and is built to last for years.
It also features a sliding searing plate to allow you to quickly sear your food after smoking. This method is known as reverse searing, and is great with food like tri-tip and steak.
The automatic feeding technology isn't quite up to the standard of Traeger's range, but if you're after an entry-level model that still gives you plenty of grilling space and smoking power then this is one of the best out there.
Pit Boss by name, pit boss by nature. This is a powerful smoker that packs in power, excellent heat retention, and generously sized cooking space.
It's cooking temperatures range from 180°F to 500°F. While this might seem low compared to charcoal ​​​grill​​, compared to smokers this is excellent and more than enough to enable you to smoke any cut of meat of your choosing.
All packed in over an impressive 820 square inches of glorious cooking space, offered with porcelain coated cooking grates. No cold spots, no flare-ups. Just consistent smoking when you need it.​​​​​
It doesn't just end as an excellent smoker however. It also has a flame broiler to allow you to use open flame searing.
This grill from Dansons is another step in the right direction after their success of the fantastic Louisiana Grills range. Pellet and offset smokers might well be largely dominated by brands like Traeger and Char Broil, but Dansons have made a standout model that certainly shows they're to be taken seriously.
This is intended to be a budget model of more well-known smokers, but don't mistake that for being cheap. This is a very good smoker.
The Pit Boss range actually comes in different sizes, ranging from the small 340, all the way up to 820. It should come as no surprise that I'm looking at the 820.
No matter which model you go for in the range, all are built with 16 gauge black powder coated steel, so are built to last.
Pit Boss 700FB
700 sq. in. total cooking surface.
Porcelain coated wire grids with upper cooking rack
Digitally controlled burn system.
Ozark Grills Bison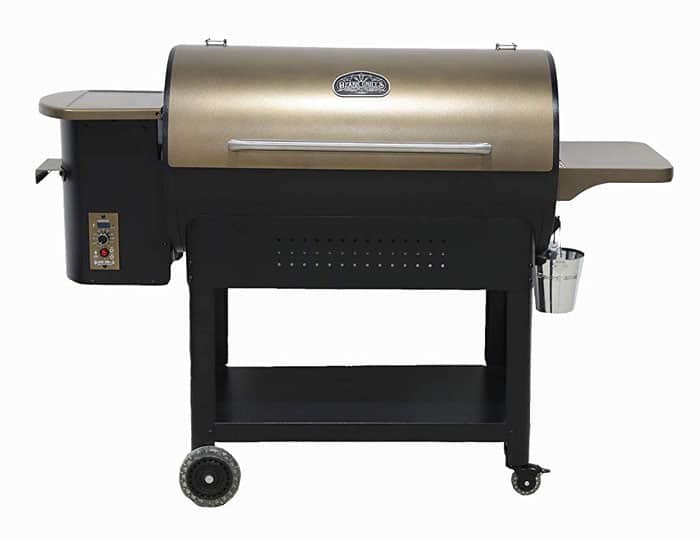 The Ozark Bison is a great smoker-grill combo that offers an impressive 720 square inches of cooking space.
Its digital control panel allows easy temperature control within 20°F of accuracy, which is fairly standard for the industry.
Ozark's pellet smoker is easy to use, easy to clean, and built to last.
The key to its easy use is its one touch ignition system (a function we normally see on gas grills), which allows you to get going almost instantly.
Its smart cooking system allows this to be a set and forget system in the truest sense possible. It performs well at monitoring temperatures and tweaking pellet burning accordingly.
Z Grills ZPG-7002B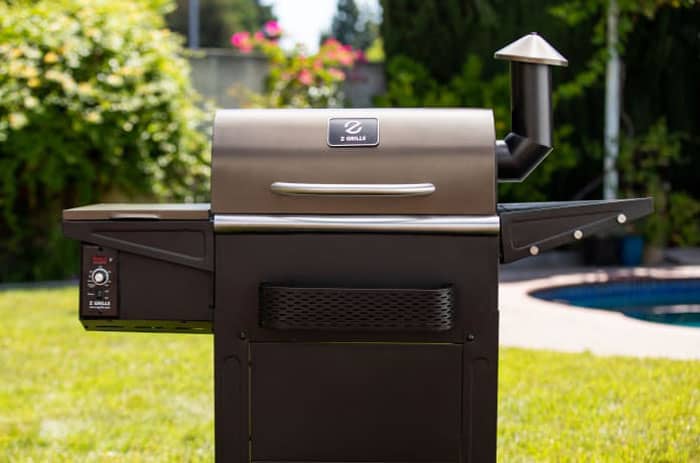 Just like with established pellet smoker grill brands like Pit Boss and Traeger, Z Grills have developed an efficient pellet burning system to create smoking and grilling heat.
Their best by far is the 7002B.
It functions just as well as a grill as it does a smoker, giving you ultimate barbecue flexibility.
It has an automatic electric feed system to help you be more hand-off with your cooking, and will allow you to cook all the ay up to 450 degrees fahrenheit.
It's main cooking area is huge at 700 square inches, giving you more than enough room to work with.
Z Grills ZPG-7002B
ULTIMATE 8-IN-1 WOOD PELLET GRILL & SMOKER -...
PELLET GRILL TECHNOLOGY - It's the best and easiest way to get wood-smoked flavors. Anyone...
MAKES YOU A GOOD CHEF - One button starts up, this pellet grill will maintain the preset...
---
What is a pellet smoker?
Pellet smokers (also called pellet grills) are outdoor cookers that combine grilling and smoking into one barbecue unit. Instead of being fuelled by coal or propane, they are fuelled by wood pellets. These pellets are fed into the firebox by a motorized auger, which is managed by a control unit on the side of the cooker.
Their wood pellets come from 100% natural hardwood, which means that they burn cleaner than coal briquettes or propane, and can also burn hot. This makes pellet smokers extremely fuel-efficient, meaning you can get hours' of cook time from your pellet hopper while also saving fuel cost in the long term.
Pellet smoker grills are also very versatile. Their temperature range is huge, which means that they can achieve high heat searing as well as the low and slow levels needed for barbecue smoking.
How do pellet smokers work?
A typical pellet smoker grill setup will consist of the main grill chamber with a hopper built on one side.
This hopper is where the wood pellets are stored, and these are fed into the chamber to burn by a feeding mechanism. Usually this takes the form of an auger.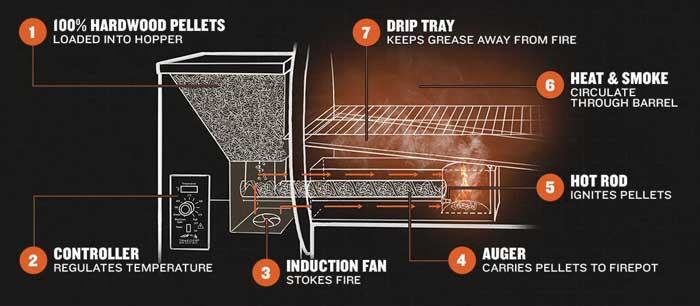 You control the smoker grill by using the digital controls to adjust the rate at which pellets are fed into the chamber. Pellets are then burned and turned into smoke and heat.
Just like with traditional BBQ smoking, temperature control is absolutely key, and pellet grills are fantastic at maintaining good, even temperatures for hours.
What are the benefits?
Pellet smokers are much easier to use than traditional offset or charcoal smoking, while providing a more authentic wood-based taste and aroma profile that propane or electric smoking can't provide.
Smoking is regarded as a set and forget form of cooking, whereby you can leave your smoker to do its thing for several hours at a time.
This convenience is then taken to a new level with pellet smokers. Their temperature control is far more reliable than charcoal-fuelled offset cookers, which makes them far easier to heat up to your target cooking temperature.
Their control systems are often digital and are able to accurately monitor and react to temperatures, which makes them much easier to use than charcoal BBQ smokers.
They are also extremely fuel efficient, and only burn fuel when they need to. This allows you to make huge savings on wood pellet costs.
Natural hardwood BBQ pellets are also safer and cleaner than charcoal to cook with. Just be sure to avoid anything containing chemicals or additives. We want all natural, good, hardwood only.
Finally, they are far easier to clean up after use. Charcoal grills leave a ton of ash after use, but used hardwood pellets are quick and easy to sweep up once you've finished cooking. Some models even have built-in cleaning systems, such as an ash dump feature, to help take on more of the work.
How to use a pellet smoker
Pellet cookers run off electricity, so the first thing to do is plug it in at the most appropriate power source on your patio or backyard. Make sure that the unit is set up with plenty of room around it, and doesn't present a safety hazard, or where the smoke will be a disruption.
Read our best tips and tricks with our guide to using a pellet smoker grill.
Load the hopper with your chosen wood pellets. This is your cooker's fuel source, so make sure that you fill it up generously, and keep an eye on it during smoking in case you need to refill it.
Set the temperature on your dial. Traditional barbecue smoking is done at around 225°F – 250°F, while direct grilling is done at over 400°F. Setting your temperature will activate the auger, which will start to feed the fire chamber with pellets from the hopper. This will ignite the fire, and you should start to hear a dull roar sound coming from the chamber. Allow your smoker to adjust, and wait for it to warm up to your chosen temperature.
Add your meat. Once the temperature dial on your smoke is at the level you want it, you're ready to start smoking. Add your meat to the grates, close the lid, and you're cooking.
Features to look out for
Not all smokers are created equal, but there are some common features to look out for to make sure you're getting a unit that will serve you well over the years. Pay attention to these components so you know you're getting the right cooker for your backyard.
Control system
Pellet smoker controls generally come in one of three forms: 3-Place, Multi-Position, and PID Controls.
3-Place Controls consist of just three temperature settings:
225°F (low)
325°F (medium)
425°F (high)
The benefit here is that the simple settings are the only three temperatur ranges you would normally need. For example, 225°F is seen as the standard cooking temperature for most meat smoking.
The drawback here is that you don't have a lot of flexibility for more nuanced types of smoking. You also don't have the chance to sear meat.
Multi-Position Controls, on the other hand, allow you to adjust heat levels in increments. These controls offer far more flexibility, but because their feeding cycle is rigid, they can only offer an extra 20°F at a time. This can be a little tedious to use, but does offer a lot more variety in how you approach pellet smoking.
PID Controls are widely regarded as the pinnacle of pellet controls. These use a built-in algorithm to predict and control cooking temperatures to allow you accuracy within just a couple of degrees. PID Controls continually adjust the auger feed to maintain temperatures almost perfectly.
Construction build and materials
Perhaps the most integral factor for good heat retention is smoker build quality, and the material with which your smoker is built is central to that.
The majority of pellet grills are made from some sort of painted stainless steel, although high-end grills are often made with 304 stainless steel for maximum longevity.
Look out for marine-grade stainless steel. It might cost a bit extra, but is almost guaranteed to last you for life (or until you get bored and want a new smoker!).
Be careful with powder-coated steel. While still fairly durable, once the paint cracks it can allow your grill to corrode easily soon after.
Hopper size
The hopper houses your pellets before they're burned. Obviously, the larger the capacity of the hopper the more pounds of pellets it can hold. This in turn means your grill can cook for longer without needing to be topped up.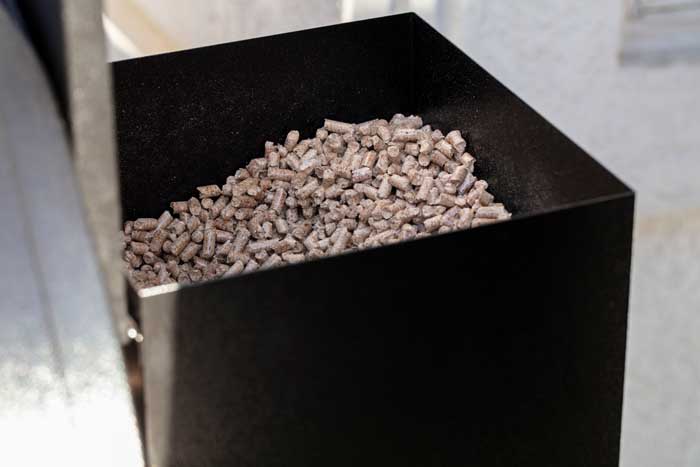 Your smoker's hopper is essentially the fuel tank for your grill
Try not to sell yourself short by getting a unit with a small hopper. As a guide, a 40lb hopper can usually provide about 40 hours of cooking time at standard smoking temperatures. Just remember that a larger hopper does not mean more power.
It is possible to buy hopper extensions to add capacity to your hopper, but these generally tend to be specific to the brand. Make sure you get one that is compatible with your brand and model.
WiFi capacity
Newer models of pellet smoker have done a great job with leveraging WiFi capabilities to make their units easier to control remotely.
This means you don't need to constantly check in on your food, but rather use a phone app to monitor it, or set an alert to notify you once your meat is cooked, or if your hopper needs more pellets.
Tools & Accessories
As well as investing in wood pellets, there are a number of add-ons and accessories that will help elevate your backyard cooking, whether it's for controlling cooking temperatures or keeping your grill chamber clean.
The best pellet grill accessories worth investing in are a separate dual probe thermometer ( built-in probes provided with pellet grills can vary in reliability), grill brushes for easy grate cleaning, and a solid grill cover to protect your smoker from the elements.
FAQ
Last update on 2023-10-01 / Affiliate links / Images from Amazon Product Advertising API