Everything you need to know about this classic pellet grill. All your questions are answered with our Pit Boss 700FB review.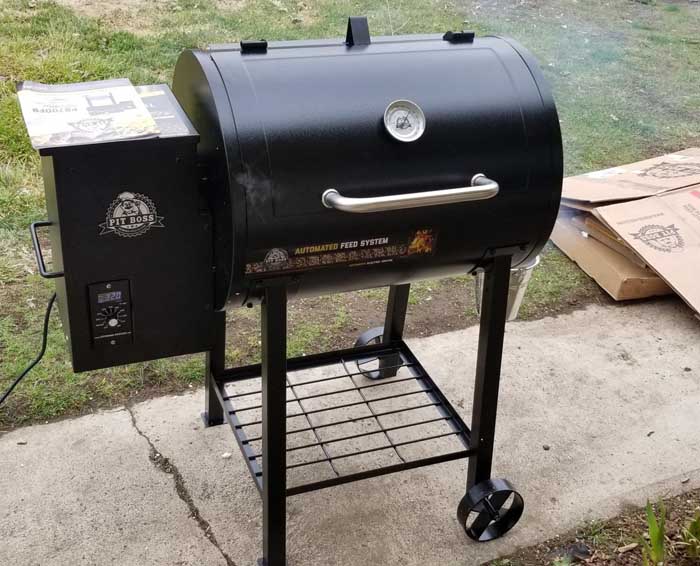 The Pit Boss 700FB is one of the most impressive pellet smoker grills out there today. It packs in generous cooking space, and at a cost that's great value for money.
Quick Review
One of the best value-for-money pellet grills and smokers out there today. In terms of the features you get in return, it's difficult to think of a grill that offers as much as the Pit Boss 700FB. With 700 square inches of cooking space, as well as smoking capacity, and flexible pellet use, this is a brilliant pellet smoker for newbies and pros alike.
★★★★★
For grill fans who like to squeeze everything they can out of every bit of cooking space they're given, this grill has a lot to offer. With a grilling area of 700 square inches, this is a very generously sized grill.
Its structure is sturdy and built to last. It's the kind of build that's pretty much guaranteed to last for years, and stand up to almost everything you throw at it.
The Pit Boss offers fantastic versatility. It's not just a grill for searing, but also gives you room to smoke.
Sale
Pit Boss 700FB: The Key Features
700 sq. inches. total cooking surface
Porcelain-coated cast iron grids
Innovative flame broiler
Temp Range: 180-500ºF
Heavy gauge steel
18lb hopper capacity
Digitally controlled burn system
A real bugbear of mine when it comes to pellet grills is that the vast majority of manufacturers force you to use their own brand of pellets. This can make stocking up on pellets a chore and can drive up cost significantly as the manufacturers don't have to undercut anyone.
On top of this, you can't combine flavored pellets to help enhance the flavor of your food.
Pit Boss however doesn't force you to use their own brand. You can use whatever wood pellets you want, whether it be your preferred flavor or brand.
The Pit Boss 71700FB is one of the best value for money pellet grills out there right now. It's a versatile grill sat in a heavy-duty frame that will last you for years.
The Pit Boss is essentially an 8-in-1 grill, with it offering options for grilling, smoking, barbecue, bake, braise, char-grill, roast and sear.
Phew.
Huge capacity
But a lot of that versatility is almost useless if you don't have enough room to work with.
Thankfully this isn't the case here, as the Pit Boss packs in 700 square inches of primary cooking space to work with.
This is more than enough to cook several courses of food, and feed the hungriest of crowds.
Set and forget cooking
One of the best things about pellet smoking is the ability to set up your food, and leave it to do its thing in your smoker while you can go enjoy yourself elsewhere.
Perfect for lazy weekends, the long-form cooking method has remained one of my favorites for years.
The Pit Boss is perfect for this and makes things as easy as possible for you to set up. You simply fill up the hopper with pellets, select your target temperature, and then leave the Pit Boss to do the rest.
Easy temperature control
Maintaining consistent temperatures is key to good barbecue, especially BBQ smoking.
The annoying thing is that this can sometimes be extremely difficult to do, particularly if your grill doesn't have a digital input or good construction.
Thankfully the Pit Boss has a digital control board to make things easy. You can easily adjust temperature levels through it, as well as specify cooking time and the type of grilling you want to do.
This makes the grill a great entry point for newcomers, as the intimidating process of temperature control is effectively done away with.
So you won't be restricted to just frozen hamburgers or hot dogs. You can make the most of more challenging meats, like brisket or pork shoulder.
The grill's temperature range is set at 180 to 500 degrees, which is a great range for grill fans of any level. Some people like a little more at the high end of the range, but personally I find that useful for searing, which can be easily accomplished in other ways.
How to use the Pit Boss 71700FB Pellet Grill
Using the grill is absurdly simple. You just fill up the hopper with your chosen wood pellets, and then set up the digital display to program your target temperature and cooking time. You then push the one-touch ignition and you're up and running.
One of the first things you'll notice about the Pit Boss is its heavy-gauge steel build. It's an impressive beast, and if you have any doubts about the longevity of the grill then they'll be quickly dispelled once you get the grill out of the box.
Flame broil racks
The 71700FB comes ready with a metal broiler plate that can be slid into place directly above your flame. This allows you to put a char-grilled sear on your food, as well as allowing you to grill your food indirectly. Not only that, but it comes with a second rack to allow you to set up your Pit Boss as a smoker.
Durable grids
The cooking grids that help form the 700 square inches of cooking space that Pit Boss provides are made with cast iron – the industry standard for solid, dependable grilling grates.
I'm a big proponent of porcelain-coated grids, so I'm pleased to say that Pit Boss has coated their cast iron grids with porcelain.
Why do I love porcelain coated grids so much? Well, they're well known for retaining and distributing heat evenly while cooking. This allows your grill to be far more energy-efficient than non-enamel versions and also helps increase their durability.
They're heavy-duty, durable, but easy to clean. A griller's dream.
Pellet cleanout chute
One of the biggest headaches that pellet grills can create is they can be a chore to clean. With no quick and easy way to clean the hopper after use, they can be tedious to set up for your next use.
The PB 700FB however has a cleanout chute that clears the hopper of unused pellets quickly and easily. This allows you to not only clean the hopper quickly, but also gives you the opportunity to quickly and easily change wood pellet flavors during use. Once you get to grips with the grill then this kind of flexibility will soon have you stationed as a grill master in no time.
Adjustable upper cooking grates
The cooking grates that sit in the upper part of the cooking chamber can be removed to create added cooking space, or can be inserted in to help your turn your grill into a smoker and cook your food indirectly.
This is really useful when cooking for large groups, or when smoking whole turkeys, brisket, or beer can chicken.
A word of warning
With all its brilliant features, the biggest weakness we've encountered with the Pit Boss is its temperature consistency. When we use our own grill surface thermometers to measure the cooking temperatures in the grill, we tend to see the actual temperature deviate about 10°F from what the built-in thermometer reports. Even after we try to recalibrate the grill's temperature gauge.
Don't let this put you off though. This kind of issue is actually fairly common among lower-end pellet grills, and using your own grill thermometer is something we would always recommend anyway, regardless of the grill you're using.
What's great
Excellent value for money
Pellet chute makes cleanup easy
Grill rack inserts help create space and allow for greater cooking flexibility
8-in-1 feature makes this grill as suitable for advanced users as it is for beginners
Good temperature range of 180°F to 500°F
Temperature control is easy to use

What's not so great
Chamber temperatures can fluctuate
Relatively low higher-end temperature range makes searing difficult
Final verdict
One of the best value-for-money pellet grills and smokers out there today. In terms of the features you get in return, it's difficult to think of a grill that offers as much as the Pit Boss 700FB. With 700 square inches of cooking space, as well as smoking capacity, and flexible pellet use, this is a brilliant pellet smoker for newbies and pros alike.
Sale
Last update on 2023-12-02 / Affiliate links / Images from Amazon Product Advertising API