The SmokePro DLX aims to offer premium pellet grill features at an affordable price. So how does it compare to its peers? Our in-depth review puts it to the test.
Quick Review
The Camp Chef SmokePro DLX delivers premium performance at an accessible price. Boasting accurate temperature control, reliable performance, and intuitive controls, this is an excellent pellet smoker grill for newcomers and seasoned barbecue fans alike.
★★★★★
Features: PID control and digital thermometer
Camp Chef has had some popular and top-quality releases recently and this Camp Chef SmokePro DLX Pellet Grill is no exception. This model is feature-packed and sure to give those outdoor grill sessions a nice spin.
First up, this model is now infused with the newest PID generation 2 digital controller which for us is super innovative for a grill. The dial is simple enough to use as it allows you to set things up like the temperature or toggling to the different modes of cooking available. Also, the LED display is very informative and will help in making sure that your food is well-prepared.
Aside from that, this pellet smoker grill also has an on-board digital thermometer (internal temperature sensor), a stainless internal meat temperature probe, and a convenient power failure restart so you don't have to worry about turning it back on when you experience power outages and your food will be ready soon enough.
And lastly, it has 2 smoke levels of 160 degrees F and 500 degrees F and has an electronic auto-ignition system.
Camp Chef SmokePro DLX
Large capacity pellet hopper with exclusive ash cleanout system
Electronic auto-start ignition for quick and easy start every time
Dual LED temperature readout shows internal cooking temps and food temps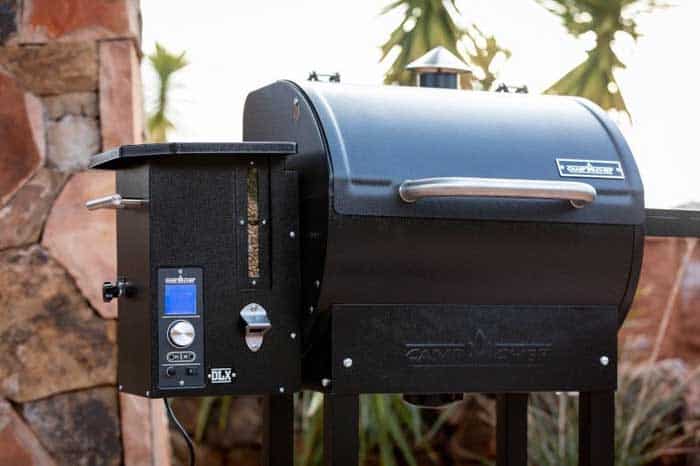 Design: Large hopper capacity and auto auger
Let's talk about how it's built. The Camp Chef SmokePro DLX Pellet Grill has a cooking area of 429 square inches, and it comes with a second cooking rack that's 144 square inches. Its hopper capacity is 18 pounds and is attachment compatible with Camp Chef's range of add-ons and accessories.
Its auto-pellet auger serves as a dispenser and turns off when it's all done. Its large hopper capacity means that there would be fewer times that you need to refill and smoking would be uninterrupted.
It's got of course a main smoker body, and then 4 legs with 2 connected with wheels. It also comes with a pellet rake, a side shelf, and a drip bucket.
Overall, we think that this pellet grill is built tough and is built to last. This SmokePro DLX model has one of the largest cooking surfaces you can find and that would allow for fast and efficient grilling that would be best suited to larger crowds. It's made from good quality metal and has a nice paint finish to it to cap off its sleek design.
Usability: Easy clean-out and heat control
The Camp Chef SmokePro DLX has built-in features that would make grilling and maintaining it after easy for everyone. It has a one-pull ash cleanout system that would make for fast and simple ash disposal after. We know how ash can build up as you grill on most pellet grills so, with this one, you don't have to experience that kind of problem.
There is also an additional pellet dump receptacle that allows for easy removal of any excess pellet from the hopper. Not just that, it's got a convenient grease management system as we all know how messy it sometimes can get.
The temperature control on this pellet grill is also quite accurate and that would make sure that your food is cooked exactly how you want them to be. Steady on the smoke, steady on the temperature means you'll cook like a real pro with this beast.
Performance: Stable temperatures
Perhaps one aspect that people love pellet grills is because of the flavor it adds to their favorite meat. Sure charcoal smokers are also good but you'll probably get more variety in terms of flavor with a pellet grill, more so with this SmokePro DLX.
Get a wide variety of flavors from this grill and we're talking cherry, apple, hickory, maple, bourbon, or pecan. You can experiment, you can mix it all up or change the pellets as desired. Meat cooked from this grill always gets a nice smoky and woody flavor that's not going to disappoint.
No hot or cold spots as by far, this is one of the most consistent and precise pellet grills we've tested. Not mentioning that it is a workhorse and will do most of the cooking for you. More time for beer, I guess.
Whether you prefer to cook chicken, ribs, pork, beef, or brisket this pellet grill won't let you down. This model is perfect for any outdoor occasion. It is easy to move around, easy to clean up after and you can grill so much in a small amount of time.
Value for Money
The Camp Chef SmokePro DLX is a steal. You've read the features, you get all that at an affordable rate. Plus, you get a 3-year warranty that's sure to remove any second thoughts off of your mind. With proper care and maintenance, you'll get a long service life from this pellet grill.
Specifications
570 inch total cooking area
BTU's/Hour is at 25000
Up to 500 degrees F cooking temperature
Weighs 140 pounds
To be honest, we're surprised as to how durable this pellet grill actually is. With some users reporting that their Camp Chef SmokePro DLX is still up and running after 3 years. And that's with the usage of about once or twice a week.
The hardwood flavor it produces is undeniably good, the temperature control is excellent, and the large cooking surface is super-convenient (it can hold 2 turkeys). The power failure restart is an excellent add-on. The warming rack is a bit useless but aside from a few inconsistent (isolated) performance issues, this remains one of the best pellet smokers we've tried.
What we like
Produces great flavors
Powerful and durable grill
Very precise cooking
Easy to clean and maintain
Efficient and great value for money
What we don't like
Can be quickly damaged when left outside
Pellet removal not as easy as advertised
Final Verdict
Overall, this is a great investment if you always find yourself grilling for family and friends. This one is built to last and is guaranteed to always produce consistent flavors. This will definitely satisfy your cravings and will accompany you on those fun BBQ backyard sessions for a really long time. Grab yours now!
Camp Chef SmokePro DLX
Large capacity pellet hopper with exclusive ash cleanout system
Electronic auto-start ignition for quick and easy start every time
Dual LED temperature readout shows internal cooking temps and food temps
Last update on 2023-12-03 / Affiliate links / Images from Amazon Product Advertising API