Barbecue smoker tubes offer an easy way to upgrade the performance of your pellet smoker, or even transform your charcoal grill into a backyard smoker. Upgrade your patio cooker today with our guide to the best pellet smoker tubes.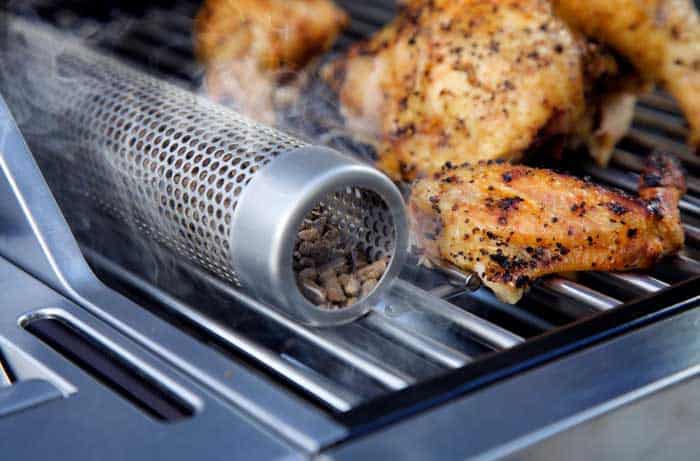 One of the best upgrades you can make to your pellet smoker today is with a pellet smoker tube. Don't be fooled by their small design: These little accessories can improve the quality of your pellet-smoked food significantly.
These add-ons can help enrich the level of wood flavors and aromas in your pellet smoker, as well as help improve temperatures if you are struggling with heat retention in your smoker or grill.
While I mainly use them to help improve my pellet smoker, they are also just as useful injecting a bit of wood into a charcoal smoker or grill.
In this guide we'll walk you through 5 of the best out there today, as well as let you know some tips and tricks to getting the most out of them. Let's get into it.
Best Pellet Tube Smoker: Lanney 12-Inch Stainless Steel
Stainless steel and superb ventilation make this a superb smoker tube for distributing wood aromas and flavor in your grill
Runner-Up: Carpathen Smoke Tube
Small cuboid design that can transform any grill into a smoker. Perfect for gas propane grills, or for firming up the performance of your pellet cooker.
Best Budget Option: LizzQ Premium
Budget-friendly and adaptable to any grill, this tube can still stand up to 5 hours of cooking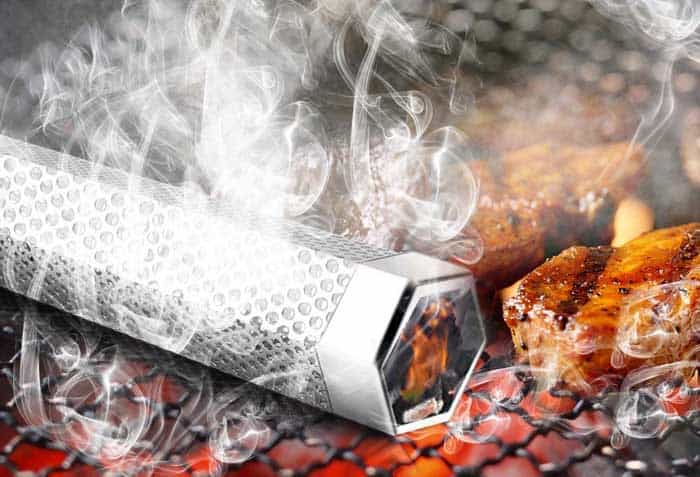 Lanney Pellet Tube Smoker
The LANNEY pellet tube smoker features a hexagonal design that is much more convenient than traditional round tube smokers. Thanks to its hexagonal shape, this pellet smoker doesn't roll around and is easier to set on the grate.
In terms of quality and durability, the LANNEY pellet tube smoker is excellent. It's all made from stainless steel, so it is going to be highly resistant to heat, rust, and physical abuse. You could expect years of service from this thing.
LANNEY also advertises this smoker tube to deliver up to 5 hours of smoke, which is typical for smoker tubes.
The LANNEY pellet smoker tube is designed specifically for pellets, but it works with wood chips as well. It's sized at 12 inches, so as long as you can fit wood fuel in it, it is going to perform its purpose.
Aside from the smoker tube itself, LANNEY includes a few handy accessories in the pack as well. You are getting a silicone brush, a tube brush, and a pair of hooks for hanging. The hooks would be useful if your grill has little to no place for setting the smoker down.
There are listings of the LANNEY tube smoker with fewer accessories, and these would be nice if you have a very limited budget. There's also a square tube smoker option available, which should offer comparable smoking performance.
The LANNEY pellet tube smoker is rather inexpensive as well, and LANNEY offers a money-back guarantee in case you don't like it.
LIZZQ Premium Pellet Smoker Tube
The LIZZQ pellet smoker tube seems to be identical to the LANNEY pellet tube smoker. It's again made in a roll-proof hexagonal shape, and it should work fine in any grill.
What differs in the LIZZQ pellet smoker tube is accessories. There are no brushes or hooks here – just a free e-book with grilling tips and recipes. If you already have cleaning accessories, then there probably is no point in paying more for the LANNEY smoker. The recipe book is a nice bonus too, but it will be the most useful for less experienced buyers.
The materials and design in the LIZZQ pellet smoker tube are nothing new or exceptional. This smoker tube is again made of stainless steel, so it's resistant to abuse and should be able to deliver years of use. The size in the LIZZQ tube is again 12 inches, and LIZZQ claims 5 hours of smoking too.
Like LANNEY, LIZZQ offers a money-back guarantee for this thing as well, so you should be safe even if it doesn't quite work for you.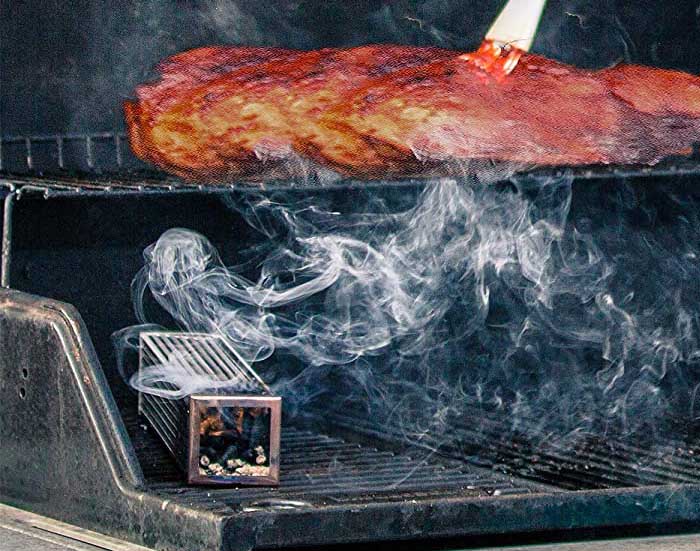 Carpathen Smoker Tube
The Carpathen smoker tube has a rectangular shape, so it is going to be slightly different than hexagonal tubes in convenience and use cases.
Like hexagonal smoker tubes, the Carpathen tube will not roll in your grill. However, because it's rectangular, you might be able to fit slightly larger pellets or chunks of charcoal into this thing. It might be able to take irregularly shaped charcoal better as well.
On the other hand, you can roll hexagonal smoker tubes to relocate them in the grill, while square tubes will have to be lifted.
These distinctions are pretty insignificant though, and we don't think that they will matter for most people. The Carpathen tube is going to smoke just like hexagonal smokers. It's again sized at 12 inches and smokes for 5 hours, so there's nothing to mention in terms of performance.
Carpathen includes a number of goodies with this smoker tube as well – a meat temperature chart, a recipe book, marinade & sauce guide, user guide for the smoker tube, and a canvas bag. The included guides are going to be especially useful for less experienced buyers.
Carpathen also offers a money-back guarantee for this smoker tube, which is very nice.
Skoo Pellet Smoker Tube
The Skoo pellet smoker tube is a nice alternative to the LANNEY tube reviewed earlier. This product includes a tube brush along with a hook and user guides, so it's practically identical to the LANNEY tube. You should choose one or the other smoker tube based on current pricing and availability.
Notably, the Skoo pellet smoker tube has a Skoo logo on the side, which sets it apart from other tubes on this list. The area around the logo is solid, which might slightly decrease the amount of smoke this thing produces. But in practice, we don't think that you will be able to tell a difference.
The Skoo pellet smoker arguably looks better and more unique thanks to the logo too, but we like the simple design of the other smoker tubes more.
Finally, Skoo backs its products witha money-back guarantee, so your investment should be safe even if you don't quite like this smoker tube.
Kaduf Pellet Smoker Tube
Lastly, we have the Kaduf pellet smoker tube. As of this review, this smoker tube was a little pricier than other hexagonal smoker tubes on the list, so it may have better quality. This might make the tube more durable, but in practice, we don't think that you will notice a huge difference. Smoker tubes don't need to be precisely manufactured to work, after all.
Anyway, the Kaduf pellet smoker tube features a familiar 12-inch design that is advertised to deliver 5 hours of smoke. There is nothing really spectacular in the Kaduf tube design-wise – like previous picks, it doesn't roll and is made of stainless steel to resist heat and corrosion.
Along with the tube itself, Kaduf includes a quick-start guide plus a recipe e-book, which is great for beginners.
Unlike previous brands though, Kaduf doesn't seem to offer a money-back guarantee – at least, there are no mentions of it in the product description. But you should be fine – this smoker tube is nearly identical to previous tubes and will work similarly if used properly.
---
What is a Pellet Tube Smoker?
Pellet tube smokers are special pieces of lightweight equipment that are designed to sit on your grill's grates and generate additional smoke and heat. The tubes are filled with pellets, which slowly burn from one end to the other in order to provide a steady supply of woody aroma and flavor.
This makes them perfect for helping improve the performance of pellet smokers that suffer from problems with heat retention, as well as helping to convert standard charcoal or propane grills into barbecue smokers.
What are the Benefits of Tube Smokers?
For such a little appliance, these tubes offer a lot in terms of performance upgrades and cooking versatility. Here are three of the best benefits.
Cold Smoking
Cold smoking requires very low heat over a sustained period of time, and while a standard pellet grill will be incapable of going that low, using a smoker tube is an easy workaround. If your smoker has a large chamber, you can set your smoker tube far enough away from your food to keep a consistent supply of very low heat.
Cold smoke generators are more purpose-made for this task, but using a tube smoker is a great alternative.
Improving Pellet Smoker Performance
While pellet smokers are renowned for their impressive heat capabilities and temperature control, long term use can see fluctuations begin to occur. Smoker tubes offer a good workaround to this problem by offering a second heat and smoke source within the chamber. They also allow you to combine different pellet types for a more nuanced smoke flavor.
Converting Grills in to Smokers
If you don't have a smoker but do want to move away from direct cooking, placing a pellet tube on your grill grates is an easy way to do this. By setting up your coals and lit burners to one side of the chamber with the tube on the grates immediately above, you can cook your food to the other side in an approach that is as close as you can get to the real thing.
Last update on 2023-12-02 / Affiliate links / Images from Amazon Product Advertising API