Easy barbecue recipes to make the most of your backyard pellet grill. From smoked brisket to applewood chicken wings, these are the best pellet grill recipes to enjoy this year.
Pellet grills offer delicious barbecue smoking and grilling to a new generation of BBQ fans, delivering beautiful wood smoke cooking and high heat sear cooking we all know and love.
If you're new to pellet grilling and don't know where to start, we have you covered. These tried and tested pellet grill recipes are all perfect for your backyard pellet smoker grill.
Whether you're a fan of slow-smoked spare ribs or fiery grilled chicken wings, find your new favorite pellet grill recipe today.
Brisket
Beef brisket epitomizes Texas barbecue more than any other meat cut. The barbecue staple is tender, loaded with beefy flavor, and can feed the largest of crowds.
The fibers that run through brisket are tough, making them strong in beef flavor. However, smoke it low and slow on your pellet grill and its connective tissues and fat will slowly melt away, giving you the perfect plate of barbecue beef.
Smoked beef brisket is delicious when cooked slowly, and our pellet grill brisket shows you how. This famous beef cut requires nothing in the way of brines or marinades but strap in: A full packer brisket (featuring both the point and flat) can take upwards of 10 hours to cook. But rest assured, the results will more than justify the effort.
Pork Butt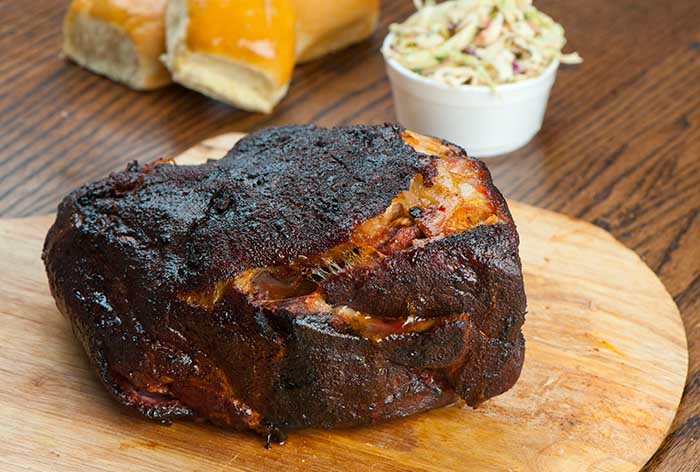 Pork butt (also known as Boston Butt) encapsulates everything we love about pork meat. Taken from the upper shoulder part of the hog, this meat joint is rich in well-worked muscles that give it an intense pork flavor.
This is the way to go if you're a fan of pulled pork. It takes a long time to smoke to an internal temperature for pull-apart meat, but pull it off and you'll have the best possible meat for shredding.
Our easy smoked pork butt recipe is juicy, sweet, and unlike any other barbecue pork cut. Coat the pork in yellow mustard and dry rub before smoking over applewood for eight hours.
Chicken Thighs
Chicken thighs are perfect for pellet smoking thanks to their dark meat and high fat content. Cooking the poultry meat cut low and slow renders the fat and collagen in the meat, making them extra tender and juicy.
Best of all, they don't take long to smoke at all! No need for any brines or marinades – just let the natural flavors and fat found in thighs do their thing.
Our pellet grill chicken thighs are prepared with a quick paprika dry rub before being chucked on your pellet smoker at 275°F for 90 minutes. Tender, juicy, and bursting with flavor, this simple BBQ classic is the best way to enjoy chicken thighs.
Steak
When we think of high-heat grilling, we think of steaks. With a good steak cut, we can have juicy, beautifully tender beef cooked in just minutes. Seared for a perfect crust and medium-rare inside, this is the epitome of an easy grilled dinner dish.
Perfect with any of your choice of ribeye, flank or sirloin, our easy pellet grill steak uses a quick salt dry brine to help lock in flavor before it's seared over high heat for five minutes per side.
3-2-1 Ribs
The 3-2-1 method for smoking BBQ ribs is a trusted technique for achieving perfectly tender barbecue ribs. Broken into three simple steps, the approach is simply 3 hours of smoking, followed by 2 hours wrapped in foil, and then a final hour basted in BBQ sauce.
Best done with pork ribs, the technique is simple and ensures tender smoked ribs every time.
Our 3-2-1 pork spare ribs are juicy, tender, and easy to cook. We use apple juice in our tented foil to infuse the ribs with a delicate level of sweetness before basting the rib rack with our favorite BBQ sauce.
Whole Turkey
Why not upgrade your holiday turkey by cooking it on your pellet smoker? This Thanksgiving and Christmas classic
Because turkey is so lean, you'll need to prepare it in a wet brine overnight to help lock in moisture and prevent it from drying out on the grill. Thankfully, this is easy to do and offers an opportunity to infuse the meat with more tenderness and flavor.
Our pellet grill smoked turkey is prepared with a simple wet brine and dry rub before smoked low and slow over applewood pellets for just four hours. Striking the perfect balance between smoky and sweet, there's no better way to enjoy holiday turkey.
Beef Short Ribs
Smoked beef short ribs are unlike any other type of BBQ ribs. This Texas-style classic carries more meat than beef back ribs, meaning that even a single short rib can hold an impressive amount of meat to get into.
Best of all, unlike other beef cuts, they are incredibly simple to cook from scratch. After dry brining them in salt, apply a dash of dry rub and chuck them on your pellet grill.
These easy smoked short ribs are the epitome of barbecue comfort food. This Texas-style dish is loaded with a smokey, beefy flavor and is perfect for any BBQ platter.
Chicken Wings
When it comes to barbecue, chicken wings are the perfect party platter food. Whatever the occasion, a plate of wings is always a hit.
While some prefer to grill wings, smoking them first ensures a juicy texture as well as that crispy seared finish. Everyone should have a go-to chicken wing recipe, so add this to your repertoire today.
Our smoked pellet grill chicken wings are prepared in a simple paprika BBQ dry rub, and cooked low and slow before seared for a beautiful crispy finish.
Beef Tenderloin
Beef tenderloin is criminally underrated, and this barbecue recipe is proof of why. Cooked low and slow on an outdoor smoker, beef tenderloin is transformed into one of the greatest barbecued meats around.
From the beef loin primal, tenderloin is outrageously tender and rich in beef flavor. It's considered a luxurious meat cut (you might know it better as filet mignon roast), but if you can get your hands on some, you won't regret it.
The secret to bringing out tenderloin's full potential is to prepare it with a dry salt brine before coating it in a dry rub with just a hint of heat. Smoke it to medium-rare to get the most out of this beautiful beef cut.
Our smoked beef tenderloin is juicy and tender, with a beautiful reverse seared finish for a touch of caramelization.
Chicken Breast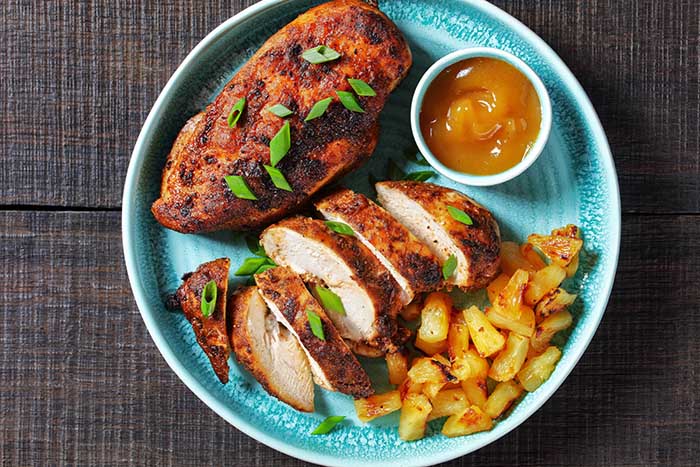 Chicken breast is the classic white meat that can be used for (almost) anything. A good chicken breast can be just as juicy and tender as any other cut. Best of all, it's a cheap cut relative to beef or pork, making it a great jumping-off point for barbecue beginners.
Even though chicken breast is made of lean, white meat, there's no need for marinades or brines. Because it's so quick to cook (45-60 minutes), it doesn't have the chance to turn dry.
Our simple pellet grill chicken breast is coated in a quick dry rub before chucked on the grill. This easy pellet grill dish is excellent for quick weeknight dinners.
Tri-Tip
Lean and beautifully tender, smoked tri-tip is a great place to start for pellet grill users because it's quick to cook without compromising on its rich beefy flavor.
Our pellet grill tri-tip is given the reverse sear treatment for the best results. The beef is smoked to just shy of medium-rare before seared over high heat to give it a beautiful finish.