This smoked 3-2-1 ribs recipe is a great way to reproduce the fall-off-the-bone barbecue ribs that you love. Broken down into three easy stages, this recipe will become your go-to for your next backyard cook-off.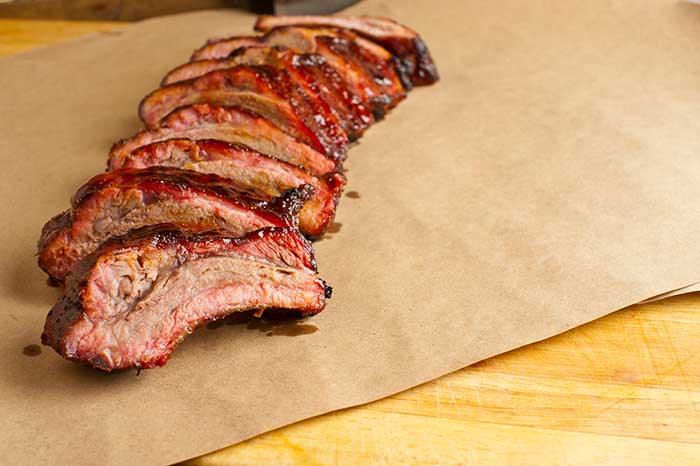 Is there a better way to get the fall-off-the-bone ribs that everyone craves?
Smoked BBQ ribs are one of the barbecue staples that any budding pitmaster needs to learn how to cook. And one of the best ways of smoking ribs is done using the 3-2-1 method.
If this is new to you, you've come to the right place. In today's smoking recipe, I'm going to walk you through everything you need to know to make perfect, tender 3-2-1 ribs.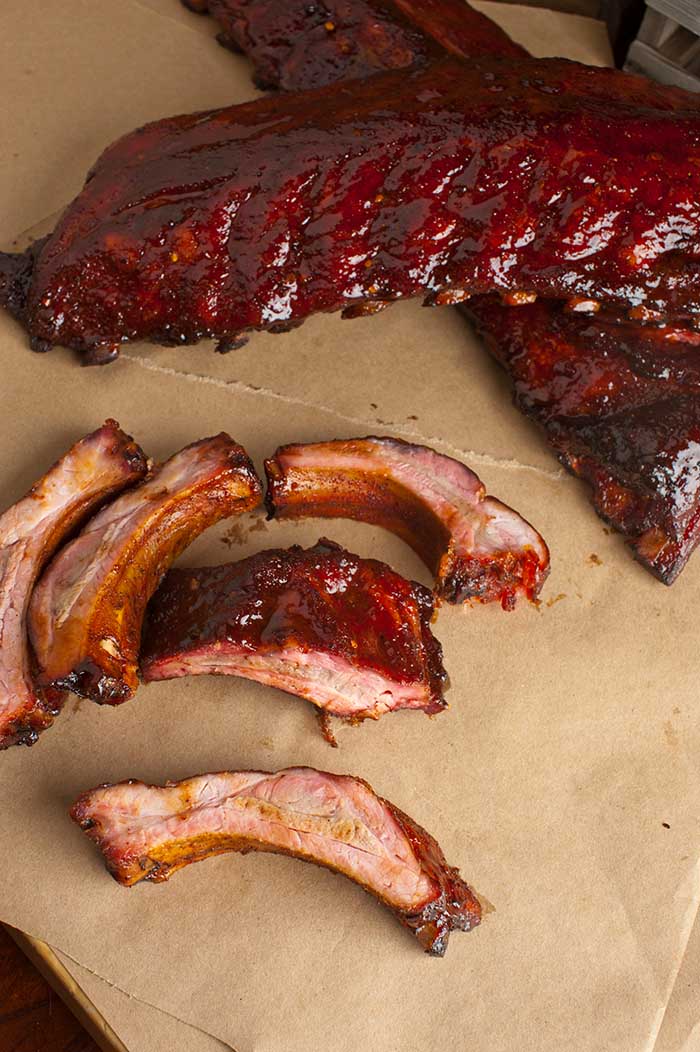 What is the 3-2-1 Method for Smoking Ribs?
The 3-2-1 method for ribs is a popular smoking technique that ensures tender, flavorful ribs that don't dry out. It's an easy barbecue technique that can be broken down into three key stages:
3 Hours of Direct Smoking: Ribs are cooked 'naked' over smoke, infusing them with a deep smoky flavor
2 Hours Wrapped in Foil: The ribs are then wrapped in foil along with liquid (such as apple juice or beer) to help tenderize them further
1 hour in Sauce: Finally, the ribs are unwrapped, slathered with barbecue sauce, and smoked for an additional hour to achieve a caramelized finish
The method is designed to ensure evenly cooked ribs that are juicy and bursting with beautiful smoked barbecue flavors. It's a straightforward approach to smoking ribs that helps achieve ribs cooked to the point where they can come cleanly off the bone.
It's worth pointing out that BBQ purists and competition pitmasters aren't fans of the method. Because of the heavy use of foil and sauce, 3-2-1 ribs don't tend to develop a bark (a staple of competition-level barbecue), nor do they have the slight chew that judges tend to look for.
I'd say that there are definitely better methods for smoking ribs. However, it's undeniable that the fall-off-the-bone quality of these pork ribs always goes down a hit at parties, and who am I to let a crowd down?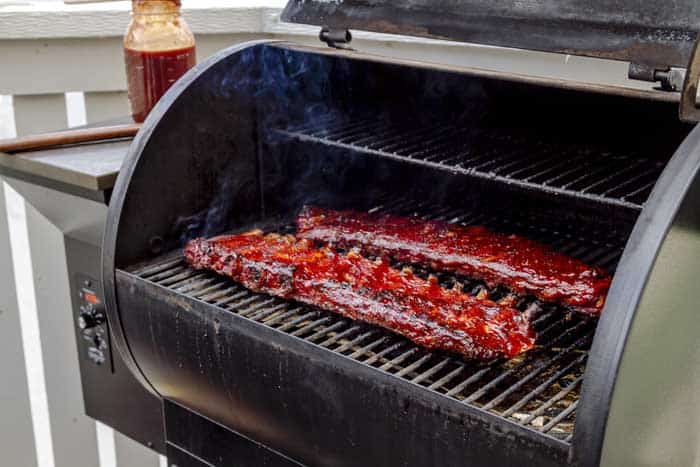 How to Smoke 3-2-1 Ribs
As the name suggests, this barbecue method is broken down into three phases of cooking, with only a little bit of meat prep and seasoning beforehand. Be sure to check out our full recipe below, but here's how to smoke ribs with the 3-2-1 method:
Fire Up: Preheat your smoker to 225°F (107°C) and add wood chips to the coals or wood tray
Meat Prep: While your smoker warms up, prepare the baby back ribs by removing the membrane (if your butcher hasn't done so already). Give the ribs a quick rinse and pat dry with paper towels.
Season: Apply the dry rub seasoning blend to the ribs, covering both sides evenly
Smoke: Place the ribs on the smoker grates and smoke uncovered for three hours. This first phase will help render the fat and connective tissue, and work in some essential smoky flavors.
Wrap: Tightly wrap the ribs in foil with apple juice, sugar and butter, before smoking for a further two hours. The liquid here will steam as it cooks, helping tenderize the pork and add more flavor.
Baste: Remove the ribs from the foil and baste with barbecue sauce. Put back on the grates and smoke for one final hour until done. The ribs will be tender and the meat will have retracted about ¼ inch from the end of each bone.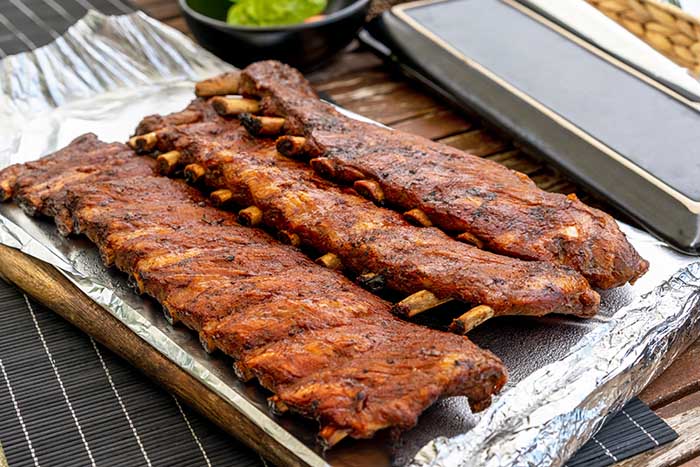 Best Type of Pork Ribs for the 3-2-1 Method
For our smoked 3-2-1 ribs recipe, we've used baby back ribs. They offer a good amount of meat on the bone and are naturally more tender than other types of pork ribs, making them perfect for this barbecue technique.
If you prefer to use either spare ribs or St. Louis ribs, you may need to extend the initial smoke time slightly to break down their additional fat and connective tissue content.
Dry Rub
A key part of our smoked ribs recipe is using a good dry rub seasoning blend. This will help infuse the meat with herbs and spices, as well as some sugar for delicious caramelization.
You can use any store-bought dry rub you like, but I prefer to make my own because a) it's easy, and b) you can tweak the spice and salt content as you see fit.
For this recipe, I'm using our pork dry rub blend, which contains smoked paprika, brown sugar, and chili powder (full ingredients and quantities in the recipe below). It has the perfect balance of sweet and heat that goes perfectly with baby back ribs.
Simply mix all the ingredients in a small bowl with a fork or whisk until evenly combined. Then, sprinkle it over the rib rack, aiming to cover evenly on both sides. If you have any leftover dry rub, simply store it in an airtight jar (like these on Amazon) and use within two months.
Smoking Wood
Like with most cuts of pork, the best woods for smoking ribs deliver the right balance of sweetness and smoke, without overpowering the natural flavors of the pork. For this recipe we've gone for applewood, however pecan and maple both also offer that level of sweetness that we're after.
You might want to try cherry wood, as it can also add a deep red hue to your ribs, while hickory has a classic smoky flavor with an almost bacon-like quality that naturally pairs perfectly with pork ribs.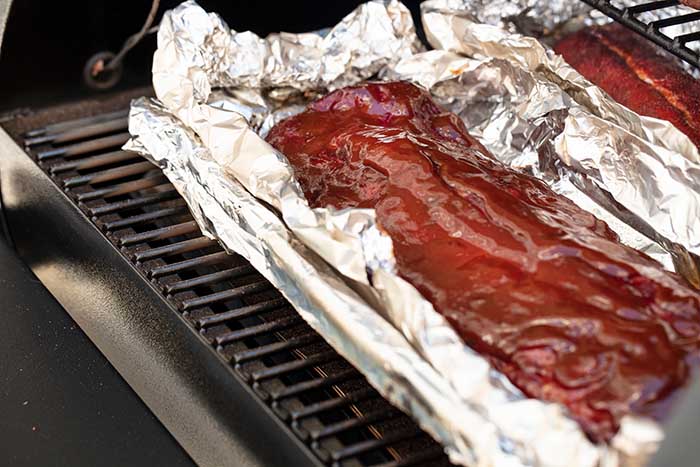 Times & Temperatures
The best smoking temperature for almost any type of pork ribs is 225°F (107°C). This is because it helps to render the fat and connective tissue found in the meat without making it tough or chewy.
The total smoke time for this recipe is six hours (three plus two plus one), which is a touch longer than most baby back rib recipes, but our foil wrap and sauce method is designed to bring these to a higher internal temperature than normal for extra tenderness.
The internal temperature we are aiming for is about 200-205°F (93-96°C). Use a digital meat thermometer to measure the temperature by inserting the probe into the thickest part of the meat, avoiding contact with the bone (this will skew your temperature reading).
If you can't get a temperature reading, you can tell when ribs are done by employing the use of a toothpick. Simply slide a clean toothpick into the thickest meat part between the bones. If you're met with little resistance, your ribs are about done.
Quick Tips
Place a water pan on your smoker racks to help maintain humidity and consistent temperatures in your smoker or grill chamber. Not only will this help prevent the lean meat of baby back ribs from drying out, but it can also help with developing a beautiful smoke ring.
Don't forget to rest your ribs! After pulling them from the smoker, wrap the ribs in foil and let them rest for 10 minutes. This will help keep the ribs juicy and tender, and maintain their flavor.
FAQ
Got any burning questions? Our answers to your frequently asked questions are here to help with our readers' most common queries.
What's the best temperature for smoking 3-2-1 ribs?
The cooking temperature for the entire cook should be 225°F (107°C). This includes all three stages, including when the ribs are wrapped in foil, and when they are cooked in BBQ sauce.
How long does the 3-2-1 method take?
The entire cooking time is 6 hours. This covers the first stage, where the ribs are smoked for 3 hours; the second stage, where the ribs are cooked in aluminum foil for 2 hours, and the final stage where they are braised in BBQ sauce.
What do you put in foil when wrapping ribs?
For this recipe, we have used apple juice. Other options are apple cider, beer, butter and brown sugar, or even just water.
Easy 3-2-1 BBQ Ribs
The 3-2-1 method is a great way to reproduce the fall-off-the-bone BBQ ribs that you love. Broken down into 3 easy stages, this recipe will become your go-to for your next barbecue rib cook-off.
Print Recipe
Pin Recipe
Equipment
applewood smoking chips

Food-safe spritz/spray bottle

digital meat thermometer
Ingredients
1

rack

baby back ribs

1

cup

BBQ sauce
Dry Rub
2

tbsp

smoked paprika

2

tsp

cumin powder

2

tbsp

chili powder

½

cup

brown sugar

½

tsp

dried onion powder

1

tsp

garlic powder

2

tsp

kosher salt

1

tsp

ground black pepper
Spritz
1

cup

apple juice

1

cup

cold water
Wrap
1

cup

apple juice or cider

¼

cup

brown sugar

2

tbsp

salted butter

cut into thin slices
Instructions
Fire up your smoker to 225°F (107°C). If you're using a charcoal grill, make sure you set up for 2-zone cooking, with the indirect side for your ribs. Add smoking wood to coals or wood tray.

Remove the membrane from the back side of the ribs

In a small bowl, combine the dry rub ingredients. Use a fork or whisk to combine, removing any clumps that may appear.

Apply the dry rub to the baby back ribs, covering both sides. Apply generously and evenly.

Once smoker is at target temperature, place the ribs on your smoker's grates. Close lid and leave to smoke.

After 1 hour, combine apple juice and cold water in a food-safe spray bottle. Then, open smoker and lightly spritz the top of ribs. Repeat every 30 minutes.

Once the ribs have been smoking for 3 hours, remove the ribs from the smoker and place on top of 2 sheets of aluminum foil.

Fold the edges of the foil to create a pouch with the ribs sitting in the middle. Sprinkle brown sugar over the top of the ribs, and place the butter slices on top, followed by the apple juice.

Tightly fold the aluminum foil over the ribs to create an airtight seal.

Transfer rib pouch back to the smoker and continue to cook at 225°F (107°C). Let the ribs cook for a further 2 hours.

Remove the ribs from the smoker. Carefully open the foil pouch and allow steam to escape. Remove ribs and discard the foil pouch and liquid contents.

Use a brush to apply BBQ sauce on both sides of the rib rack

Place baby back ribs back on smoker grates. Close lid and continue to smoke at 225°F for 1 more hour, or until BBQ sauce has set and ribs hit an internal temperature of 200-205°F (93-96°C).

Pull the ribs from the smoker. Leave to rest for 10 minutes before slicing into individual ribs or mini-racks to serve. Enjoy!