Perfect smoked chicken leg quarters with crispy skin. Time and temperature guide. Use the best BBQ chicken rub and smoking woods.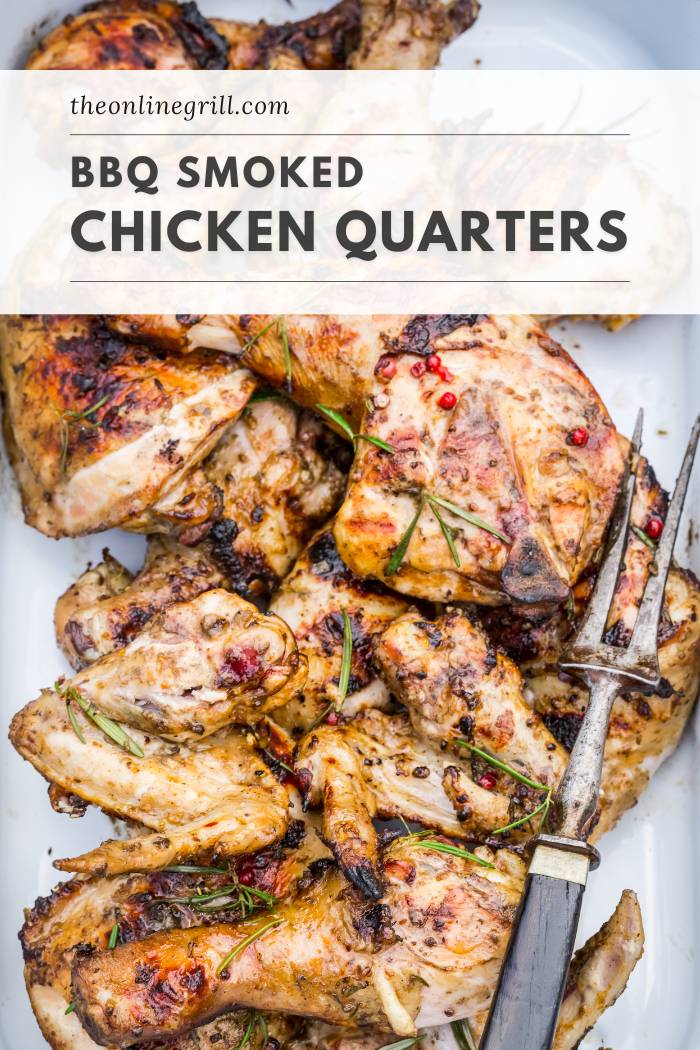 Far are few better meats than smoked chicken. Melt-off-the-bone goodness in the form of a tender and moist cut of chicken. Match that with the rich barbecue flavors of an outdoor smoker and you're onto a winner.
Chicken quarters are perfect for smoking. Unlike chicken breasts, quarters tend to be higher in fat content, which helps them stay perfectly moist as you cook them.
It all makes for one of the best forms of chicken that you can get. In my guide today I'm going to show you how to make the best smoked chicken quarters, step by step, and with perfect tips to help you get the most out of it.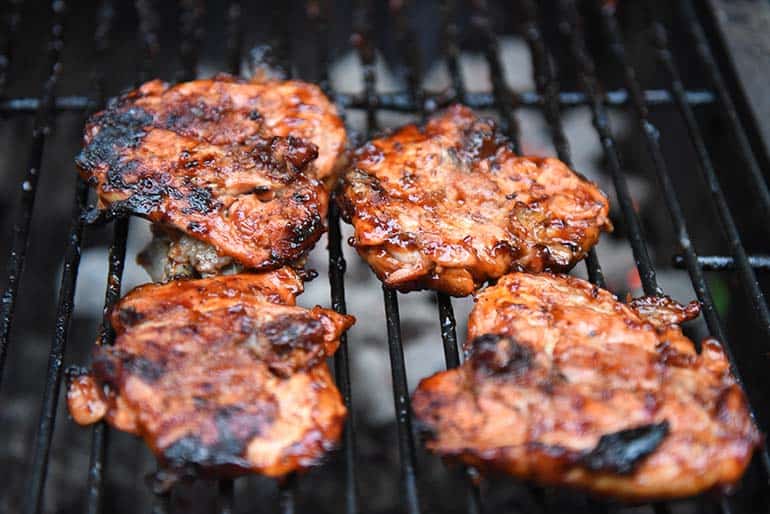 What exactly is a chicken quarter?
Meat cut naming conventions are often confusing, but luckily with chicken things are made a lot simpler. Breast, leg, and chicken thigh are all pretty self explanatory, and the same goes for chicken quarters.
Simply put, the cut gets its name from the fact that it consists of one quarter of the chicken.
A butcher's interpretation of what this actually consists of can vary, as a lower quarter will be different to an upper quarter.
A leg quarter will consist of a thigh, wing, and a segment of the back. Meanwhile a breast quarter will consist of the breast, wing, and also part of the back.
While smoking a whole chicken is often ideal, sometimes time and resources dictate that you can only smoke a quarter.
So here's how to do it.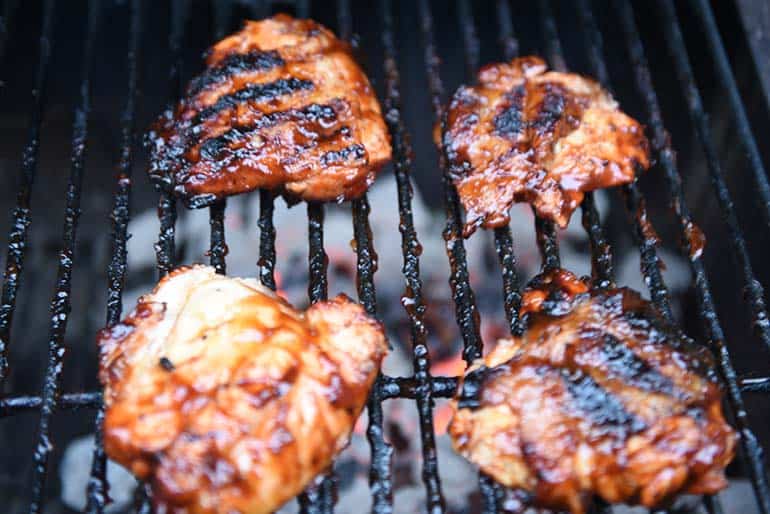 Use a good BBQ rub
Behind all good smoked meat is a good rub. If you haven't used one before, this is a simply a way of infusing an added bit of flavor onto the outside of your meat. It doesn't tend to penetrate the surface of the flesh significantly (for that we use a marinade or brine), but can add a beautiful crisp and smoky flavor.
What you use is up to you. There are great store-bought options out there, while some people prefer to opt for a simple salt and pepper blend.
Personally I like to use my own homemade BBQ chicken rub. This consists of a few select herbs and spice to really enrichen the flavor or your chicken:
2 tbsp paprika
1 tbsp thyme
2 tbsp chili powder
2 tbsp cayenne pepper
1 tbsp garlic powder
1 tbsp onion powder
1 tbsp kosher/table salt
2 tbsp black pepper
You then simply thoroughly combine the ingredients in a small bowl, before then applying generously all over the surface of your chicken quarters and rubbing in well before then cooking it in your smoker.
Sear it afterwards
Smoked chicken doesn't have crispy skin. The low and slow cooking technique simply isn't able to give chicken this finish.
To create this crispy finish we need to briefly grill the chicken after smoking. This exposure to high heat for a few minutes will help crisp the skin without overcooking inside of the meat.
Once you have finished smoking it, transfer the chicken quarters to a preheated grill at medium heat. Cook for a few minutes, flipping over regularly.
How to brine chicken quarters
Meat brining is a process that helps us protect our meat against moisture loss, while also helping added flavors permeate the meat's surface.
It's often done by submerging your meat in a warm water-salt solution for several hours.
Brining can divide people between those that think it's a must, and others that think it's a waste of time.
Personally, I think it comes down what meat you are cooking.
As brining is a means of helping your meat retain moisture, it makes most sense to do with cuts of meat that have little fat content are therefore more prone to drying out while cooking.
However, because brining is also a means of pulling flavor into the meat, I like to do it chicken quarters.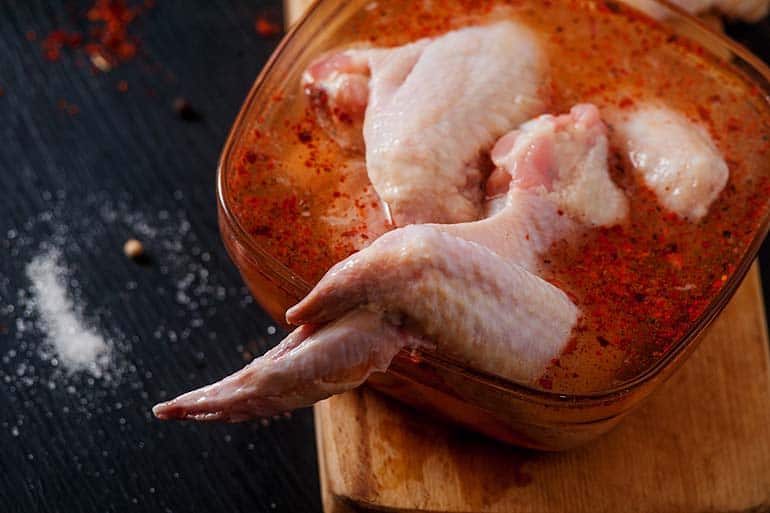 Brining is a great way to lock moisture and flavor into your chicken
I've written before on how to brine chicken wings, and the process is much the same here too. You will need:
Warm water
Table or kosher salt. Make sure it doesn't have any additives.
A large container. This can be in the form of a large mixing bowl or pan if that's easier, but just make sure that it's large enough to submerge your chicken quarters in, but also small enough to fit in your refrigerator.
Sugar. This is often neglected, but an added tablespoon of sugar can help the surface of your chicken crisp as it cooks.
Simply then measure out enough water to submerge the chicken, and provide about 3 inches of water above it.
Then measure out 10 ounces of salt per gallon of water. This might take a bit of calculating on your behalf, but it's important that we don't oversaturate the water with salt.
Combine the salt and water well before adding your chicken quarters.
Leave for about 4 hours, or overnight if you prefer.
Because this step is down to personal preference, I haven't included it in the main recipe in this post.
What wood is best for smoked chicken quarters?
Fruit-based woods tend to be popular for smoking chicken as it provides a light smoky flavor that complements chicken well.
I recommend choosing from apple, pecan, or cherry. My personal favorite is applewood.
Apple, pecan, or cherry fruit wood is ideal for chicken since it offers a lighter smoke flavor that pairs nicely with the light chicken.
Internal temperature for chicken quarters
When smoking you always want to gauge everything by internal temperature. For chicken quarters, we want to achieve an internal temperature of 165°F. This is at a sweet spot where it's not so low that it's unsafe to eat, while it's not high enough to dry out or be rubbery.
How long to smoke chicken quarters?
Like with any form of cooking, this will largely depend on the size of your chicken quarters. More often that not however, this will be about 2 hours if cooking at 220°F. The important thing to keep in mind is that your chicken will only be considered 'done' once it reaches an internal temperature of 165°F.