This smoked shrimp recipe combines fresh shrimp with a butter sauce, spicy rub, and lemon zest for the perfect flavor blend. Cooked for just 30 minutes in your BBQ smoker, this as quick as delicious, fresh shrimp gets!
Many people reach for skewers or baskets to cook their shrimp, but today I'm going to show you why smoking will take it to a whole new level.
In this guide we'll show you how to smoke shrimp, what woods to use, and what BBQ rub to use to bring the whole thing together.
How to Smoke Shrimp
We're going to use aluminum foil for this, but you can also use skewers or baskets too. I often find that using these can leave the shrimp prone to drying out however, so I prefer to use foil.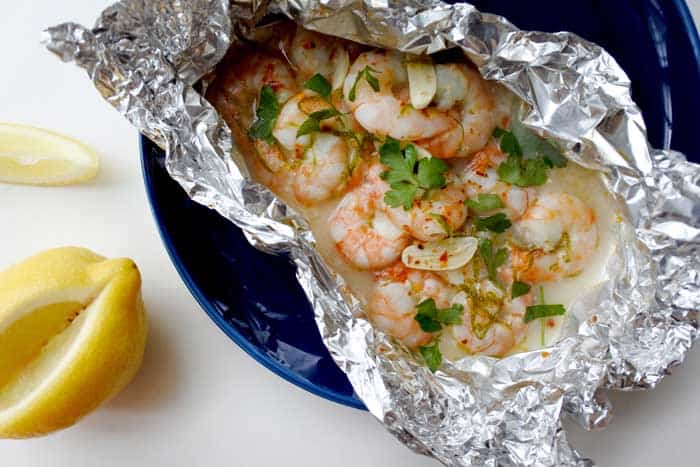 The butter in the foil will help to infuse the shrimp with flavor, while also preventing it from drying out.
I often think with BBQ shrimp, the bigger the better. So don't be afraid to go large and get something large. In this recipe we've gone all in with 16-20 ct, which is one of the largest you can get (source). I would say anything up to 24ct is fine.
This shrimp is cooked in a beautiful butter sauce (made with two big sticks of butter). If the fat content here scares you – don't worry. Most of this can be discarded when it time comes to serve.
We start by melting the butter in a microwave-proof dish or jug, before adding a dash of Worcestershire sauce and a couple of pinches of fresh parsley.
Add a liberal amount of BBQ rub to the shrimp before transferring it all to the aluminum pan. Toss the shrimp around and then pour the butter mixture over the top. You don't want to submerge the shrimp here, but have them sitting about half covered.
Heat up smoker to 250°F and add a couple of bits of hickory wood to your coals. Place the shrimp pan on your smoker grates, close the lid, and cook for 20-30 minutes. Toss the shrimp with tongs at around the 10-minute mark.
At around the 30-minute mark, the shrimp should have developed a beautiful pink color and a smokey flavor.
Remove from the smoker and serve in a large serving plate. Serve with buttered bread and squeezed fresh lemon and enjoy!
Dry Rub
While you can use store bought options, I always prefer to make my own rubs. Here's a quick homemade rub that will go great.
1 tbsp paprika
1 tsp chili powder
1 tsp garlic powder
½ tsp black pepper
½ tsp salt
1 tsp brown sugar
Simply combine all the ingredients for the rub in a small bowl and then apply to the shrimp when needed.
The Best Shrimp for Smoking
For this recipe we'll be using jumbo shrimp, which often come at around 16/20 or 21/26 size.
If you're not familiar with shrimp sizes, the number denotes the number range of shellfish per pound. The lower the number, the larger the shrimp. For example 41/50 is considered a medium size, whereas U15 ('U' means 'under') are 'colossal' size, which we usually see in recipes like shrimp cocktail.
You can use any size you want, but I prefer jumbo-size as it allows us to cook in large quantities while still offering enough shellfish flesh to soak up the butter and garlic in the recipe.
Check out this video for a great guide to understanding shrimp sizes:
Quick Tips
I have included Worcestershire sauce here after seeing it recommended by Malcom over at HowtoBBQRight.com. It goes well with fish, and can help give the shrimp a little bit of punch. If you don't have any lying around then the recipe is fine without.
Be careful not to submerge the shrimp with butter. If completely covered, the shrimp won't cook in the time allotted, and won't develop the pink color that good BBQ shrimp should have. As a guide, try to half cover the meat. This should be enough to enrich it with flavor and keep it moist.
If you are making this on your charcoal grill, make sure that you set up your grill for indirect heat through 2-zone cooking.
More Shrimp Recipes
Want more of a seafood fix? Try our other shrimp recipes:
Ditch the foil packet with our smoked shrimp skewers recipe. Prepared in a basil leaf and garlic marinade before smoked over hickory wood, these mini shrimp kabobs are packed with Mediterranean flavors.
Add a touch of heat with our spicy grilled shrimp skewers. Prepared with a paprika and sugar dry rub before cooked over direct heat, this seafood appetizer locks in the perfect balance of sweet and spice.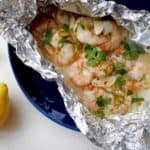 Butter Smoked Shrimp
This smoked shrimp recipe is rich in smokey and buttery flavor. Cooked perfectly on a smoker and finished with a good rub and fresh lemon. You'll be serving up delicious BBQ shrimp in just half an hour!
Print Recipe
Pin Recipe
Ingredients
2

lbs

shrimp

peeled and deveined

½

salted butter

1

tbsp

Worcestershire sauce

Parsley

chopped

BBQ rub

to taste

2

cloves

garlic

halved

1

lemon

halved

1

French baguette

sliced
Instructions
Preheat smoker to 250°F and add a couple of chunks of hickory wood.

Place deveined and peeled shrimp in large mixing bowl. Add a generous amount of BBQ rub. Toss shrimp until evenly coated in rub.

Cook butter in microwave on high what until melted (usually 1-2 minutes). Stir in Worcestershire sauce.

Transfer shrimp to aluminum foil pouch or pan. Pour melted butter over shrimp. Don't allow shrimp to be fully submerged. Sprinkle 2 pinches of chopped parsley over shrimp and add halved garlic cloves.

Transfer shrimp pouch or pan to smoker. Close door and cook at 250°F for 20-30 minutes.

After 10 minutes, toss shrimp with tongs. Cook for further 10-15 minutes.

Check shrimp for pink color and smoky flavor. When ready, transfer shrimp to serving plate. Squeeze ½ fresh lemon over shrimp.

Serve with buttered bread and extra lemon slices.
FAQ