If you're after a prized centerpiece for your holiday meal then look no further than this smoked rack of pork. Cooked low and slow over coal and apple wood, this is the perfect way to enjoy rib roast fresh off the smoker.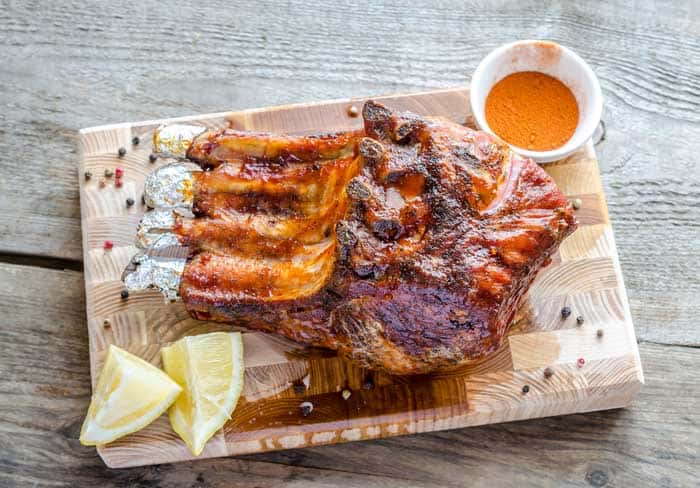 There aren't many meats that are as delicious fresh off the smoker as a rack of pork. In this recipe we'll show you how to prepare and smoke it beautifully, leaving you and your guests with a deliciously tender and juicy plate of smoked pork. From best meat prep steps to smoking woods, we have it all covered. Let's get into it.
What is a rack of pork?
Pork rack (also called rib roast) comes from the rib end of the loin. This means it contains a bit more fat than some other cuts of pork, but this makes it extra flavorful when we smoke it. If you've ever had a rack of lamb or beef rib roast, this isn't too dissimilar.
Traditionally, pork rack is often roasted but today we're going to go all-out barbecue and smoke it low and slow for a delicious and juicy serving of pork. It'll take a bit longer, but the results will be well worth it.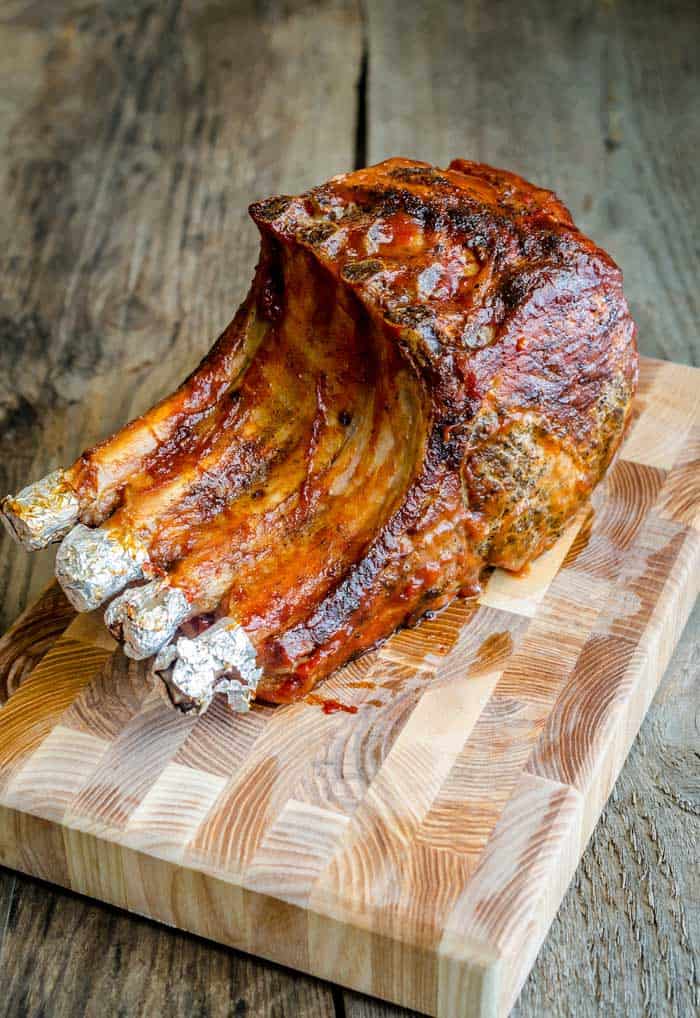 Best wood for smoking rack of pork
The best hardwoods for smoking pork are sweet and mild woods. These include apple, maple, and pecan. For my recipe, I have just used simple apple wood.
Some people use stronger woods like hickory or alder, but it is easy to let them overpower the taste and texture of your pork. If you want to try them, I recommend blending them in a 1:1 ratio with a mild wood.
Pro tip: If you want to try adding a red color to your rack, try using cherry wood. Cherry is well known for adding a layer of red to poultry and pork. Try blending it with a little hickory to add a touch more smoke to the flavor.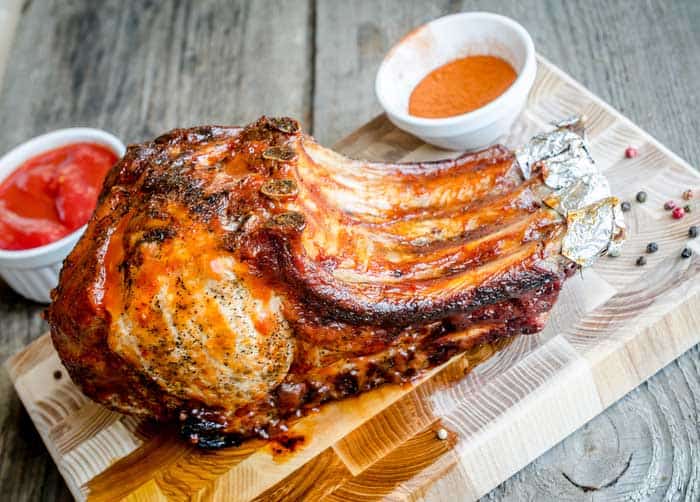 What temperature to smoke rack of pork
We will smoke our rack of pork at 225°F until it reaches an internal temperature of 145°F (source). This typically takes around 4 hours, but you will want to use a meat probe to make sure that your pork is ready to eat.
How to prepare rack of pork
Remove the pork from its packaging. If it hasn't been done already, you will need to trim off any excess fat hanging off the rack, as well as the thick fat layer running along the outside of the rack.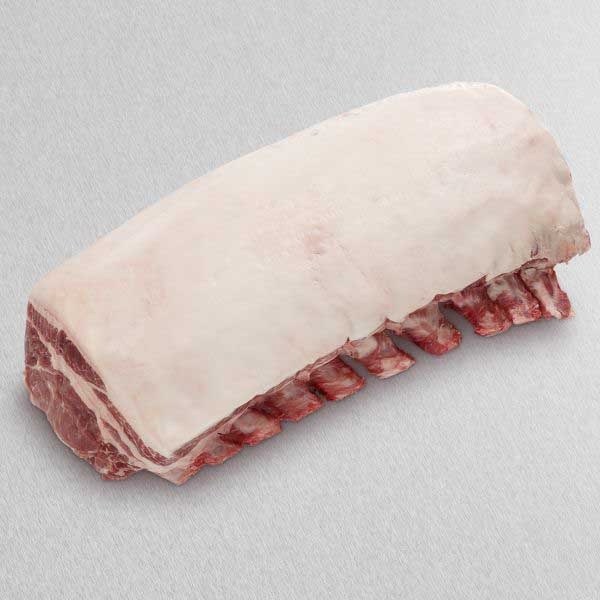 You will also need to remove the membrane, which is found on the inside surface of the ribs. Just like with other types of pork ribs, you do this by inserting a blunt knife under one edge or corner of the membrane and using a dry paper towel to pull the membrane away. It might not come away in one clean attempt, so you might need to keep going at it to remove the entire rib membrane.
With the ribs trimmed and clean, we want to apply a good BBQ rub. For a rack of pork, we don't want anything too pungent or with too much heat, so I prefer to use a simple blend of salt, garlic powder, and paprika.
If you would prefer to use something store-bought, 4 Rivers' All-Purpose rub is a great blend of sweet and herby flavors that will go great with slow-smoked pork. You can get it on Amazon here.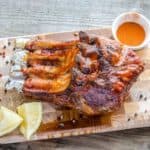 Smoked Rack of Pork
Tender and juicy smoked rack of pork. Cooked low and slow over coal and apple wood, this is the perfect way to enjoy rib roast fresh off the smoker.
Print Recipe
Pin Recipe
Ingredients
1

rack of pork

6-8 bones in length

all purpose BBQ rub

BBQ sauce
Instructions
Heat up smoker to 225°F (107°C). If you are smoking on a charcoal grill, set the grill up for indirect grilling.

When the smoker is ready, add a few chunks of apple wood to the coals. Place rack of pork on smoker grates. Insert temperature probe. Close lid and cook for 4-5 hours, or until internal temperature has reached 140°F.

When the pork reaches 135-140°F, open the smoker lid and baste the rack with BBQ sauce. Apply generously and cover evenly. Leave to cook for 2-3 minutes.

Turn the rack over on the grates and apply sauce to the remaining side of the pork. Leave to cook for a few minutes, when the internal temperature has reached 145°F.

Using BBQ gloves, remove the pork rack from the smoker. Set to one side and leave to rest of 10 minutes.

To serve, slice cleanly between each rib.