Delicious maple-glazed ham cooked low and slow on your backyard smoker. This boneless pork cut is smoked over applewood fire before finished with a sticky maple syrup and mustard glaze.
There's no better holiday meal than a delicious maple-glazed smoked ham sitting in the center of the table. But, you don't have to wait until the next major holiday to enjoy this classic pork main dish.
When it comes to maple-glazed ham, barbecue smoking is often a better choice than conventional cooking if you want to maximize flavor. A sweet maple glaze will pair well with the salted, woodsy notes of smoked ham. What's more, low and slow cooking methods such as smoking are likely to give you more tender meat than cooking in the oven.
Discover how to prepare and serve a maple-glazed smoked ham that will impress your guests every time.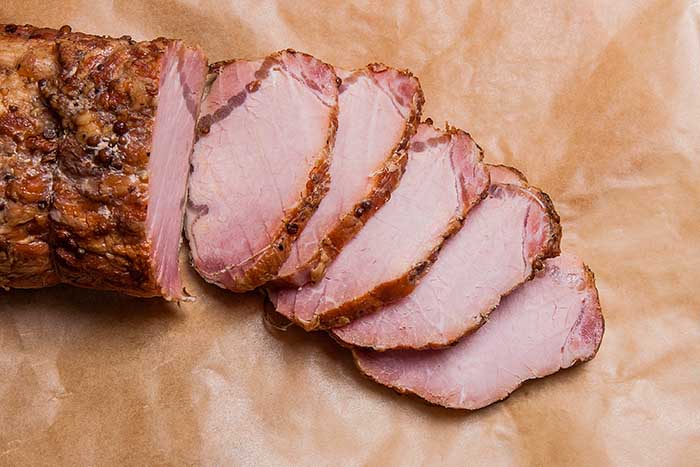 Ham Explained
Ham comes from the pig's haunches (the buttocks and rear thighs) and is available with the thigh bone in or out. A whole ham will usually include the entire leg, from the pelvic or tailbone down to the tip of the thigh bone. People often glaze and cook the ham whole to preserve moisture and flavor.
For this recipe, we'll be using boneless ham. While bone-in cuts look impressive and are great for soups and stews, boneless ham is easier to smoke consistently and slice for serving.
A quality ham cut will be fairly lean, with just a moderate amount of marbling running through the meat. Too much fat can ruin the tender consistency of the meat, causing it to be tough or chewy. Most of the fat in a cut of ham should be on the rind, making it easy to trim the edges and remove most fat before cooking.
People love the cut for its succulent flavor and tender, juicy texture. Ham gets sold either fresh or procured (we'll use the latter for this recipe). Wet or dry curing with a mixture of spices such as onion and pepper lends ham its distinctive sweet and salty flavor.
Glaze for Smoked Ham
A good homemade BBQ glaze adds a dose of sweet flavor to each bite, and pairs perfectly with salty meats, like smoked ham. You've probably seen a thousand Coca-Cola smoked ham glazes but for this recipe, we'll be using a healthy dose of maple syrup instead. Its blend of caramel and vanilla notes pairs beautifully with the salty smokiness of ham.
We'll glaze the ham near the end of the smoke, allowing the pork to soak up barbecue smoke before we coat it in our sweet maple syrup glaze. This will enhance the ham's natural flavor and give it extra color and a beautiful sheen when served. It will also develop a nice crust thanks to the sugars in maple syrup caramelizing during the final stage of our smoke.
How to Buy Ham for Smoking
Picking out a good ham is about more than just finding the lowest price per pound. There are several different varieties that you can find at the butcher or supermarket, and not all are created equal.
The best ham you can find should contain no added water or juices. Not only will the meat be of the highest possible quality, but you won't be paying extra for water weight. According to the USDA, meat labeled as ham must contain at least 20.5% protein.
If you're looking for something a little more budget-friendly, ham with natural juices is the next best choice. Though some of the weight of this type of ham is liquid, it contains a fairly high protein content and an authentic ham flavor.
Ham with water added is likely to be the lowest quality. It has less protein content than meat labeled "ham" and "ham with natural juices." Anything with less than 17% protein content should be marked as a ham and water product.
While you can cook, grill, or smoke with this water-added ham, you'll likely get a bland product with a soggy texture. This type of meat is best served cold or at room temperature. Instead, you should opt for meat-labeled varieties with little to no liquid added when preparing maple-glazed smoked ham.
Meat Prep
Before you smoke a maple-glazed ham, you need to prepare the meat. Doing this ensures that you get the tender texture and the rich, savory flavor you desire. It's easy to ready a maple-glazed smoked ham for smoking in just a few easy steps.
A good ham cut should be relatively lean, but most will have a healthy layer of fat along the edges. You should remove the rind beforehand, leaving as little surface fat as possible. This fat will not penetrate meat as it cooks, so we need to remove it to give our ham the best chance of soaking up flavor. Removing the rind also means less fat on your plate when serving.
Because we'll be using precured ham, there's no need to brine or marinate it beforehand. All of our added flavor will instead come from just the maple glaze.
Best Smoking Wood
You can use several different types of wood when smoking ham, all of which impart various flavor notes depending on what taste you want. Some of the best wood chips to use with maple-glazed smoked ham include maple, pecan, or cherry.
For this recipe, we'll be using applewood. It provides only a delicate amount of sweetness, giving our glaze room to breath.
Times & Temperatures
We will smoke our maple-glazed ham at an ambient temperature of 250°F (120°C), for approximately 20 minutes per pound of meat. For our 5-pound boneless ham, this means a cooking time of about 1 hour 40 minutes until we pull it for glazing.
Most cuts of whole ham come fully cooked and ready to eat, meaning that we are essentially just reheating it. As per USDA guidelines, we'll smoke our ham to an internal temperature of 145°F (60°C). If you decide to use a fresh ham, ensure it reaches 160°F (71°C) before serving. Either way, always use a digital meat thermometer to accurately measure temperature.
Quick Tips
If you are using a spiral-cut ham, apply a little water in between the slices. This will help combat moisture loss as it smokes.
FAQ
Here, we'll answer some of the most common questions about maple glazed ham.
Do You Glaze the Ham at the Start or the End?
Unlike oven-baked hams, barbecue smoked ham is best glazed near the end of the smoke (with about 30 minutes remaining) in order to allow the meat to cook and absorb flavor.