Smoked stuffed pork loin – an easy way to cook perfectly tender barbecue pork on your backyard smoker. Filled with a mushroom and onion filling, this dinner recipe is rich, tender, and juicy.
Anyone who has smoked pork loin before will tell you it poses a real challenge in keeping it moist and tender. One way around this is to use stuffing.
Not only that, but it gives us the chance to add more flavor to the roast before smoking it whole. This allows us to get really creative, from simple bread stuffings to more unusual choices.
Trimming
Start by placing your pork loin on a chopping board and removing the fat cap sitting on top of the pork. Your butcher may have already done this for you but either way, we need to get rid of it.
Too much fat can limit the amount of smoke penetrating the meat, slowing down the rate at which it cooks, and limiting the amount of flavor we add to it. Also, the silverskin (or membrane) needs to go. This doesn't render when cooked and can turn tight and rubbery.
Use a fillet knife to remove the fat and silverskin that covers most of the outside of the pork.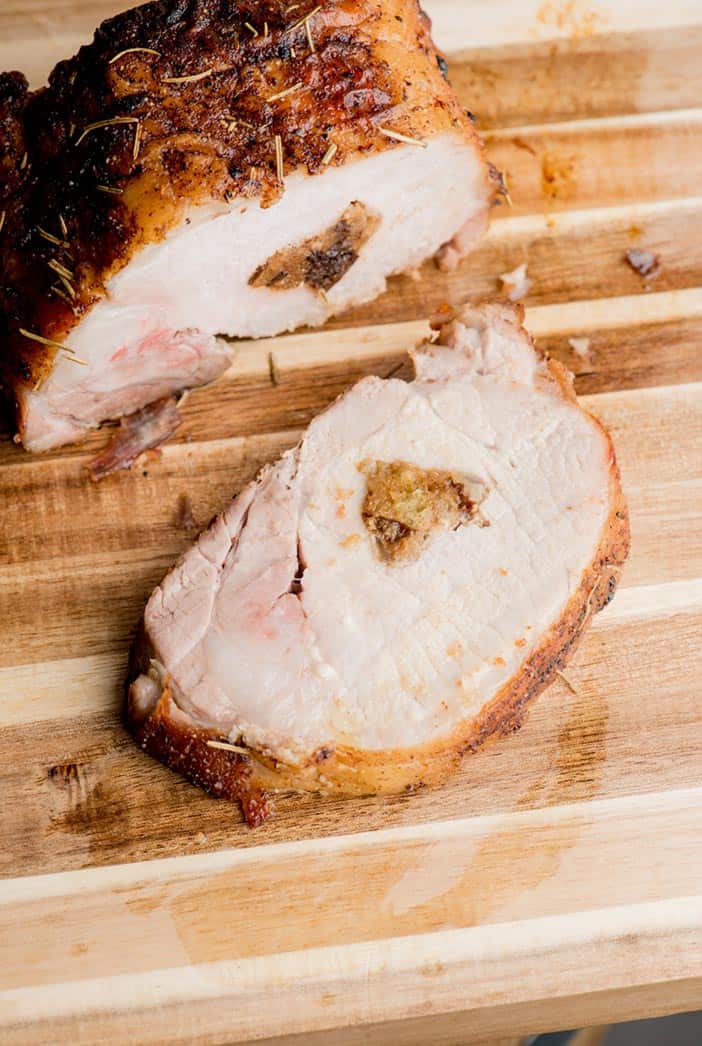 Butterfly
Now onto butterflying. This can be tricky the first time you do it, and you will need to make sure you do this as evenly and carefully as possible.
Insert your fillet knife into one side of the loin, and cut into it. Cut until you have reached within half an inch of the other side. Don't cut any further than this to ensure that the loin stays intact.
Start to roll the loin and continue to cut into it, keeping a half-inch layer of meat as you go. The aim is to have a final cut of pork that's about half an inch thick all the way along.
This can be difficult to understand without seeing it in practice, but thankfully Chef Tom over at All Things BBQ (one of the best BBQ YouTube channels) has put together a great video below.
Stuffing
For my stuffing, I've gone for a mushroom, onion and herb filling. A lot of people try to add more meat here, but I like to use mushroom to lock in more moisture, and it tends to add a beautiful deep flavor to pork.
The stuffing will need to be prepared by sauteeing the onions in a skillet with oil, before adding the mushrooms and cooking at low heat for a few minutes. You then add the oregano and rosemary, and then we're good to go with our stuffing mix.
Times & Temperatures
Pork loin needs to be smoked at 225°F (107°C) for 30 minutes per pound of meat, to an internal temperature of 145°F (63°C). This time can vary depending on meat thickness, stuffing ingredients, and smoker size.
Our recipe uses a 6lb pork loin, so smoking time should be about 3 hours. I recommend checking the internal temperature with a meat probe on the two-hour mark to check the loin's progress.
Smoked Stuffed Pork Loin
An easy way to cook perfectly tender barbecue pork on your backyard smoker. Filled with a mushroom and onion filling, this dinner recipe is rich, smokey, and juicy.
Print Recipe
Pin Recipe
Ingredients
Stuffing
1

cup

mushrooms

chopped

1

green onion

chopped

2

tbsp

olive oil

½

dry oregano

½

dry rosemary
Instructions
Prepare pork loin by peeling off the silverskin and use a fillet knife to trim away any excess fat.

Dry brine the loin by applying kosher salt all over and rub it in. Place loin in the refrigerator and leave for 2-3 hours.

Prepare stuffing by heating olive oil in a skillet over medium heat. Add chopped onion and saute. Add chopped mushrooms and cook for another 3-5 minutes. Remove from heat and mix in rosemary and oregano. Put to one side to cool.

Butterfly the pork loin by cutting it lengthwise along its side. Cut to within 1/2 inch to its other side to keep the loin intact. Open the loin in a book-like fashion.

With the loin rolled out, place the stuffing in the meat. Aim to level it from edge to edge.

Roll the meat over the stuffing, creating a log shape. Tie with twine, tying every 1-1 1/2 inch.

Coat the rolled loin in dry rub.

Fire up your smoker to 225°F (107°C). If you are using a charcoal grill, set it up for 2-zone cooking. Add your chosen wood and a full water pan.

Place loin on smoker grates. Smoke for 2-3 hours, until the internal temperature is about 135°F. Time will vary depending on meat quantity and stuffing ingredients, so take a reading after 2 hours.

Remove loin from smoker. Slice into 1/2 inch thick slices and serve immediately.