Smoked shrimp skewers marinated in garlic and basil leaves before cooked low and slow over hickory. This easy recipe only takes 40 minutes and is the perfect smoked seafood dish.
For a light addition to your barbecue spread that can accommodate (almost) anyone, toss these shrimp skewers on your smoker grates. They are easy, loaded with flavor, and only take 40 minutes to make from scratch.
A simple marinade packs our shellfish with Mediterranean flair with few ingredients and little effort. With little more than olive oil, basil leaves, and crushed garlic, the marinade is fresh and carries a beautiful depth of flavor.
This is one of our best smoked seafood recipes and it's easy to see why. From marinating to smoking woods, here's how to smoke shrimp skewers from scratch. Let's get smoking.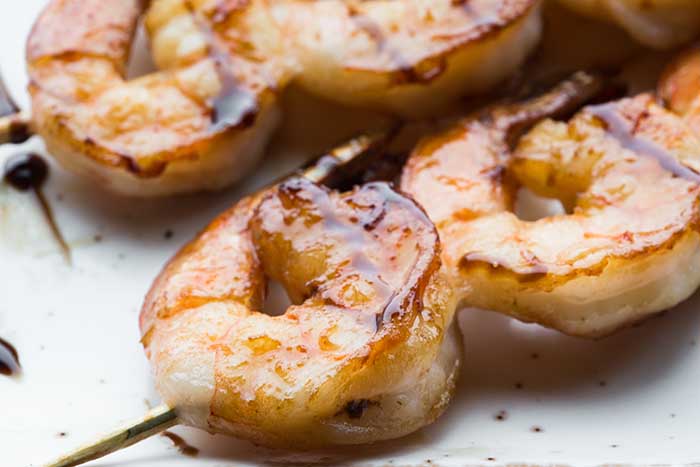 Best Type of Shrimp for Smoking
Jumbo shrimp are best for barbecue smoking because they contain enough flesh to soak up marinade and smoke without becoming overpowered by them. We also use jumbo shrimp for our foil-wrapped smoked shrimp recipe due to their ability to soak up flavor, as seen with that recipe's butter and lemon sauce.
These shrimp are also large enough to be threaded onto the skewers without breaking, while still not being so large they dominate space.
Jumbo shrimp often comes in sizes 16/20 or 21/26. These numbers denote the typical number of shellfish per pound, e.g. 16 to 20 shrimp per pound. This means that the lower the number, the larger the shrimp.
Time & Temperatures
Smoked shrimp skewers take only 30-40 minutes to cook at 225°F (107°C) and reach an internal temperature of 120°F (49°C). It's unsafe to eat raw shrimp so use a digital meat thermometer for the most accurate measurements.
Smoking Wood
The best wood for smoking shrimp is a strong hardwood, like hickory or oak. While shellfish might seem too fragile to match with these robust woods, our cook time is so short that we want to use something with enough punch to infuse a noticeable amount of flavor on our jumbo shrimp skewers.
Be careful not to go overboard however, and avoid creating billows of white smoke. Use just a couple of chunks on your coals to help create the right amount of thin, clean smoke.