The best BBQ smoked Korean pork spare ribs. Slow smoked over applewood and wrapped in apple juice and gochujang, these beauties are fall-off-the-bone delicious.
Want the best pork spare rib recipe? Enjoy these gochujang-infused Korean BBQ ribs. They're sweet. They're spicy. They're the perfect BBQ ribs.
If you've whetted your appetite with my Korean wings recipe, then it's high time you moved on to these beautiful smoked Korean ribs.
Not too dissimilar to my smoked short ribs recipe, this Asian take on the American favorite infuses the pork with traditional Korean sauces and seasoning to take the flavors to a whole new level.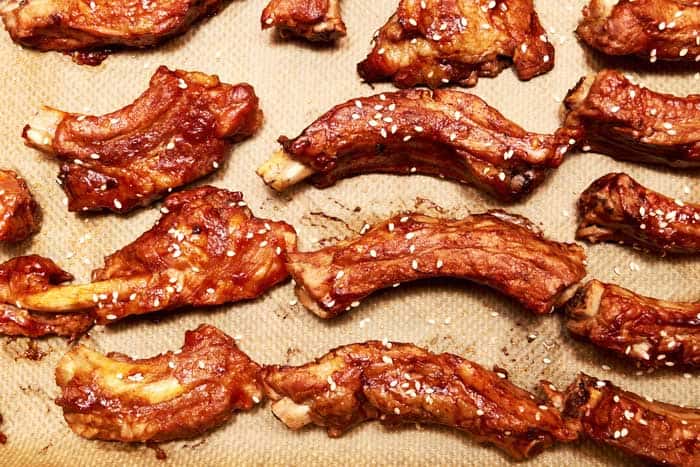 If you're a fan of ingredients like gochujang, hoisin, and soy sauce, then blending them with slow-smoked pork ribs is a no-brainer.
The ingredients are blended with honey and ketchup and sprinkled with sesame seeds and scallion greens to give it a beautiful, iconic finish.
They're sweet. They're spicy. They're the perfect BBQ ribs.
Let's get into what you need to know to make the best Korean spare ribs.
What is Daeji Galbi?
Daeji galbi, sometimes transliterated as daeji kalbi, is just the name in Korean for pork spare ribs. This cut of meat is a mainstay of every Korean barbecue table.
The preparation for daeji galbi differs from American-style pork spare ribs. The ribs are prepared in a traditional marinade, containing ginger, onions, garlic, gochujang, and other condiments that pack the ribs with flavor. In restaurants, daeji galbi is usually served alongside cold noodles and a variety of side dishes and sauces. Sometimes, traditional barbecue places will serve daeji galbi with pork neck for a real meaty feast.
Spare Ribs
Pork spare ribs come from the animal's lower rib cage, down by the belly and breastbone. They are not to be confused with baby back ribs, which come from the upper rib cage. Usually, butchers separate spare ribs from the carcass after removing the fatty, streaky meat that gets cured into bacon.
Spare ribs differ from back ribs not only in their placement but also in their taste and quality. Spare ribs are usually thicker and have more meat. They have a juicier, more tender flavor and texture.
Gochujang
One of the main ingredients in the daeji galbi marinade (and in almost every Korean barbecue recipe), gochujang is a fermented red chili paste that is a very popular condiment in Korean cooking. The main ingredients include gochugaru (chili powder), fermented soybean powder, glutinous rice, barley malt powder, and salt.
You can recognize gochujang by its distinctive deep red color, which deepens as the condiment ferments. Although it is a little spicy, as expected from a chili-based condiment, it is not overwhelmingly so. In fact, gochujang is slightly sweet thanks to the glutinous rice.
If you don't know where to look, try your local Asian supermarket or foreign food section. Failing that, you can get some here on Amazon.
Meat Prep
For the best flavor, trim the spare ribs before chucking them on the smoker.
Flip the spare ribs so that the underside (the part where all the bones are visible) is facing up. Find the skirt, or the strip of meat running along the top of the rib rack. Slide a sharp, thin knife underneath the meat and slice it off to even out the ribs.
Then, you can remove the membrane, a thin sliver of skin across the ribs. Some cooks keep the membrane on, but many people don't like the filmy texture once it cooks. Slide your blade under the membrane to lift off a corner, then grab it with your hands and pull it away (you can use a paper towel for a better grip).
Finally, trim off the rib tips, the pieces of cartilage at the end of the cut.
Smoking Wood
Pork is a versatile meat that pairs well with many types of wood. You can use bold smokey woods like hickory or oak, or mild fruitwood such as apple, cherry, or even peach.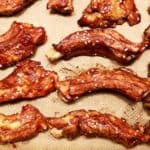 BBQ Smoked Korean Spare Ribs
Enjoy these gochujang-infused Korean BBQ ribs. They're sweet. They're spicy. They're the perfect BBQ ribs
Print Recipe
Pin Recipe
Ingredients
2

racks

pork spare ribs

½

cup

apple juice
For the rub
kosher salt

ground black pepper
For the glaze
½

cup

gochujang

¼

cup

hoisin sauce

¼

cup

ketchup

¼

cup

honey

¼

cup

soy sauce

¼

cup

Korean rice wine
For the garnish
sesame seeds

4

scallion greens

sliced diagonally

fresh ginger

finely gated

3

cloves

garlic

finely grated
Instructions
Preheat your smoker to 225°F. Add applewood chips to the smoker box.

Trim rib racks by cutting ends and removing the membrane off each. Trim off any other excess fat.

Combine rub ingredients. Apply liberally to rib racks, rubbing on both sides and working into any dips.

Transfer ribs to smoke grates. Close lid and cook for 2 hours.

Combine glaze ingredients in a large bowl. Cover bowl in film and put in refrigerator until ribs are ready.

Remove ribs from smoker. Transfer to aluminum foil and place topside down. Pour ¼ cup of apple juice over each rib rack.

Wrap foil tightly around ribs and transfer back to smoker. Cook for a further 3 hours

Remove ribs from foil. Increase smoker temperature to 300°F.

Use basting brush to cover ribs in glaze. Transfer ribs back to smoker and cook for one more hour.

Test for meat pulling away from bone. When done, remove ribs from smoker and serve.

When you see the meat pull from the bone it is time to remove them and serve.