St Louis-style barbecue spare ribs are perfectly trimmed and dripping in BBQ sauce for a deliciously sweet plate of pork. Learn how to smoke the juiciest ribs with our St Louis ribs recipe.
Smoked St. Louis-style ribs are a barbecue classic, captivating BBQ fans worldwide with their incredible flavor and juicy texture. With rich layers of connective tissue, these ribs stay moist and tender throughout smoking with very little prep work need
From prep advice and seasoning tips to the best smoking method, discover how to smoke St. Louis-style ribs today.
What are St Louis-style Ribs?
Ranked among America's best BBQ styles, St. Louis-style barbecue is renowned for its high BBQ sauce consumption, so it's no surprise that their ribs are also heavily sauced. Thankfully, this volume of sauce does more than just provide moisture. It also loads the spare ribs with a sweet and sticky feel and flavor that's unlike any other type of pork ribs.
It's not all about the sauce though. St Louis-style ribs are also unique because of the way they're cut. These spare ribs are cut from the middle section of the cut and presented with the sternum, cartilage, and rib tips removed. What you're left with is a neat, rectangular-shaped rib rack. This neat and tidy presentation is what makes St Louis-style cuts a popular choice for competition ribs.
Trimming Spare Ribs
With a St Louis cut, a lot of the hard work will have been done for you. However, you will still need to trim the spare ribs to get the rack into as perfect a rectangle as possible.
With the ribs on a chopping board, insert a sharp knife into the top of the longest bone and make a straight long cut, parallel to the bottom of the ribs.
At the smallest end of the rack, slice off the smallest bone. This will help create an even square end. At the wider end of the rack, slice off any uneven bone or fat.
Next up is the membrane. This is a thin layer of white skin that sits over one side of the ribs. It can prevent smoke from fully working its way into the meat, and can stop the fat and juices from rendering. I prefer to remove the rib membrane, as it allows BBQ rubs or marinades to penetrate the meat much better.
Use the knife to get under the corner of the membrane, and then use a paper towel for grip. Slowly detach the membrane from the ribs. After removing the membrane, trim off any stray bits of fat or cartilage.
Rib Dry Rub
For this recipe, I've used my all-purpose pork dry rub but if you have a favorite go-to seasoning blend, stick to what you like. If you don't want to make your own, there are some delicious store-bought rib rubs you can buy online.
My pork dry rub is a mix of eight ingredients, but you should have most of them in your kitchen anyway.
2 tbsp smoked paprika
2 tsp cumin
2 tbsp chili powder
½ cup brown sugar
½ tsp dried onion powder
1 tsp garlic powder
2 tsp kosher salt
1 tsp black pepper
Combine them all in a small bowl, using a fork to crush any lumps that sometimes forms in dry seasoning.
Before we apply the seasoning to the rack, we need to add a binder to the ribs. This will help ensure that the rub sticks, helping to add as much flavor as possible to our final plate of meat. For this recipe, I've gone with yellow mustard. It's a great adhesive and adds a subtle and tangy note that complements the sugar and spice in the dry rub seasoning. You can use olive oil if you prefer.
Apply the rub to the St Louis ribs, covering liberally on all sides. If you add too little seasoning, you'll be missing out on adding important flavors to the meat. Be careful though, if you add too much you risk creating a layer that the smoke can't penetrate.
Let the ribs sit to soak up some of the rub. This should also stimulate the moisture in the ribs, which allows the meat to take on more flavor and elevate the quality of the final plate of meat. This is similar to dry brining, which we do for many cuts of pork and beef. Do this at room temperature for half an hour, or in the refrigerator for anywhere between one and two hours.
Best Wood for St. Louis Ribs
Most types of pork are best with sweet and fruity hardwoods like apple, cherry, or pecan. Applewood is perfect if you prefer sweet notes that don't overwhelm your barbecue meat.
Applewood is perfect for smoking ribs, particularly because we'll be using apple juice and BBQ sauce for glazing and basting the St Louis rack. The wood has a subtle and mellow taste, particularly in comparison to heavy woods like hickory or mesquite.
How to Smoke St. Louis-Style Ribs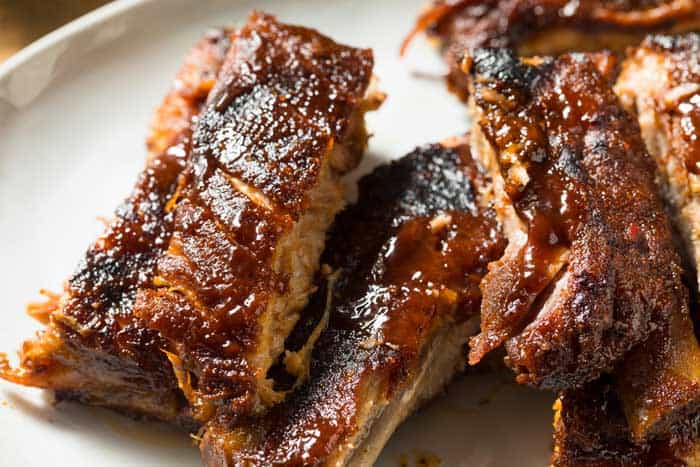 These smoked ribs will be cooked in three distinct stages: Smoking bare, wrapped and sauced. Each of these stages is important in working in smokey flavors, improving moisture, and adding BBQ sauce. It's similar to the process of smoked 3-2-1 ribs, but the smoking time is shorter thanks to St Louis ribs being trimmed down, with less bone and fat to cover.
Place your St Louis ribs on your smoker grates, bone-side down. This will help protect the ribs from any heat fluctuations.
Smoke for about three hours, until the ribs have developed a deep mahogany color. Remove the ribs from the smoker and place them on a sheet of aluminum foil, meat-side down.
Add brown sugar and honey to the foil, on both the meat and rib sides. This will add more flavor to the ribs, giving it a sharp, crispy taste fresh off the smoker.
Wrap the ribs tightly in foil, ensuring it is both airtight and watertight. If it's not wrapped tightly, steam could form in the pouch, making the ribs soggy and dull. For the best results, double wrap them to ensure we are locking in as much flavor and moisture as possible.
The purpose of this stage is to allow the sugar and spices to combine with the moisture in the ribs. This should help break down the connective tissues in the pork while also effectively creating a baste for the ribs to soak in.
Place the ribs back in the smoker, meat-side down, and cook for a further hour. After this, check the ribs for doneness. They should be bite-through tender without falling off the bone, and have some movement without being completely rigid.
Use a basting or grill brush to apply BBQ sauce to the ribs to create a light coating. Wrap the ribs back up in foil, and cook for a final 10 to 20 minutes. Remove the ribs from the smoker and foil, and place meat-side down on a cutting board. The bones will help act as a guide here for you to slice and serve.