Found yourself short on BBQ sauce, or simply just want to try something else on your BBQ ribs? Here are 7 of the best alternatives to BBQ sauce for ribs.
BBQ sauce is as entrenched in barbecue culture as salt and pepper. And we love the stuff. Over 8 million US households go through over four bottles per month. That's right, every single month.
But a lot of sauces can be overly sweet, thick, or sweet. It's not for everyone. Luckily there are plenty of delicious and easy alternatives out there that can still deliver on beautiful tastes and textures.
So whether you're looking for a sauce-free ingredient that replaces that beautiful smoky taste, or want a sauce that gives you something different altogether, here are the best BBQ sauce substitutes for ribs.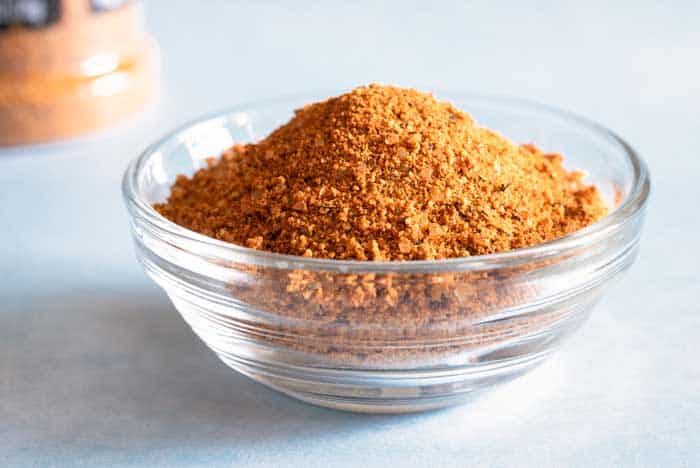 BBQ Rub
While not a like-for-like replacement, the simplest alternative to BBQ sauce for ribs is simply not to use any at all. Instead, let a good rib BBQ rub do all the work.
Rubs give you a rich flavor and beautiful texture. Get a good rub, and it will be enough to carry the smoky and sweet flavor that we all love on ribs.
Pork is best matched with sweet flavors, so look out for a rub that has a little bit of sugar in it. Also, look out for fruity ingredients like apple or pear. I also love a bit of mustard seasoning in the rubs.
You can check out my guide to the best store-bought rib rubs here, or simply get my favorite: Famous Dave's Rib Rub (Amazon link).
If you'd like to make your own then try the rub I use on my Texas Style baby back ribs.
Hoisin
Hoisin has its roots in seafood (its Chinese name literally means 'seafood sauce'), but don't be fooled. This goes perfectly with ribs.
It's a thick sauce with a salty-sweet flavor that we don't have a perfect equivalent for in the West. At its core, it's made with black beans, vinegar, chili, and five-spice powder.
The salty-sweet combination makes Hoisin extremely versatile, and perfect for pork ribs. It can be a marinade or a glaze, depending on how rich you want the flavor to be.
It doesn't work as a straight swap for BBQ sauce, so don't heap buckets of the stuff on your pork. Try it as a glaze for finishing your ribs off on your smoker, and be prepared to be blown away by the unique flavor it gives it.
Teriyaki
Continuing with the Asian theme, is one of my all time favorite sauces: Teriyaki.
Usually this is associated with fish, but we can adjust it to make it a great almost like-for-like replacement for BBQ sauce.
Teriyaki sauce is usually made by combining soy sauce, Mirin and sugar over heat. It's then reduced to leave you with a thick, sweet sauce. If you make your own, you can even add a little bit of garlic or ginger powder to give it a little bit more kick.
You can also buy your own here.
Try this Teriyaki-glaxed pork spare ribs recipe to see why it's a great alternative to BBQ sauce.
Plum Sauce
A left-field entry, but plum sauce is worthy of inclusion here. It's a thick, heavy sauce that's quite similar to molasses in appearance. It carries a sweet-sour taste, which is why it's widely used in Chinese cooking.
Plus sauce is made with plums, garlic, vinegar, ginger, Chinese five-spice, and star anise. It's a heavy mix of flavors, so its taste is definitely not for everyone.
In Chinese cooking it's usually used as a dipping sauce, so don't be going nuts with it. I recommend trying it as a thin glaze for your ribs. If you like to use the 3-2-1 ribs method, paint the plum sauce on for the final hour stretch of the cook.
Chimichurri
When it comes to meat, Argentina know what they're doing.
Chimichurri is a herb sauce that has a unique taste with quite a zesty kick. It's a beautiful blend of parsley, cilantro, garlic, red pepper flakes, and red wine vinegar. It's usually served with Argentinian steak, but I've found it goes beautifully with BBQ pork ribs too.
It's best served alongside meat, so don't marinate or glaze your pork with it. Instead, try using it as a dipping sauce.
Chimichurri is all about its herbs, so for the best results I recommend making this fresh and from scratch yourself. Luckily, it's not difficult, and can be made with just a handful of ingredients.
Our homemade chimichurri recipe takes just minutes to create and tastes incredible when freshly made. Simply combine flat-leaf parsley, fresh garlic, oregano, and half a shallot in a food processor, before adding oil and salt.
Satay Sauce
Peanut might not be what you think of first when it comes to pork, but trust me on this one.
Often simply called 'peanut sauce', satay is made from grinding roasted peanuts, before being mixed with ginger, lemongrass, and garlic. It's usually served with chicken skewers or fried tofu, but I like dropping a little on my ribs too.
There are plenty of store-bought satay sauces available online, but for one with a bit of a kick to it, I like Jade's Sichuan peanut sauce (Amazon link).
Keto Sugar-Free BBQ Sauce
This might be cheating a bit, but if the reason you're trying to do without BBQ sauce is simply because of the sugar content then you'll be glad to know that there are plenty of sugar-free versions out there.
The best ones still retain the sweet and spicy notes we all want from a good sauce, but with zero sugar content. Beautiful.
For more keto BBQ ideas, check out my full guide to the best store-bought sugar-free BBQ sauces or you can try making your own with my homemade Keto BBQ sauce recipe.