Everyone deserves to be able to get involved with an outdoor cook-off, so today, I wanted to put together a list of low-carb recipes that has something for everyone.
Luckily, because so much grilling revolves around meat and vegetables, creating keto versions of popular barbecue dishes isn't too difficult. Here are 23 of the best keto-friendly BBQ recipes to help you get your low-carb grilling fix all year round.
Be sure to check out my other keto-friendly BBQ posts:
Beer Can Chicken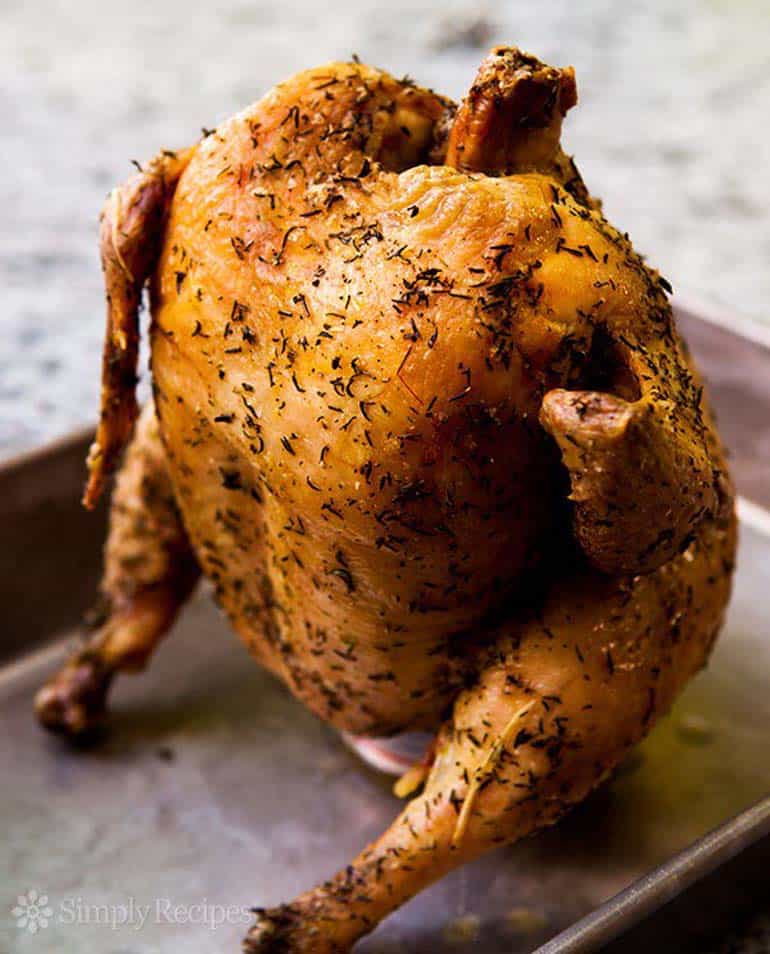 I have actually posted my very own beer can chicken recipe before, but today I wanted to share this slightly different take on it.
I don't think beer can chicken (also sometimes called beer butt chicken) is anywhere near as popular as it deserves to be. If you love chicken, then this has everything you could possibly want: Tender, crispy, fall-off-the-bone moist chicken meat, all infused with a subtle beer-like flavor.
This one uses a generous amount of time to give the chicken a herby edge to the beer and chicken.
Tuscan Style Grilled Ribeye Steaks
No BBQ list would be complete without a good cut of ribeye, and this Tuscan-style recipe doesn't disappoint. Like any good steak recipe, it's tender and melt-in-the-mouth delicious.
As well as the meat, a lot of its flavors come from its use of garlic, balsamic vinegar, and fresh rosemary, giving it a herby but also slightly tart taste to it.
Balsamic Jalapeño Grilled Tri-Tip
Balsamic vinegar is a condiment of the gods! It can turn a lifeless cut of meat (or vegetable for the veggies) into a flavorsome treat.
For a tri-tip marinade, there's nothing quite like balsamic vinegar, but you could go one step further and add jalapeños, garlic, and soy sauce for something even more special.
Hibachi Steakhouse Meatball Kebabs
Want to liven up your meatballs? Why not try cooking them Hibachi style, or at least as close as you're going to get on a BBQ.
Make sure to pre-sear the meatballs before adding them to the BBQ so that they don't fall apart. Baby bella mushrooms, zucchini, and red onion for the skewers? Yes please!
Grilled Carne Asada
Hailing in from Mexico, this authentic Carne Asada dish is a spicy and zesty delight!
Although marinating the beef overnight might be tempting, this recipe prefers that you do it for no longer than eight hours. Any longer and the meat will start to break down. At least that's less time between marinating and eating.
Korean Steak Kebabs
Another continent, another equally delectable recipe: Korean kabobs without the carbs.
Zip-lock and shake, that's the motto here. Although you could use a bowl to lock in the Korean-inspired marinade of soy sauce, honey, rice wine vinegar, garlic, and sesame oil, a zip-lock bag will ensure that the meat is completely covered. Again don't refrigerate for any longer than eight hours.
Steak Fajita Skewers with Cilantro Chimichurri
Back over to Mexico now… steak fajita skewers with cilantro Chimichurri. How can something so packed with flavor be so healthy?
Are you new to cilantro Chimichurri? Simply purée cilantro, parsley, jalapeños, garlic, green onions, red wine vinegar, lime juice, and olive oil for a delicious sauce. Either top the skewers with the Chimichurri or have it as a side dip — it's the perfect accompaniment.
Grilled Zucchini Boats with Beef
As well as looking cute, zucchini boats stuffed with beef, salsa and cheese are a low-carb must for the BBQ. Better still, you only need four ingredients to make them!
Halve and scoop out the zucchini, grill them, then add the beef, salsa and cheese mixture, and then grill again, simple! Who says you need to be a top-tier chef to make luscious food?
Steak & Mushroom Kebabs
These mushroom and steak kabobs are simplicity incarnate though that doesn't mean that they're lacking flavor, oh no!
Make the easy four-ingredient marinade, season, leave for an hour, and then skewer — bang! The mushrooms are a perfect complement to the beef too. Of course cook the beef to your tastes, burnt to a crisp, bloody as hell, or somewhere in between, it's up to you.
Grilled Tri Tip with Onions & Peppers
For yet another way to liven that tri-tip look no further. The onions, peppers and jalapeños mixture is also a fantastic way to accent the marinated meat.
Letting the meat rest before slicing helps the flavors distribute, so while the meat is resting, whip up the onion and pepper mixture on a cast-iron skillet.
Easy Mexican Beef Skewers
Is there anything to come out of Mexican cuisine that isn't bursting with flavor? This recipe certainly thinks not.
Chipotle peppers in adobo sauce, lime, cumin and no small amount of salsa are the perfect storm of a beautiful Mexican marinade. For the skewers, add bell peppers, zucchini and red onion because veggies are your friends.
Keto Teriyaki Beef on a Stick
"Finally," I hear you say, "something with Teriyaki sauce!" It was only a matter of time.
Teriyaki sauce is a godsend though it can often contain lots of sugar. Never fear! This Teriyaki sauce has all the taste without the sugar! Low-carb, low-sugar — that's guilt-free eating!
Grilled Flank Steak with Avocado Chimichurri
Yet more chimichurri goodness, but this time with avocado, simply cover the grilled steaks with the sauce or serve it on the side — you're welcome!
Granted, barbecued flank steaks are tasty in themselves, but the chimichurri with avocado chunks tips this dish into something otherworldly. It's a wonderfully refreshing dish for the hot summer season, or for just about any season.
Grilled Steak Lettuce Wraps
Lettuce wraps are a welcomed off-set to hot weather. Healthy and low-carb, but no less delectable, there's a reason we all love summer.
For the inside: why, Carne Asada beef fajitas of course! This recipe even uses unsweetened cocoa powder to really get your taste buds firing.
Easy Grilled Steakhouse Kebabs
Do you want another kabob (or kebab depending on where you're from) recipe? No problem!
The beloved balsamic vinegar is making a return in this marinade, along with soy sauce, Dijon mustard, Worcestershire sauce and so much more. Because the mushrooms don't want to feel left out, add them to the marinade too for extra flavor.
Grilled Ribeye Steaks with Gorgonzola Butter
This one is for the all-out carnivores: barbecued rib-eye steaks topped with creamy Gorgonzola butter… perhaps don't invite any vegetarians around when you're feasting on this dish.
It goes without saying that a good cut of beef doesn't necessarily need anything else with it, but this Gorgonzola butter might just be an exception to the rule.
Thai Beef Satay Skewers
Keto-friendly beef satay in Thai peanut sauce… it speaks for itself really.
The first person to use peanut butter for a savory dish needs a well-deserved award. The same can be said for almond butter — they're both equally delightful. If you can, get a hold of some grass-fed beef — it's healthier and arguably tastier.
Fajita Stuffed Grilled Flank Steak
For some fajitas mean tortillas, but clearly this recipe missed that memo, and we're all better off for it.
Why not use steak as a tortilla? Place the fajita stuffing on the beef and roll it up like you would with a tortilla — it's an easy and delicious way to cut out those unnecessary carbs.
Marinated Skirt Steak with Chimichurri
Tired of chimichurri? Nope, neither are we nor will we ever be.
For the chimichurri you could replace the red wine vinegar with apple cider vinegar, sometimes small changes can make a world of difference. Top tip: when cutting steak always cut against the grain.
Lemon & Oregano Grilled Chicken
Thus far it's all been a little beef heavy, hey that's fine by me, but here's something for the poultry lovers.
With the fresh herbs and juiced lemon in the marinade, this recipe ticks all the boxes for a refreshing summer treat. If you don't want to use a full chicken, then breast and thighs are always an easier alternative.
Grilled Balsamic Chicken Kebabs
Kabob or kebab, they're always a treat for the taste buds, as this dish is testament to.
Balsamic vinegar, olive oil, Dijon mustard, honey and basil for the marinade, sound good to me. The best part is that you only have to wait 30 minutes for the flavors to lock in. However, if you wait a little longer the chicken will taste even better. But if you haven't got the time or frankly can't wait that long 30 minutes will do it.
Grilled Chicken with Peanut Sauce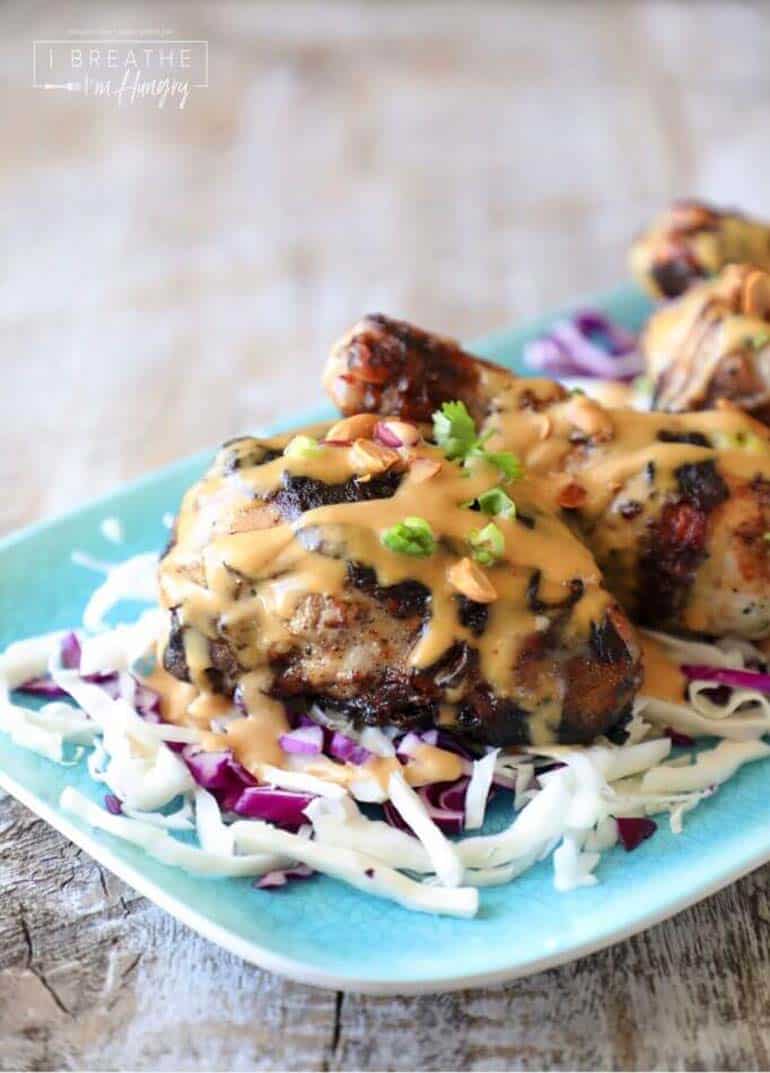 Why should beef get all the fun of peanut sauce? Chicken works equally well — skin on or skin off, you decide.
This dish is completely keto-friendly, just make sure you buy the healthy alternative ingredients listed. And if you want to cut down on your sugar intake be sure to use sugar-free peanut butter.
Sriracha Ranch Chicken
What better way to round off this list than with a simple grilled chicken recipe?
These chicken breasts are marinated in ranch dressing, Worcestershire sauce, and sriracha for one of the juiciest plates of chicken I think I've ever had.