You can have the best smoker that money can buy, but if you're using the right kind of wood pellets then you're letting yourself, and your bbq, down.
What's more is that different pellets are good for different types of smoking, so it's important to know what to get for the right type of conditions. Some burn longer, some burn hotter, and some offer different kinds of flavor. Depending on what exactly you're smoking, what you need from your pellets will differ.
My guide to the best wood pellets for smoking is on hand to tell you what you need for when. Let's get into it.
Things to consider…
Hardwood
So when choosing your pellets, always go for something that's 100% hardwood. This means that not only is it free from fillers and chemicals, but also that it will burn cleanly and have little negative impact on the environment.
Flavors
One of the most beautiful things about barbecue is the opportunity to use wood pellets or chips for infusing your chosen meat with extra flavor. Added to the smokiness can be woods like apple, maple, and hickory (among others!), all of which can also be combined to take your meat to the next level.
Light-up time
Wood pellets' popularity is partly down to how quickly they light and warm up in comparison to charcoal. In fact, the time they reach optimal temperatures is pretty much on par with gas. This is amazing considering that is much more of an 'organic' fuel source.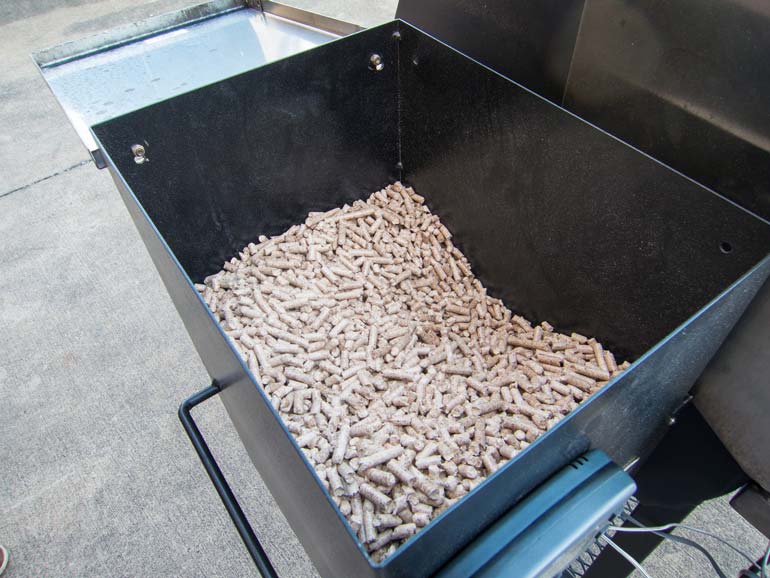 #1. Camp Chef Competition Blend Smoker Pellets
Camp Chef have long been in the wood fuel game, and these smoker pellets are a perfect example why. They're a beautifully blend of 100% natural pellets that will match perfectly with your pellet grill or smoker.
In the mix is a blend of hardwoods, containing cherry, maple and hickory. These all combine beautifully to give a well-rounded yet subtle flavor that matches with almost any kind of barbecued meat.
One of the best tells of good wood pellets is that they leave very little in the way of ash or dust after use. These pellets from Camp Chef are the perfect example of this, and their reputation as an excellent all-round product is more than warranted.
#2. CookinPellets Perfect Mix Smoking Pellets
This is another wood pellet blend, but this time with a blend of four different types of wood to give an even more well-rounded flavor. It contains maple, apple, cherry, and hickory. All of these match perfectly with a whole range of different meats.
CookinPellets are seen as a premium brand, and these pellets don't disappoint. They're free of any kind of filler, so no oil, no dead wood, and no low-quality wood (like alder). It's nothing but good quality wood fuel for your smoker.
It's called the perfect mix and, frankly, it's hard to disagree.
#3. Camp Chef Premium Applewood Smoking Pellets
Another Camp Chef wood pellet, but this time it's not a mix. Instead we have pure applewood grill pellets that match perfectly with any brand of grill. Made of solely applewood, this packs in a bit more flavor than any combination packet you could get, but if you want something with a smoky apple aroma then this is the one for you.
It contains absolutely no fillers whatsoever, and is strictly high-quality apple hardwood. It leaves very little ash or dust, and its hardwood composition ensures that the smoke will be minimal and clean.
#4. Pit Boss Competition Blend BBQ Wood Pellets
With a name like 'Pit Boss' you're going to be noticed. Sure enough, they're a big name in the smoker world, largely owing to the fact that they make some of the world's best grill wood pellets.
Their blend BBQ wood pellets come in two types: Hickory or apple. In terms of quality, there is absolutely no difference between the two, merely just what your personal preferences are for taste.
Their wood is sourced from North America, and completely free from any fillers or chemicals. Not only does this help with aroma quality, and leftover ash, but it also means that they burn much hotter and cleaner than poor quality alternatives out there.
Its competition blend is a mix of hickory, cherry, and maple hardwood, making for a great alternative should you not be sure what to opt for between hickory or apple.
I recommend going for apple if cooking pork or beef, and hickory if cooking poultry.
#5. Traeger Hickory Barbeque Pellets
Traeger is the brand behind one of my favorite wood pellet grills (link here), and so it stands to reason that they're also the brand behind one of my favorite BBQ wood pellets.
These pellets are some of the cleanest out there, leaving minimal ash after use. Furthermore, they contain no fillers and are 100% hardwood, meaning they burn cleanly while still imparting a beautiful smoky flavor on your food.
They're pure hickory rather than a blend, bit still go well with beef, pork and game.