With eight smoking racks and over 33,000 BTUs of power, there is a lot to love about Camp Chef's vertical pellet smoker. But how does it compare to other budget pellet grills? Find out everything you need to know with our Camp Chef XXL review.
Quick Review
The Camp Chef XXL offers outstanding amounts of space across its eight smoking racks. Armed with 33,000 BTUs of barbecue power, and accurate temperature control that's excellent compared to many of its pellet smoker peers. One of the best budget smokers today.
★★★★☆
Wood pellet cooking has given barbecue fans an upgrade from gas or charcoal, and the Camp Chef XXL continues in this tradition. Its vertical pellet smoker design provides more cooking space than most other backyard cookers.
Within its 2,408-square-inch cooking space and 22-gauge powder-coated steel build, the Camp Chef XXL is built to smoke. Combined with excellent heat retention, this excellent budget pellet smoker will impress beginners and seasoned pros alike.
Dual probe thermometers and a PID controller keep temperatures to within 5°F accuracy, while its convection fan stabilizes heat during unpredictable weather periods. Its huge 18lb hopper capacity will keep you going for up to 12 hours and the ash removal system makes cleanout far easier after each use.
Camp Chef XXL
- 150 - 350°F (65°C - 176°C) slow smoking temperature range with 33,000 BTU power equivalent
- 18 lbs wood pellet hopper capacity and dual meat probes
- Ash cleanout system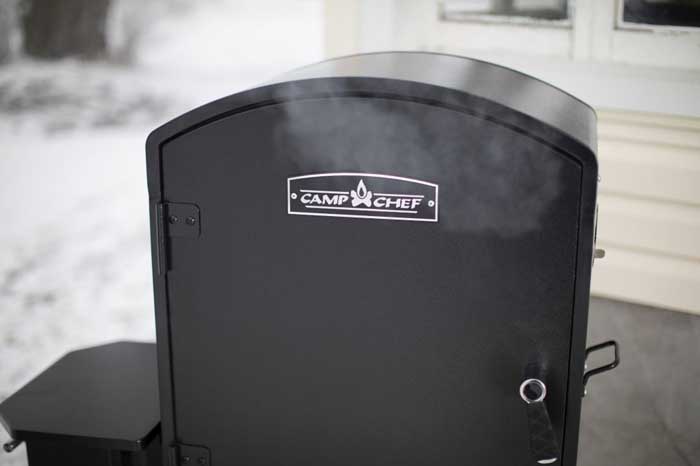 Build & Construction
The XXL is built from 22-gauge, powder-coated steel with a stainless steel door for optimum corrosion resistance. This thing is built to last.
The grill comes in all black and resembles something from the old days. It looks like a cupboard on the outside, but when you open it up, you will get over seven iron grids on which to put meat for cooking. It is big and spacious with spaces for various kinds of meats. It is a well-thought-out design. The grill can go as hot as 350 degrees Fahrenheit, which puts it on average for a pellet smoker.
At the bottom of the meat cupboard, you have a drawer that collects ash and grease. On the left side of the grill, you have a shelf that can be used to keep your marinades and seasoning spices close by. At the bottom of that shelf, an automatic dial is used to control the temperature of the smoke inside. The entire product sits on four legs that have a wheel on each of them. It means that you can quickly move the grill without too much hassle.
Features
Grease Management System
Given the vertical design of the grill, collecting grease is done so quickly due to gravity. As your fat falls, it is collected by the ash shelf at the bottom. It works to make it an easy product to clean and maintain as you go. When you are done, all you need to do is wipe the iron grids where the meat is kept and throw away the contents of the ash shelf. Cleaning a grill is one of the main reasons why people don't like to grill. The process can be messy and tiring.
Smart Smoke Technology
With this grill, you will get access to its smart smoke technology. Camp Chef argues that this feature has the power to turn you into a seasoned favorite among your guests. When smoking food, many chefs would say this is an art that needs practice. Too much smoke can make the food unhealthy, and too little smoke may mean that people won't eat on time. Getting the balance right is essential for making a good meal.
With the smart smoke technology, you do not have to worry about how much smoke there is because the grill works that out for you to strike a perfect balance. You no longer sit by the grill and keep checking to make sure it is not being overdone but can relax with friends while the food cooks nice and slow.
Cooking Space
I would usually not include this as a feature of the grill, but it only stands out on this one. The space on this grill is fantastic. It caters to almost anything you would want to smoke, and it can cater to them simultaneously. You get up to 8 large 21-inch racks to put meat on. There are also 12 hooks placed at the top of the grill to hang sausages.
It is nice and neat so that you can keep track of which meat you put in first and which one should soon be completed. The space on this product is what makes it worth the price. It makes it perfect for taking out when the whole family is around for a cookout.
One thing that should be noted with concern is that the product is not double insulated. That means that if your child is to touch the outside of the grill, they may be seriously hurt. It gets sweltering to handle and should be kept cautiously away from people.
Specs
| | |
| --- | --- |
| Body Dimensions | 24 in. L x 36 in. H x 15.5 in. W |
| Cooking Rack Dimensions | 21.5 in. x 14 in. |
| Hopper Capacity | 18 lbs. of pellets |
| Height of grill | 55 inches |
| Weight of grill | 145 lbs |
| Warranty | Three years |
| Total Output | 33,0000 BTUs/Hr |
Final Verdict
Considering the price point of this product and what it can do, it is a steal. Camp Chef has delivered a top-notch product that is well-loved by its customers. The precision at which you can cook such large amounts of food is unheard of. It gives you the ability to serve many guests without breaking much of a sweat. That also goes for the cleaning of the grill. It is simple enough, given the ash shelf that they have included.
Camp Chef XXL
- 150 - 350°F (65°C - 176°C) slow smoking temperature range with 33,000 BTU power equivalent
- 18 lbs wood pellet hopper capacity and dual meat probes
- Ash cleanout system
FAQ
Is it easy to set up?
On average, it should take you about 2 hours to set up this product. It is advisable to do it with the help of one other person. Follow the manual step by step, and you should not need a professional to help you.
Can I use it inside?
The smoke is exceptionally well managed, but a substantial amount does manage to escape from the grill. That means that if you used it in the house, then you would end up filling up your home with smoke or setting off the fire alarm.
Last update on 2023-10-04 / Affiliate links / Images from Amazon Product Advertising API