Pellet barbecue grills don't come much better than Traeger. With a fantastic temperature range, a solid steel construction, and an intuitive LED controller, there's plenty to love with this BBQ system. Get the lowdown with our Traeger Eastwood 22 review.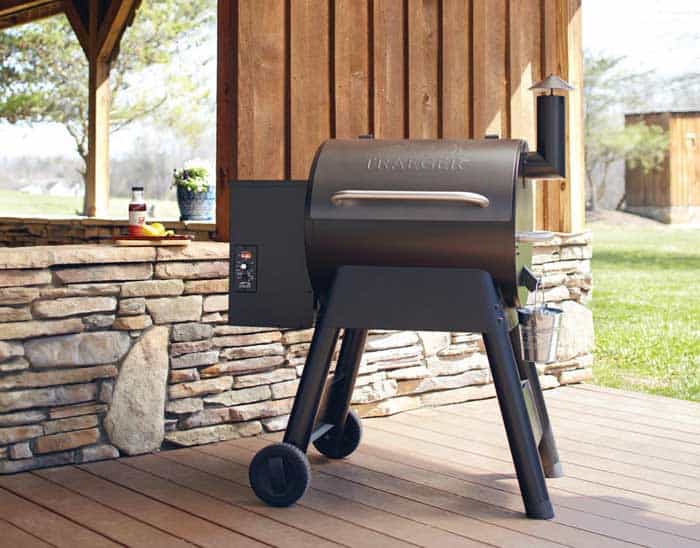 The Traeger Eastwood Pellet Grill is one of the most durable and versatile pellet smoker grills that are available on the market today. The company Traeger has been around for many years and has continued to establish its heavy market presence by offering high-quality goods and services. When looking at various types of BBQ systems, pellet grills are seen to be the next evolution of them. This pellet grill has moved further than most and will allow you to cook food in any fashion that you would like. It provides customers with the ability to bake, grill smoke, roast, braise, and BBQ your food. Impressive right?
Such versatility is well matched by a durable steel construction that will guarantee you peace of mind when you find yourself considering how long this product will last you. The grill sits on four sturdy legs and has two wheels. Both wheels are tough and able to function in every terrain you need them to.
When looking at this product, you will see that it is difficult not to like it. They have combined the past with the future. The grill comes with a digital LED controller that brings forward the manufacturer's creative side. You will now have total and precise control over how your food is cooked, which is something other BBQ systems cannot offer you. If you wish to start cooking, it will only take you 5 minutes to get the grill ready for action. If you are interested and would like to know more, then let us look more in-depth at some of the grill's features.
The Traeger Eastwood pellet grill has been manufactured so that the customers have options. No longer do you have to cook your food in a specific style but rather any way you like. That is one of the major selling points of the product.
First Impressions
When you first approach this grill, you will notice that it is relatively low on the ground and therefore seems well balanced. The grill comes in a matt black finish with the lid and main cooking area of the grill coming in either silver or a nice dark brown finish. On the right of the grill, you will notice a little aesthetic chimney. On the left, you will have a small shelf that also contains the Led temperature controller.
There are two all-terrain wheels on the front of the grill, meaning that to move it, you must lift it and push it like a wheelbarrow. It was not designed to be very mobile but rather a gem backyard intended to make your Sunday lunch glorious.
When you open the lid, you will see two well made coated meat racks for cooking your meals. With 418 square inches of cooking space, this is more than enough to cater for most cook-offs and puts it above models such as the Traeger Renegade Elite.
Versatility
Versatility is not something that you would expect from a BBQ system. You would probably think that everyone knows how they work just add fire to meat and let it cook. That is an old way of thinking that Traeger tried to outrun when they made this grill. This grill will allow you to cook food in 6 different ways. Did you ever feel that you could bake a pie on a grill? With this, you can! A grill wouldn't usually make it easy for you to cook a pie given the temperature control restraints and or space available.
Traeger estimates that with this grill, you will be able to cook 16 burger patties' simultaneously. That is enough food to ensure the guests at your party don't start a riot when other people get food before them. If beef burgers are not for you, then you can cook four whole chickens at the same time or four rib racks. You can bake, smoke, roast, braise, BBQ, and grill these meats however you like. Traeger has put the free will over your food in your hands with this product which is nice to see.
Durability
When buying a product that costs as much money as one of these usually do you will no doubt have fears over how safe your investment will be. How durable is the product you are buying and how long will it last you? Traeger answers these questions and says it will last you at least three years. That is how long the warranty will be for. Traeger is confident in this product because they have made it with robust steel construction that is rustproof. The silver/brown powder coat finish is made from high-quality paint, meaning that not only will the grill keep working, it will also continue to look good as it does.
Digital LED Controller
The LED temperature controller has been added to this list because of what it gives the customer. It will allow you to cook food at the precise temperature you like. Not only that, but you will not be responsible for managing the amount of smoke that comes out of the grill. That means that as you cook, you can rest assured that the heat and smoke are consistent within the cooking area of the grill. It will allow you to serve meals that are fully cooked through and therefore, healthy.
Specifications
| | |
| --- | --- |
| Total Cooking Space | 418 square inches |
| Pellet Hopper Capacity | 18 lbs |
| Total Weight | 103lbs |
| Max Temperature | 450 degrees Fahrenheit |
Cons
The grill has been designed to be as safe as possible. However, it should be known that you must avoid spending too much time by the grill as it can expose you to dangerous chemicals. If you inhale these chemicals regularly, there may be negative health consequences. Especially if you have a pregnant woman around the house, you must keep her clear of the grill.
Final Verdict
This grill is a very pro-customer grill. The versatility alone is enough to attract customers who are tired of having to buy different machines to cook food in different ways. With this, you can simply cook many foods how you like them. The durability means that the price you are paying will be worth it in the long run. Lastly, you are given precise control of the temperature within the grill, thereby offering you healthier meals that are fully cooked.
Last update on 2023-11-30 / Affiliate links / Images from Amazon Product Advertising API