The Outdoor Gourmet Triton XL offers barbecue beginners an affordable entry point to pellet grilling. But how does it compare to its peers? Find out everything you need to know with our pellet grill review.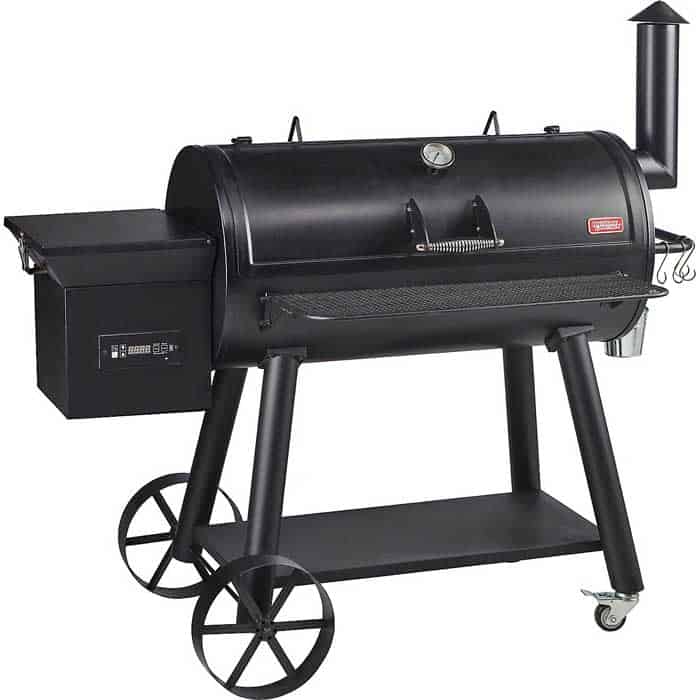 Quick Review
The Triton XL offers a huge amount of cooking space considering its price, but the grill is still let down by poor choice of materials and subpar heat retention.
★★☆☆☆
Outdoor Gourmet's Triton XL is a budget pellet grill from Academy Sports & Outdoors. Sold exclusively through their website and instore, it's had a limited release, but its imposing size has raised a few eyebrows.
Does that make it a winner? Yes and No. Yes, it is impressive right from the start. However, it's what in the chamber and firebox that counts.
In this article, you will find out more about this pellet smoker grill. It will cover what you can look forward to when you purchase it. You will also be made aware of some of the things that could have been better about it. After reading this, you will be well prepared to make an informed decision on whether the Outdoor Gourmet Triton XL Pellet Grill is the one for you or not.
Features
You could be looking for something big but strapped for cash. Well, don't give up just yet because we may have found what you need, whether you are an amateur or a master chef. Getting yourself this XL pellet grill adds an exciting tool to your ammunition.
After something else? Check out our guide to the best pellet grills under $500
When they say XL grill, don't expect anything small because they mean it. The outdoor Gourmet Triton XL pellet grill allows you to grill everything you want in one go with an 800 square inch cooking grate coupled with a 428 square inch warming tray. If you have ever had to grill for a lot of people, then you understand the struggle of trying to keep food warm without overcooking it or when you want to use the grill when the other batch of meat is not being served yet. The Outdoor Gourmet Triton XL pellet grill puts that struggle in the history books with its huge warmer.
Fuel
For such a big grill you will need a lot of fuel which in this case are pellets. The Outdoor gourmet triton took care of that with its large-capacity pellet hopper which holds a maximum of 20 pounds. The fire pit of the grill takes enough pellets to give it a maximum temperature of more than 200 degrees Celsius. The temperature does not only go this high but can be kept constant as well. The grill does a great job in retaining heat when it's closed. That is crucial if you want to grill a burger or a handful of them. There is plenty of space on the grill to cook them at once.
Temperature Regulation
The other very exciting feature is the temperature controller in the grill. With this new and upgraded temperature controller, you can change your temperature as accurately as 5 degrees Celsius at a time. The thermometer is exact and consistent and does not allow sudden temperature changes to go unnoticed as most found in budget grills. The temperature also will enable you to check the temperature of the meat itself while it cooks.
It achieves this through the programmable meat thermometer. The grill automatically switches to warming mode once your meat reaches the set temperature, which it detects through the thermometer. This feature is excellent when you have a lot of things to do but still need to grill some meat, through it you can do any of your activities as the grill will automatically turn off the central heat once your meat is ready.
Cleaning it
Cleaning this bad boy is not a struggle like other grills you will come across. Most times, cleaning your grill is such a struggle to the extent that most people skip it a few times. And this makes everything worse. The Gourmet Triton does a great job in reducing the amount of trouble you gave to go through. All the grease and fat that accumulates during grilling and smoking are drained to the bottom where they come out at the side and find a nice little bucket to collect in. It reduces the amount of fat you have to deal with inside the grill. You can then wash the small bucket. The working tray also adds to this convenience by tilting to allow easy reach when cleaning.
The grill looks like a little wagon at a glance. Its chimney sticks well out on the side to allow you to work efficiently without disturbance from the annoying smoke. The grill sits on four wheels, on the pellet hopper side it has large wheels that resemble those of a carriage, on the chimney side it has smaller wheels which you can lock so the grill doesn't move. These wheels are an excellent feature for mobility considering the size of this beast of a grill. Its grease tray is made of high-quality stainless steel while the body is constructed with porcelain-coated steel which is durable and will see you grilling for a couple of years without any problems.
What We Like
Large cooking space
Warming space
Large pellet hopper
Easy clean design
Affordable considering its size
What We Don't Like
Cheap build and poor choice of materials

Below par heat retention and cooking performance
Final Verdict
The Triton XL will satisfy a lot of people who just a cheap cooker for their first pellet grill. However, the grill's cheap build will frustrate a lot of users, and you might soon find yourself wanting an upgrade. The large chamber and cooking area offered by Outdoor Gourmet is impressive, but this is ultimately a missed opportunity by the brand.
★★☆☆☆