The Traeger Bronson pellet grill offers incredible versatility with pinpoint temperature control, putting it above many of its competitors. Find out everything you need to know with our Traeger Bronson 20 review.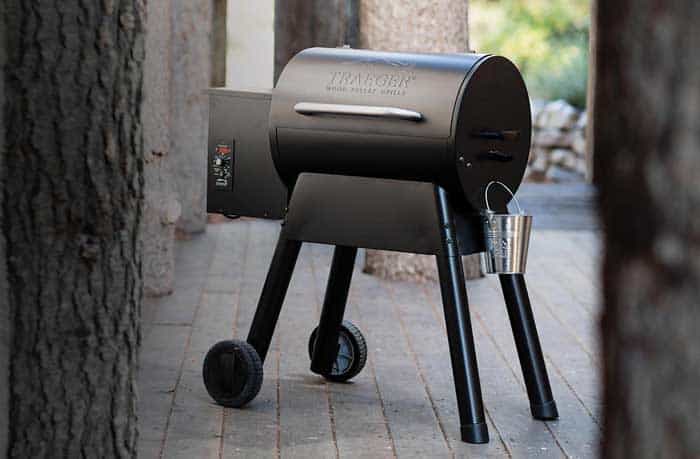 Traeger Bronson 20 comes with more innovative features that make grilling outdoors more exciting, convenient, and productive. Versatility best describes the Traeger Bronson 20. Not only do you use it for grilling but also for roasting, baking, and smoking.
It is ideal for barbecue lovers who want to take grilling to the next level of delicious, wood-fired barbecue. What makes the Bronson grill more productive is that it uses wood pellets that are user-friendly, quick, and easy to use compared to gas or charcoal. Below is a more detailed review of the Traeger Bronson 20 grill.
Traeger Grills Bronson 20 Pellet Grill - Black...
Never use gas or charcoal again: cooking with wood just tastes better. Traeger created the...
Versatile Barbecue Cooking: Hot and fast, or low and slow, the Traeger Bronson 20 pellet grill...
Precision temperature control: The Digital Elite Controller rocks Advanced Grilling Logic,...
Main Features
Spacious cooking area
Unlike tiny grills, the Traeger Bronson 20 grill has a large cooking area that allows you to grill more food to accommodate more people. The cooking space is measured 15inches by 20inches, which is fair enough for a grill used at home. There is enough room for cooking in two modes. That is the hot and fast and the slow and low method.
LED Digital elite controller
When you are using this type of grill, you might not need a thermometer. A thermometer informs you about the current temperature and detects changes in temperature as time moves on. It is essential to note the heat you need when you are grilling a specific type of food. In this case, the LED Digital elite controller controls your temperature as you grill. This helps you to avoid undercooking, overcooking, or even burning your food. What makes this feature great is the fact that it is easy to use.
The digital thermostat is quite an innovative feature that makes the grill worth every penny. You are allowed to regulate heat without opening the lid. Heat adjustment is made possible, as well as airflow and pellets. The variance in heat helps you when you are cooking a certain type of food.
When you are roasting vegetables and meat, you do not have to be uncomfortable when it reaches 450degrees as that is the ideal temperature for such a type of food. I also recommend slow cooking as you turn the heat to a low level as it tends to use few pellets.
Convection blower
The function of the convection blower is to make sure that your food cooks faster and evenly. Since the food occupies a large space, heat is needed to distribute evenly, not to have food cooked unevenly. You do not have to continually turn your meat when you grill or shift the pieces to grill evenly. The convection blower takes care of that.
More features
Dual temperature probes
Pellet hopper
Grill grate
Stainless steel baffle plate
Undercarriage
Construction
Build quality
The grill's main body is made up of metal, whereas the cooking grate is made up of stainless steel. These materials are a great combination that has managed to give the user a sturdy grill. The wheels are quite big hence smooth mobility. The build is meant to keep the temperature and cook food in an even way.
The grill has a single layer, which is good for constant heat distribution. However, the wheels are made up of hard plastic that might look cheap to the user. Heat tends to be low on its lowest level due to the single skin that makes up the food chamber. All-terrain wheels make the grill smooth when it comes to mobility.
Mounting
It is straightforward to assemble the grill. It takes about 15 minutes to put it together. For an easy mounting, I recommend that you roll the grill onto one side and follow clear instructions in the manual. You can even assemble it without using the manual. That is how easy it is. I advise you to test the grill for 45 minutes before you start using it. This helps you to get used to its system before you put it to use.
Step-by-step Guide to assembling the Traeger Bronson 20 Grill
Roll the grill onto one side
Secure the legs onto the right position
Insert the Auger into the food column
Secure the pellet hopper into the right position
Slide the sloping baffle
Insert the grill grate
Size and Portability
As much as the grill is small in size, it has more space for more food. It can accommodate a group of friends. It gives you the room to grill or cook a variety of food at the same time. The fact that there is enough space for a small gathering does not make the grill heavy. It is easy to carry and lightweight.
You can fold-in the legs for portability, especially for traveling or storing the grill in your garage. More accessories to the grill will make it hard to carry. There is a bit of weight due to the material used. This works as an advantage since it makes the grill durable. However, the weight will not compromise portability.
Usability
The grill, as I mentioned earlier, is very easy to use. Just by the push of a button, you are good to go. You do not have to use the lighter fluid for lighting. You only have to control your temperature and make sure you have enough pellets. Lining the drip tray with foil made up of Aluminum makes it very easy to clean the grill. The wood pellets are not difficult to light. You use a hot rod to light it up. The fan will ignite the pellets for you. You have less effort to put in when it comes to lighting the pellets. Your role is just to control heat.
A fair distribution of hot air is what the fan does for you besides stroking the fire. It uses wood gives you woody and smoky food that can be best described as delicious. Food is meant to taste better from the grill. The drain system makes cleaning easy. Since the grill comes with a drip pan, it is easier for the drainage system to trap all the grease.
How to use the Traeger Bronson 20
Plug the grill in
Put the wood pellets inside the grill.
Switch on the power button
Set the dial to smoke
When the fire lights, Adjust your temperature
Wait for 10 minutes as you preheat the grill before use.
Put your food inside the grill.
Set your timer
Turn your food halfway through the cooking time.
Precautions
Make sure there are enough pellets.
Control your temperature
Regular checks are necessary if you are not sure about your timing.
Pros
Easy to clean and clean
Maintains and adds a smoked flavor to your food
Attractive price
Versatile
Sturdy
Even heating
Fuel efficient
Cons
Small
Ideal for outdoor
Low power output
Precise
(Source)
Final Verdict
The fact that the Traeger Bronson 20 grill is reliable, efficient, durable, and easy to use makes it an excellent investment when it comes to grilling. You can highly depend on the grill as it proves to be an all-rounder grill. It has an attractive price that is ideal for first-time users. However, the plastic wheels give the grill a cheap look. The food chamber has a single skin that makes heat retention lower. Although it has a few limitations, it remains a productive, user-friendly grill that is affordable, dependable, reliable, and portable. You are guaranteed a satisfactory grilling experience outside.
Traeger Grills Bronson 20 Pellet Grill - Black...
Never use gas or charcoal again: cooking with wood just tastes better. Traeger created the...
Versatile Barbecue Cooking: Hot and fast, or low and slow, the Traeger Bronson 20 pellet grill...
Precision temperature control: The Digital Elite Controller rocks Advanced Grilling Logic,...
Last update on 2023-10-03 / Affiliate links / Images from Amazon Product Advertising API