It's time to do away with those store-bought nachos. This BBQ chicken nacho recipe is like nothing you've had before. Cooked on the grill, the wood-fired chicken adds a whole new layer of flavor before being smothered in your favorite nacho ingredients.
Everyone has a go-to nacho recipe, but this one really is unlike any other.
Cooked entirely on the grill, this dish makes the most out of shredded chicken (you can use leftover pulled chicken if you have any), BBQ sauce, and meat rub.
It's then cooked in a charcoal grill for that beautiful iconic barbecue flavor and uses maple wood chips to add a subtle layer of sweetness to the nachos.
It's been an instant crowd-pleaser at every tailgate, Superbowl, or BBQ party that I've been at, and I'm sure you'll find the same when you cook it up. But first, a few tips!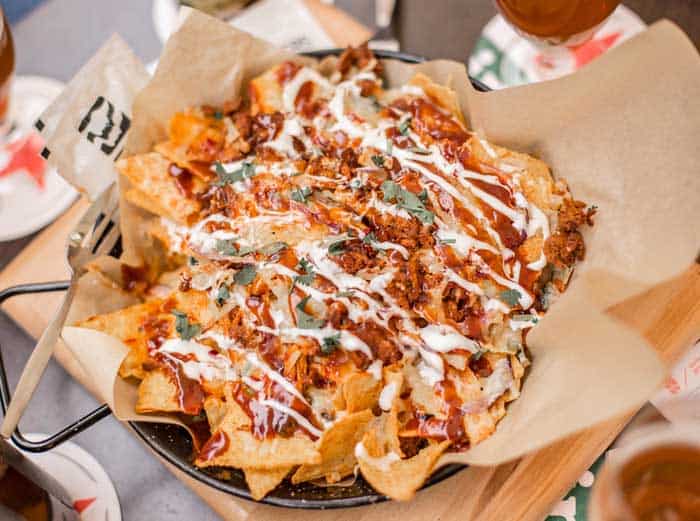 If you don't have a charcoal grill then I can't recommend getting one highly enough. They're nowhere near as expensive as you might think, and even the Weber Kettle (a classic charcoal grill) can be bought at a very fair price on Amazon.
When you set up your grill, remember to set it up for indirect grilling. In short, this is where your coals sit under one half of your grill surface and place your food on the other half. This'll help effectively turn into your grill chamber into an oven, and prevent the fire from searing your food. I have a guide on how to set up for indirect grilling.
If you're struggling for a go-to chicken rub then I recommend either making your own with my BBQ chicken rub recipe, or if you prefer to buy pre-made then I recommend J Christopher Co's All Purpose Hot Rub.
Likewise with BBQ sauce, you can either make your own homemade BBQ sauce or simply go store bought. Just try not to get something too spicy that'll overpower the awesome-ness of the nachos.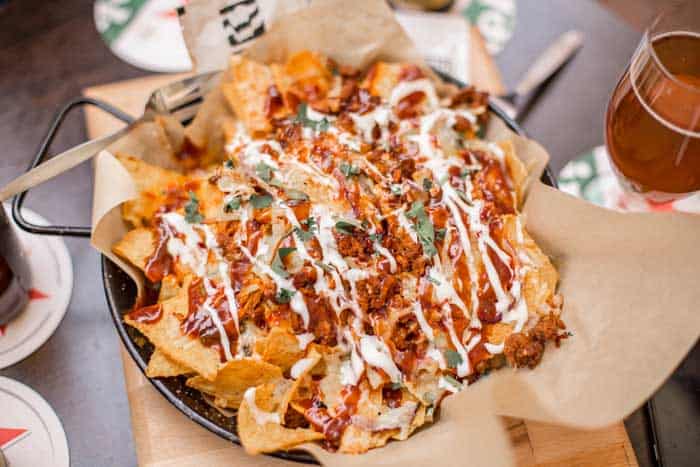 What's the Best Cheese for Nachos?
The best types of cheese to use for nachos are cheeses that melt well. My favorites are cheddar, American cheese, Monterey Jack and Blue Cheese (if I feel like making things extra sharp). Avoid crumbly cheeses like feta or dry cheeses like parmesan.
For this recipe, I've used grated cheddar because it's easy to buy and goes well with BBQ sauce and chicken. Young cheddar (i.e. not aged) has higher moisture content, making it perfect for melting.
How to Prevent Soggy Nachos
The best way to stop nachos going soggy is to pre-cook the nachos for a few minutes before adding any toppings. This will help dry out the chips, as well as crisping them so they're less susceptible to absorbing moisture from the cheese, BBQ sauce or chicken.
Time and Temperature
When you're grilling chicken, the best temperature to grill it at is 350 degrees Fahrenheit. This is just hot enough to cook the chicken all the way through, for food safety, without drying out the meat.
Chicken breasts take about 30 minutes to grill but use a food thermometer to measure for doneness (the interior of the meat should be at about 165 degrees Fahrenheit). Once you assemble the nachos, grill for about 10 more minutes, until the cheese melts.
Can You Cook Raw Chicken in BBQ Sauce?
You can cook chicken in BBQ sauce if you want to and are very careful. BBQ sauce makes for a good marinade or basting liquid to make chicken moist and tender.
However, you can only use a thin layer of sauce to do this because the sugars in the sauce will burn before the chicken cooks through, creating a charred black crust. For best results, wait until the chicken is cooked to add the sauce.
How to Keep Nachos Warm
Ideally, you would serve your nachos right away. If you can't do that, keep them warm using a warming tray. Cover the tray with foil to trap the heat and try to serve the nachos as quickly as possible.
If you know you will have to wait a long time before serving the nachos, the best solution is to keep the components warm separately, then assemble them right before serving.
Why Is My BBQ Chicken Dry?
Even with the help of a juicy sauce, sometimes BBQ chicken turns out dry. To avoid this, brine the chicken in a salt solution for about a half-hour before grilling. When cooking lean cuts such as chicken breast, be careful not to overcook the meat as that will dry it out. If it keeps happening to you, lower the temperature and cook for longer.