A BBQ just isn't the same without some BBQ sauce. While there may be dozens of BBQ sauces on the market, most of them are made from the same basic ingredients. So, why not use one of our homemade BBQ sauce recipes to make your own?
Homemade BBQ sauce recipes are actually quite simple to make. You do not need any special skills and most of the ingredients are common kitchen items.
The best part is that you can add whatever you like to it and customize it to your own taste. Below are a couple of homemade BBQ sauce recipes that are simple to make and taste great.
Also try our chipotle BBQ sauce recipe
The recipe I've outlined here is just for an easy, simple BBQ sauce. If you prefer your BBQ sauce a touch on the smokier side, then I recommend adding a couple of teaspoons of liquid smoke to it.
Try not to go overboard with it because it'll just overpower the taste of your sauce.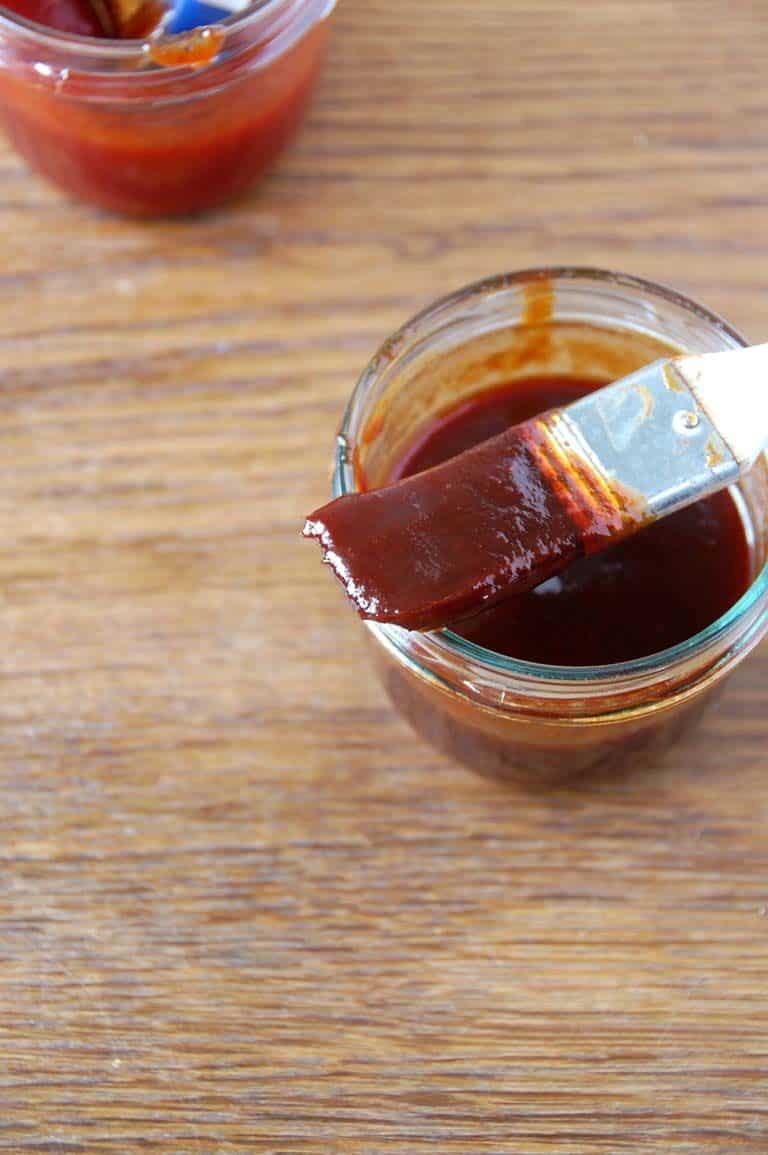 While this sauce tastes great just the way it is, you can look at this recipe as a base and add your own flavors to it. You may find that you end up with a unique homemade BBQ sauce which everyone is going to want the recipe for.
You can experiment with it by adding a little bit more of the ingredients you like or by adding additional seasoning like garlic or ginger. You might also try replacing the mustard with dijon mustard or adding some hot sauce to spice things up a bit.
Use the water to rinse all of chili sauce out of the bottle. After that, simply mix all the ingredients into a bowl and you are done. You can use the BBQ sauce right away but the flavors will mix together better if you prepare it the night before and let the BBQ sauce stand in the refrigerator overnight.
If you are not familiar with liquid smoke, you should be able to find it in most grocery stores in the BBQ sauce section. It is almost always used in smoky flavored BBQ sauces and many restaurants use it to give their food a smoky flavor.
This recipe is just great as it is but don't be afraid to make some changes to it, as well. Try using less liquid smoke if you want less smoky flavor or you could try adding additional some spices, like thyme. Another idea would be to use cider vinegar or perhaps soy sauce instead of worcestershire.
You can also try adding honey to either of these recipes to make them sweet. This is especially good if you are going to BBQ pork.
When it comes to making homemade BBQ sauces, you should not be afraid to experiment a little. They are so easy to make that you can simply toss out a bad batch and make a brand new in about 5 minutes.
You can use the BBQ sauce right away but the flavors will mix together better if you the prepare it the night before and let the BBQ sauce stand in the refrigerator over night.
Also if you need to thicken your BBQ sauce at all, try adding some heavy cream or cornstarch.
What is Traditional BBQ Sauce Made of?
Every chef or grill-master has their own variation on BBQ sauce. However, the traditional version comes with a few standard ingredients that no riffing can exclude. The base includes vinegar and tomato paste, sometimes mayonnaise, for a combination of savory and sour flavors.
BBQ sauce has to have a sweet element, such as molasses or sugar. It needs to have spices to pack a punch, such as black pepper. Finally, don't skimp on the liquid smoke for extra flavor!
Best Ways to Use BBQ Sauce
Here are some of our favorite recipes to use our homemade barbecue sauce on!
Pork Ribs
Sweet flavors go perfectly with pork, so BBQ sauce is a natural fit for slow-smoked baby back ribs. We use a cup of sauce on our 3-2-1 ribs to coat the pork cut for its final hour of smoking. It gives them a beautiful color and finish, and the sugar in the sauce cuts through for an unbelievable flavor.
Dipping Sauce
Good barbecue is as much about the platters and sides as it is massive slabs of prize meats. Put a few dollops of sauce in a little pot and use it as a dipping sauce for grilled homemade potato wedges, chicken wings, or use it to top pulled pork nachos.
Burgers
The classics never go out of style. Swap it in place of ketchup and give your favorite beef or chicken burger a kick of flavor.
How to Store Homemade BBQ Sauce
After you have combined the ingredients overheat, remove the pan from the heat and let it cool for about 20 minutes. Transfer the sauce to a 16 or 32-ounce mason jar, depending on how much you have made. Make sure your jar has an airtight lid (I use these jars on Amazon). Leave the jars in the refrigerator for at least two hours, or overnight. Enjoy the same evening or the next day.
Before storing BBQ sauce, let it cool to room temperature. Storing still-warm sauce could affect its shelf life and taste over time. Put it in an air-tight container such as a Mason jar or Tupperware. Make sure that no air can get in that could degrade the sauce's flavor or quality. Store it in the refrigerator to prolong its shelf life.
Homemade sauce can last one to two weeks. If it starts smelling or tasting funny, throw it out. If the sauce gets darker, that's also a sign that it's starting to go bad. Homemade BBQ sauce lasts for a shorter time than store-bought sauce, but that's because it's fresher and made with quality ingredients.
How to Thicken Barbecue Sauce
One of the concerns when making homemade sauce is that the texture won't be right. Usually, BBQ sauce thickens as it cools, so don't worry if it seems runny at first. If your sauce is too thin, make a slurry out of cornstarch or flour to thicken it.
If you're using cornstarch, mix one part cornstarch with one part water to make a slurry and add it to the sauce. If you're using flour, the ratio is two tablespoons of flour to one-fourth cup of water. Add one part slurry for every cup of sauce you're making.
Can I Marinate Meat with BBQ Sauce?
Although most recipes call for adding BBQ sauce after meat is already cooked, you can use it as a marinade to infuse your meat with flavor. Your meat will be incredibly juicy and tasty after soaking in BBQ sauce.
However, the reason why most chefs don't use BBQ sauce as a marinade is its high sugar content. You have to be careful to blot away any excess sauce, otherwise the sugars will burn, creating a bitter black crust for your meat. Although you can marinate meat with BBQ sauce, that's not always the best idea.
What Can I Put on Ribs Instead of BBQ Sauce?
If you don't have BBQ sauce on hand (or you don't like it), that doesn't mean that you're doomed to dry, flavorless ribs. There are a few other condiments that you can try.
If you're looking for a way to add more flavor to the ribs, try an alternative method of seasoning such as putting on a dry rub before cooking. If you want a dipping sauce but don't like BBQ sauce, try teriyaki sauce, hoisin sauce, or plum sauce. If you're avoiding BBQ sauce for health reasons, many stores sell sugar-free versions!
Easy Homemade BBQ Sauce Recipe
The best easy homemade BBQ sauce. Made in just 10 minutes, this simple recipe is sweet, tangy and downright delicious.
Print Recipe
Pin Recipe
Ingredients
1

cup

ketchup

1

tbsp

mustard

3

tbsp

Worcestershire sauce

2

tbsp

vinegar

1

tbsp

lemon juice

3

tbsp

brown sugar

1

tbsp

ground black pepper
Instructions
Mix all ingredients in a small saucepan over low heat. Leave to simmer for 10 minutes.

Remove from heat and allow to cool

Pour mixture into mason jar or airtight container. Transfer to refrigerator and leave to rest overnight before using.