There aren't many party dishes better than nachos. Try something new by preparing them on the grill with this beautiful BBQ smoked pulled pork nacho recipe. Rich in flavor and loaded with that unmistakable smoked barbecue taste, this is the best way to use your leftover pulled pork.
Nachos are the go-to BBQ party food. Sure, they're messy. But are is there any other crowd pleaser that's on the same level?
Today we're doing things a bit differently by topping them with leftover pulled pork and heating up on the grill. Doing this with charcoal and smoke will give us a layer of smokey flavor that'll be unlike anything you've had on nachos before.
Anyone who's tried our grilled BBQ chicken nachos will know how doing them barbecue-style elevates them to a whole new level. Exposing them to wood and heat like this gives the meat a deep flavor that's unlike oven cooking.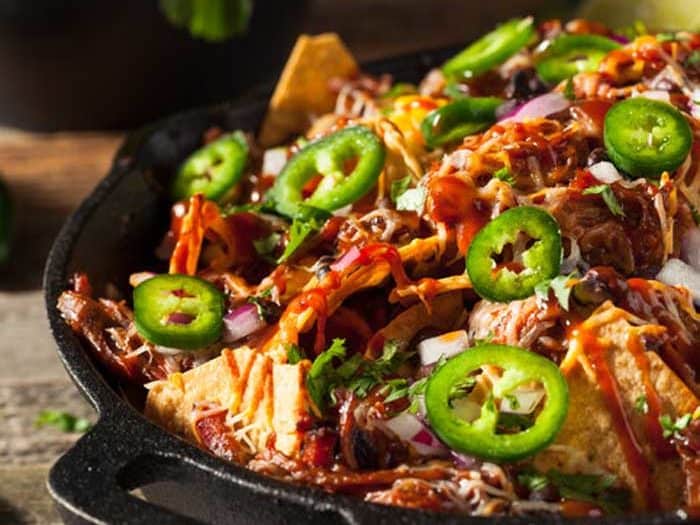 Best toppings for pulled pork nachos
For this recipe, we want the flavors of the smoke to come through and not to have to compete with too many other rich toppings. For this reason, I've kept the amount of cheese to just half a cup (controversial, I know) and I've also resisted the temptation to include guacamole or sour cream.
For those that do want to pile on the flavors, classic nacho toppings include sour cream, salsa, guacamole, black beans and cilantro. Delving into these further, homemade queso is a beautiful topping for pulled pork nachos if you have the time. The same is true for homemade refried seasoned beans.
For spice I've included green peppers and BBQ sauce, but you can take things up a notch with chili peppers (still seeded, if you're feeling brave) or your favorite hot sauce.
Best wood for pulled pork
While we're only cooking for a short time, we don't want to miss out on the opportunity to add a hint of wood flavor to the mix. I recommend trying apple or pecan wood for the best results. These two are the best woods for smoking pulled pork, and are sweet and delicate enough to add flavor without overpowering all the nacho ingredients cooking in your chamber.
Add a 2 or 3 chunks to your coals while your grill or smoker heats up, or use a smoker box if you are cooking with a gas grill.
Pro tips
Use thick chips. Nacho or tortilla chips come in so many varities now, but as a rule try to go a plain variety that's thick in shape. This density will mean they're robust enough to support the pork and toppings enough so that they don't get soggy.
Don't pile the chips. We want even coverage as much as possible, so make sure you arrange your nacho chips by spreading them evenly in the base of your pan. This will help the toppings work their magic on a greater number of chips, giving everyone a chance of getting in on that pulled pork goodness.
Rest in aluminum foil. This recipe is best served fresh off the grill, but if you have made them ahead of time or do need to let them rest, wrap the nachos in aluminum foil. This will retain heat the best, and will help them keep moisture should they need to be reheated.
Go with pork butt. If you don't have any leftover pulled pork to hand, make your own ahead of time. Check out our easy smoked pulled pork for perfect low and slow meat.